Link to this page: https://www.socialistparty.org.uk/issue/783/17532
From The Socialist newspaper, 9 October 2013
Tories rob NHS workers
* No cuts to our health service
* Unions must fight job and pay cuts - ballot for action now!
A mental health nurse, London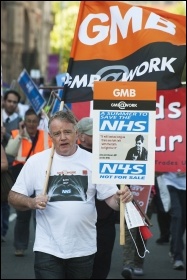 TUC demo in Manchester: 50,000 march against Tories demanding action on NHS, photo Paul Mattsson (Click to enlarge)
Nurses and other health workers are furious at Health Minister Jeremy Hunt's announcement that he will stop the measly, below inflation 1% pay rise next year. He is blocking incremental pay too and sending out a message that experienced NHS staff and, by extension, a quality health service, are not valued by this government.
This is happening in a climate where the 1,000 richest people in the UK have increased their wealth by £150 billion over the last three years! NHS workers have lost, on average, 10% of our pay over the same time period.
Tremendous campaigns are springing up to defend the NHS but a robust, nationally coordinated industrial response is lacking. There has been a successful strike at Mid Yorkshire Trust against cuts, but the bosses sack and downband staff on a national scale while health budgets are drained through the rip-off Private Finance Initiative (PFI).
What we need now is an urgent organising drive among NHS workers. NHS rank and file trade unionists need a programme of action to pressure their branch leaderships from below to act.
Emergency branch meetings need to be convened to plan action over the attack on NHS pay. Unison members need to demand that Unison ballots health workers over pay. We must also demand that Unison works with other unions across the public sector to build joint coordinated action.
---
>
"NHS staff are angry and this may well be the match that lights the fire. The health unions, and Unison as the largest one, need to say 'enough is enough', concession bargaining has not worked. We need to coordinate our collective strength to fight for a pay rise that at least makes up for what we have lost. The money is there to pay all NHS staff - cancel all the PFI debts that are draining the NHS dry."
A Unison member and health worker
---
>
"A strike over pay would inevitably become about more than just pay. In the face of a barrage of cuts, privatisation, woeful staffing levels and the bed crisis, a strike would represent an outpouring of generalised anger from NHS staff.
Morale is at an all-time low, not least because of the failure of the health unions to seriously fight the numerous attacks on staff and services in recent years. Strike action over pay could give confidence to NHS workers to stand up to the government and their austerity agenda for the NHS."
A staff nurse
---
>
"There is a general feeling of disgust and outrage from Unison members I have spoken to as well as the view that we don't expect any better from this government. The point is what are we going to do about it?
Unison should make its position clear now that we will be balloting our members for strike action if the government does not give us a pay rise and we will not enter into any more concession bargaining in order to get a pathetic 1%."
Adrian O'Malley Unison branch secretary, Mid Yorkshire Health, personal capacity
---
>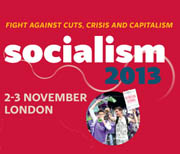 A discussion on the strategy to save the NHS and fight the pay freeze will be held at the Socialist Party's Socialism 2013 event on 2-3 November. All NHS trade unionists are urged to attend this event and the NHS discussion, which will be at 10am on 3 November at the University of London Union, Malet Street, London WC1E 7HY.
Why not click here to join the Socialist Party, or click here to donate to the Socialist Party.
---
In The Socialist 9 October 2013:
---
Socialist Party news and analysis

Tories rob NHS workers

Tories condemn us to the breadline

Socialist ideas are the Mail's real target

Them & Us
---
Socialist Party review

TV review: Breaking Bad
---
International socialist news and analysis

US government: 'Sorry, we're closed'

The 1913 Dublin Lockout and its true legacy
---
Socialist Party reports and campaigns

Workers and youth: Unite against the far right

Scotland anti-bedroom tax conference

Newport council destroys workers' mural

Hull students and workers agree: We need councils that fight all cuts!

London: Lessons of South Africa's Marikana Massacre

Socialist Party fighting fund

Build the fightback - sell the Socialist!
---
Socialist Party workplace news

No to Royal Mail privatisation

Future Directions: Ten-day strike lobbies council

Firefighters rally against cuts

Probation officers ballot for action

Workplace news in brief
---
Home | The Socialist 9 October 2013 | Join the Socialist Party
Subscribe | Donate | PDF | ebook
---