Link to this page: https://www.socialistparty.org.uk/issue/786/17647
From The Socialist newspaper, 30 October 2013
Striking back!
Rob Williams, Socialist Party trade union organiser
Hundreds of thousands of workers are preparing to take strike action. This proves to the bosses and their Con-Dem government that the battle against their cuts is continuing.
Higher Education workers in UCU, Unison and Unite unions are striking together on 31 October.
Firefighters, members of the FBU, are on strike on Friday 1 November and the following Monday.
CWU postal workers* and Crown Post Office workers are also out on Monday to send a defiant message to the government after Vince Cable's give-away sell-off of Royal Mail and the closure of post offices.
Probation workers in Napo are striking for 24 hours over Tuesday and Wednesday against privatisation.
Workers are painfully aware of the chasm between the supposed economic recovery and the catastrophe we are experiencing in our living standards.
The poisonous Tory media are crowing over the brutal terms that Grangemouth workers accepted to keep their jobs. They want to send the message to all workers - 'This is the real world and you have to accept it'.
But millions of workers facing the sky-high price rises from the fat-cat energy companies know all about the real world and are furious about it! In the last three years, official figures show that real wages in the UK have fallen by 5.5%.
No wonder that those in work, let alone people suffering on poverty benefits, are having to choose between food and heating their homes.
The decision of the leaderships of the NUT and NASUWT teachers' unions not to take national strike action as originally agreed doesn't tally with the mood of teachers on their regional strikes. In London, thousands of teachers, mainly young, effectively blockaded the Department of Education offices. There, and in other cities like Bristol, thousands of teachers couldn't even get in to the packed strike rallies.
Likewise the hesitation from the TUC about naming a date for a 24-hour general strike does not match the boiling anger bubbling up among workers and all those suffering austerity.
The Tories and the bosses want Grangemouth to have the same effect as the defeat of the miners in 1985 and demoralise workers generally.
But the attacks on our jobs, living standards, and increasingly the very right to have an effective trade union, are relentless. It is becoming clear that to have anything that resembles a decent life means we have to fight and the best way is to fight together.
Unlike the Socialist Party the pessimists in the trade union movement may draw the conclusion from recent events that mass coordinated strike action, up to and including a 24-hour general strike, is now off the agenda indefinitely. But below the surface massive discontent exists in society. These strikes show that the potential still exists for mass action to force the Con-Dems back.
---
>
See also on this site: Trade unions must learn lessons from Grangemouth setback
and Teaching unions not striking in November sends wrong signal to Gove
---
>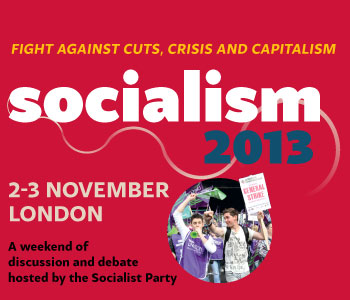 Rally for Socialism 2013
2 November, 6.30pm
Speakers include:
Mametlwe Sebei, Workers and Socialist Party, South Africa
Peter Taaffe, Socialist Party general secretary
Bob Crow, RMT transport union general secretary
Mark Serwotka, PCS public sector union general secretary
Billy Hayes, CWU communications workers union general secretary
Ian Pattison, Youth Fight for Jobs
Friends Meeting House
173 Euston Road, London NW1 2BJ
Part of Socialism 2013
A weekend of discussion and debate
2-3 November 2013
Why not click here to join the Socialist Party, or click here to donate to the Socialist Party.
---
In The Socialist 30 October 2013:
---
Socialist Party news and analysis

Striking back!

Trade unions must learn lessons from Grangemouth setback

Ongoing US spying row reveals new tensions between imperialist powers

Stop rip-off energy prices

Them & Us
---
International socialist news and analysis

Brazil: "Rio, a showcase for the world"

Ireland: Victimising the vulnerable
---
Socialist Party reports and campaigns

Zero-hour contracts can be beaten!

Mental health services - fighting privatisation in Salford

Building the fightback - building the Socialist Party

Support the Socialism 2013 appeal
---
Socialist Party feature

20 years of privatised train robbery
---
Socialist Party workplace news

Teachers: no national action this term

University workers fight back

Probation workers strike against privatisation

No offshoring Shared Services!

Workplace news in brief
---
Socialist Party NHS campaigning

Bail out hospitals, not bankers!

Waltham Forest Unison Health meeting

Campaign launched against downbanding in Swindon

Attacks on NHS pay will damage services
---
Readers' reviews and comments

Sexism in the music industry exposed

TV Review: Brand new revolution?
---
Home | The Socialist 30 October 2013 | Join the Socialist Party
Subscribe | Donate | PDF | ebook
---