Link to this page: https://www.socialistparty.org.uk/articles/17676
Posted on 6 November 2013 at 15:58 GMT
Probation workers' strike
Probation officers in the union Napo in England and Wales walked out of their offices at 12 noon on 5th November, for a 24-hour strike against privatisation of the probation service.
---
Unprecedented participation
The 24-hour strike by probation workers against privatisation on 5th and 6th November has exceeded all expectations.
Members of Napo, the probation workers' union, turned out in their hundreds on picket lines and protests throughout England and Wales.
The level of participation was unprecedented with mass leafleting of the public supplementing the industrial action.
In London, the banner of the National Shop Stewards Network (NSSN) was greeted with enthusiasm outside the offices at Buckingham Palace Road and members climbed aboard the Branch Battle Bus as it toured the city.
In offices from Torquay to Hull, from Cardiff to Folkestone, members expressed their anger and determination to defeat Chris Grayling's privatisation plans.
Kent
Outside two offices in Kent an effigy of Grayling was tied to railings like a latter day Guy Fawkes. Protests outside court buildings in Canterbury and Thanet were swelled by PCS members showing solidarity during their lunch breaks.
Strikers across the county were joined by the Medway, Canterbury and Dover Trades Councils plus local anti-cuts groups who recognise the need to join all the struggles up.
If the determination of 9,000 Napo members were matched by the leaders of the TUC with all the resources at their disposal, this vicious coalition government would be history.
As it is, we have to build a campaign from the grassroots and the success of this strike is a massive boost to morale. It is just possible that David will slay Goliath in this battle.
Chas Berry, Kent branch chair, National Association of Probation Officers (NAPO)
---
East London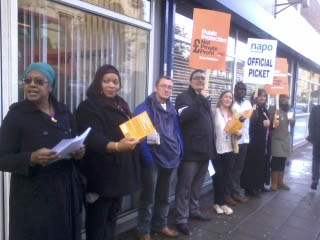 Picket outside the probation service office in Bethnal Green, East London. , photo Naomi Byron
A lively and determined picket was getting lots of support outside the probation service office in Bethnal Green, east London.
Several people stopped to stand with the pickets to show support, or tooted their horns as they passed. "Who are they going to get to run it, G4S?" was a typical comment.
Naomi Byron
Probation officers walked out at Walthamstow magistrates court. Nine joined the pickets at Snaresbrook Crown Court where Napo members were disgusted at what Tory privatisation would mean.
Ian Pattison
Southampton
Hampshire and Southampton branch Socialist Party members supported Napo members outside the Probation Service offices in Town Quay, Southampton.
Sue Waddington works in the Probation Service in Southampton and is a Napo member. She said:

"We are taking this action because the plans this government are pushing through are dangerous and put members of the public at risk.
"They are considering handing contracts to G4S or Serco who are at the moment under investigation by the Serious Fraud Office.
"If I was under investigation by them I would not be allowed to work in the Probation Service, so why can they?
"The Probation Service was recently audited by a government body and the result was it provides a 'good to excellent service'.
"We do not take this action lightly and are passionate about what we do and the service we provide. What this government fails to realise is that we work with blood and bone living beings. They are being reduced to units of currency and a product for profit".
The local media came to cover the action with journalists from the Southern Evening Echo and local BBC news programme South Today.
All were in high spirits and committed to fighting this government's plan of 'Transforming Rehabilitation', with everyone demanding the service must remain publically owned.
Declan Clune, Hampshire Socialist Party
---
Canterbury
Canterbury magistrates court was picketed by Napo members, who are livid at the privatisation proposals.
They gave out leaflets and were beeped supportively by passers by. Members of East Kent Socialist Party attended and discussed the need for a general strike and for powerful trade union councils to organise cooperation.
One picket was already a supporter of TUSC and another wanted news of the local activities of the Socialist Party.
Dave Semple
---
Newcastle
Prior to their rally striking probation officers in Newcastle were getting a good response from the public as they handed out leaflets against privatisation of their service.
Siobhan Forman (Napo Northumbria branch co-convenor) explained that "failing Grayling (Chris Grayling - secretary of state for justice) wants to privatise up to 70% of the probation services."
I did a double take as she explained that alongside companies such as G4S (remember the Olympic fiasco) and Eddie Stobart, better known as a haulage company, is one of the companies which could end up running probation services!
Many of the probation officers raised the dangers inherent in the government's plans. Both low and medium risk offenders would be dealt with by privateers.
Medium risk offenders can include sex offenders, gang members, burglars and perpetrators of domestic violence.
Private companies are not even being required to use qualified staff so any "Tom Dick or Harry" could end up doing the work.
Siobhan went on to explain that "risk is dynamic". Probation officers are trained to access risk, they know how to spot heightening risk levels.
Earlier in the day at the picket line in Gateshead Steven Doggett, who was doing a good job getting cars to toot support, led the chant: "We're not for sale! Privatisation will fail!"
Elaine Edison told us she couldn't believe the government is planning to privatise probation services: "Punishment for profit - it doesn't make sense."
Elaine went on to say: "Currently staff moral is quite low. Probation officers are worried not only about their own future, but also about the community we work with."
In the run up to the strike Napo has been holding stalls in Newcastle city centre. These stalls have played an important role, allowing probation officers to explain to other workers the dangers involved if private companies are put in charge of this vital service.
Our Socialist Party leaflet supporting the strike was well received and the probation officers I spoke to all agreed on the need for a 24-hour general strike.
As one striker commented: "All workers to stand together against the Tory/Lib Dem decimation of public services."
Elaine Brunskill
---
Leicester
The hundred-plus workers who walked out of work together proudly and defiantly advertised their strike action wide and far by occupying the bridge outside their workplace.
And with loud cheers and a variety of colourful placards they let the world know of their resistance to the government's brutal agenda of privatisation. The protest was met with honks of support from passing cars.
The enthused strikers then marched to the city centre en masse, where at the clock tower they led a multitude of chants denouncing the privatisation, which they continued for around an hour; engaging the public in discussion by distributing leaflets to build popular support for their strike action.
Then to round off their protest we all set off on an impromptu march around the city, on what for me turned out to be one of the most empowering strike actions that I have ever been privileged enough to support.
Michael Barker
Donate to the Socialist Party
Finance appeal
The coronavirus crisis has laid bare the class character of society in numerous ways. It is making clear to many that it is the working class that keeps society running, not the CEOs of major corporations.
The results of austerity have been graphically demonstrated as public services strain to cope with the crisis.
The government has now ripped up its 'austerity' mantra and turned to policies that not long ago were denounced as socialist. But after the corona crisis, it will try to make the working class pay for it, by trying to claw back what has been given.
The Socialist Party's material is more vital than ever, so we can continue to report from workers who are fighting for better health and safety measures, against layoffs, for adequate staffing levels, etc.
When the health crisis subsides, we must be ready for the stormy events ahead and the need to arm workers' movements with a socialist programme - one which puts the health and needs of humanity before the profits of a few.
Inevitably, during the crisis we have not been able to sell the Socialist and raise funds in the ways we normally would.
We therefore urgently appeal to all our viewers to donate to our Fighting Fund.
---