Link to this page: https://www.socialistparty.org.uk/articles/17858
Posted on 5 December 2013 at 13:07 GMT
Reactions to the Autumn Statement -
Millionaire Osborne: The plan is working
Working class people: Oh no it isn't!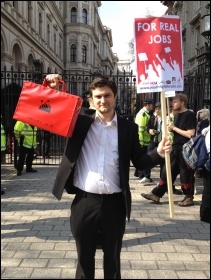 Youth Fight for Jobs protest outside Downing Street on budget day 2012, photo Suzanne Beishon (Click to enlarge)
The 400,000 people using foodbanks, the hundreds of thousands who have lost their jobs, the people hit by the vicious bedroom tax and cuts to disability benefits, households struggling under historic levels of debt, the workers trying to get by with, on average, £2000 less. For none of us does it seem like the plan is working. Only the super-rich, with their £400 billion of wealth, could seriously think things are improving.
Not content with the devastation already wreaked, this government of the rich, for the rich, are ratcheting up the attacks even further. They want us to work even longer. It is to be made even harder for unemployed young people to claim meagre benefits. Further massive cuts threaten essential public services and jobs.
Millions will have to wait longer for a state pension. The planned rise to 68 will be brought forward to the mid-2030s, and will then rise further. People now in their forties will not get the state pension until they are 68, and those in their thirties will have to wait until they are 69.
But this continued austerity is not inevitable. In recent weeks higher and further education workers, teachers, probation officers, firefighters and housing workers have been striking, and the RMT transport union is preparing for a major battle in the new year. All those trade unionists who are fighting the cuts will want their trade union leaders to coordinate strike action. The Socialist Party will continue to campaign for a 24-hour general strike.
With a few notable exceptions - such as when Socialist Party members managed to get on BBC breakfast today - the worker's voice is absent in all the news coverage.
Osborne actually said "We're all in this together" again. He can only keep saying this because he faces an opposition that puts no alternative
Labour's shadow chancellor Ed Balls correctly points out that for most people there is no recovery, but Labour promises continued austerity. Labour councils have meekly passed on the cuts, and are now expected to pass on more.
This is why in the 2014 council elections the Trade Unionist and Socialist Coalition is planning on standing a record number of working class candidates against cuts.
---
>
In response to the pension age changes, Youth Fight for Jobs spokesperson Ian Pattison said:
"We're faced with the impossible situation where one million young people are looking for jobs that don't exist; many others are pushed into precarious zero-hour contracts, as older workers are forced to carry on working past when they want to retire.
"We've supported fire-fighters taking strike action this year. Their retirement age is also being brought up; well beyond when they're able to healthily do the demanding job.
"The Con-Dem cuts, which Cameron gleefully claimed would continue, are only exacerbating the situation.
"Jobs are being lost, but not replaced, to the detriment of everyone. After long years of hard work; low pay and pension cuts are keeping people from retiring.
"Young people are disproportionately at the sharp end of these attacks on pensions. It is part of a toxic agenda that is leaving our generation on the scrapheap. At this rate, will young people like me, ever see retirement?"
---
>
Strike action can stop cuts
Nancy Taaffe, Waltham Forest
"I do believe in fairies, I do believe in fairies, I do, I do, I do believe in fairies." So says Peter Pan when trying to bring Tinker Bell back to life in the famous children's story.
And so it seems when George Osborne stood up to give us his fairy story that was "The Autumn Statement".
He believed that all he had to do was repeat one message over and over again and people would believe it against their actual experience.
First came the sugar: 'the economy is improving'. Then came the pill: the cuts will continue nevertheless.
The Con-Dems have got away with making us £2,000 a year poorer since 2010.
They have been allowed to reconfigure work that means five million of us are now on zero hour contracts. 631,000 public sector workers have lost their jobs through the cuts, and I'm one of them.
The only reason the bosses have got away with this is because the Labour and right wing trade union leaders have allowed them to.
It's as simple as that. The Mansion House speech and now this statement is the ruling class emboldened.
Imagine how different it would be if there had been the 24-hour general strike we are fighting for.
The dutiful Labour councillors who made the budget cuts in 2010, arguing that we just had to swallow the medicine and the good times would be with us again have merely paved the way for more cuts.
They bear responsibilities for this budget. Why wouldn't Osborne predict that cuts would continue until 2020 and beyond when they believe no one will fight them on these cuts.
There is NO recovery for the majority of us. Osborne is away with the fairies if he thinks we believe that.
I hope the winds that have engulfed this country on the day of this dark news are a harbinger for the anger that will ensure in the labour movements ranks when they understand what needs to be done.
I would urge anyone reading the Socialist to not wait for leadership from those that have failed us so far but get in touch with the Trade Unionist and Socialist Coalition and help us build the platform in 2014 to challenge the politics of cuts.
---
>
"Making us work longer for less"
Janice Godrich, President of the Public and Commercial Services union (PCS)
Osborne's autumn statement delivered nothing for millions of ordinary people across the UK. The Tories' policy of making us work longer for less continues.
Raising the pension age even more is disguised by mealy-mouthed comments about how good it is that people are living longer.
It ignores the reality of the shorter healthy life expectancy of the poorest people by simply reflecting the increasing life spans of the healthy and wealthy.
Two thirds of Britons will fail to reach the state retirement age of 68 free from disability.
The additional £2.1 billion worth of cuts in civil service spending will lead to further job losses and privatisation.
Government departments, already struggling under budget cuts and the loss of tens of thousands of civil servants, will simply not be able to cope, leading to a deterioration in services to some of the most vulnerable groups in society.
PCS will continue to campaign against austerity using all tools at our disposal. Our members' living standards are falling. Those in work are joining those out of work living in poverty.
We will continue to do all we can to organise action against these attacks, as well as working with those campaigning against the attacks on unemployed and disabled people.
---
>
The creation of 'slave learners'
A UCU member
Those of us working in further education (FE) are facing attacks on our pay, conditions and pensions - just like everyone in the public sector.
FE lecturers have seen the value of our pay fall by 15% over the last four years and have begun a campaign of strike action over a 'final' pay offer of 0.7%, which the employers want to tie to an end to national agreements on working conditions.
We're also facing an increased workload and the additional stress that it causes.
FE colleges are part of what's still referred to as 'the post compulsory sector'.
While that's never been entirely true - some school-leavers have always had to go to college out of economic necessity - the fact that the overwhelming majority of students are there because they want to be, not because they've been forced, has been important to anyone working or studying in our colleges.
The Chancellor's plans will turn a whole layer of young people - who'll already feel let down by the education system and society as a whole - into educational conscripts: 'slave learners' alongside the slave workers on workfare schemes.
The Chancellor's message seems to be 'the economy is improving, so working class people need to suffer more'.
The result will be even more pressure on the already overstretched FE system.
The scheme doesn't even begin to tackle the real problems that young people are facing - unemployment or a life of low pay, lousy working conditions and zero-hour contracts.
It won't create a single new job for those young people. It's yet another stick to beat them with, and part of a cynical ploy to reduce the youth unemployment figures - on paper at least - by making it harder to claim benefits.
---
>
Shake up the establishment parties
Dave Nellist, TUSC chair and ex-Labour MP
Osborne thinks that austerity is working, but the queues at foodbanks and pay day lenders tell a different story.
This government of millionaires might think things are improving, but most ordinary working class people are facing a Dickensian future rather than a bright recovery.
This government of the rich, for the rich, want us to work even longer. It is to be made even harder for unemployed young people to claim meagre benefits. Further massive cuts threaten essential public services and jobs.
And where is the working class voice in all this? Ed Balls correctly points out that for most people there is no recovery, but Labour promises continued austerity.
All those Labour councils who have meekly passed on the cuts since 2010 are now expected to pass on even more.
It's time to make a stand. In the 2014 council elections the Trade Unionist and Socialist Coalition is planning on standing a record number of working class candidates against cuts.
There are a growing number of anti-cuts councillors, prepared to stand up for ordinary people, including TUSC supporters and Southampton Councillors Keith Morrell and Don Thomas.
In 2014 socialists, trade unionists and many ordinary working class people want to shake up the establishment parties in Britain.
---
This version of this article was first posted on the Socialist Party website on 5 December 2013 and may vary slightly from the version subsequently printed in The Socialist.
Why not click here to join the Socialist Party, or click here to donate to the Socialist Party.
---