Link to this page: https://www.socialistparty.org.uk/issue/796/18054
From The Socialist newspaper, 29 January 2014
Recovery? More Tory Lies!
Strike back against endless cuts
How can you tell when a Tory is lying? Their lips are moving. It's an old joke but it surely rings true.
What have we heard over the last week? Incomes are rising. We're in a recovery. In fact the opposite is true - we face billions of pounds more cuts and seemingly endless downward pressure on our wages, working conditions and benefits.
Councils of all shades are announcing yet more cuts as they carry through Con-Dem austerity. Getting angry is a rational response but that alone won't stop the onslaught. Here we report on how two groups of workers are organising effective resistance.
---
>
Glasgow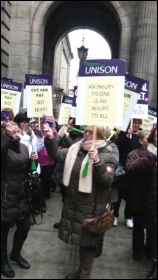 Glasgow residential care workers striking against pay cuts of up to £1,500 a year, photo by Socialist Party Scotland (Click to enlarge)
Philip Stott
There is a growing confrontation between the Labour administration of Glasgow council - prepared to attack its own workforce and the services it provides - and a fighting trade union branch opposed to all cuts.
Hundreds of Glasgow residential care workers finished a second 48-hour strike on 28 January. Up to 200 of the overwhelmingly female workforce are facing cuts in wages of £1,500 a year.
As Unison steward Maggie Smith commented: "We didn't want to strike but we've been left with no choice. We don't deserve these cuts to our wages and increased shifts."
Social Work Services (SWS) bosses are demanding workers go onto 12-hour shifts and have insisted on other changes to terms and conditions.
This group of workers, who have not taken action before, were forced to sign the new contracts following threats from management.
Brian Smith, Glasgow City Unison branch secretary, explained: "Senior SWS management still refuse to move on any aspect of the dispute.
"They remain unwilling to address the cut in Unison members' living standards. They show little understanding of what a £1,500 cut in pay means to workers living on around or below average wages."
The residential care strike action comes after a series of strikes last year by Pupil Support Assistants (PSAs) employed by the council at schools across the city. The PSAs walked out in a row about staff having to take on extra healthcare duties.
Unison members were also involved in unofficial action at homeless units last year. There are another two ballots for action involving groups of workers in the social work department.
Ian Leech, Glasgow Unison social work convener, summed up the determination of the union to fight all the cuts: "Yet again we're back outside the same council offices as we were late last year with the pupil support assistants.
"This time another group of staff are taking action for the first time. The council think they can pick off our members group by group, cut wages, terms and conditions and increase workloads.
"Ordinary Unison members have made it clear; this far and no further, enough is enough."
As we go press the workers have voted to escalate the action with a three-day strike in February.
Please send messages of support to: enquiries@glasgowcityunison.co.uk
---
>
London
And the pay award goes to...
Cleaners and other low-paid workers are getting organised in London, fighting for the '3 Cosas': holidays, sick pay and pensions.
The workers employed at University College London took three more days of strike action this week, campaigning for their final demand - pensions.
On 28 January they travelled by open top bus to the Royal Opera House where other members of the same trade union (IWGB) are campaigning for the living wage.
Royal Opera House cleaners were planning their first day's strike for Sunday, the opening night of the Bafta film and TV awards.
Over 70 strikers and supporters piled into the foyer of the Opera House with megaphones and banners. Someone from management came out and said that they would pay the London living wage.
Everybody started singing and dancing - but workers demand proof of this before they call off the action.
Helen Pattison
Why not click here to join the Socialist Party, or click here to donate to the Socialist Party.
---
In The Socialist 29 January 2014:
---
Socialist Party news and analysis

Recovery? More Tory Lies!

Brighton Green referendum offers no alternative to cuts

Landlords, the real beneficiaries of benefits street

Them and Us
---
International socialist news and analysis

Davos: World capitalism means increased inequality

New mineworkers' strikes in South Africa
---
Trade Unionist and Socialist Coalition

We need councillors who stand up for us

Plymouth TUSC plans for 2014 elections
---
Stop London Underground cuts

Support the tube workers' strikes

Determined strikes can stop London Underground in its tracks
---
Socialist Party workplace news

University workers continue strike action over pay

Land Registry threatened with sell-off

PCS leadership elections

NUT activists meet to push for action

NSSN launched in south of England

Workplace news in brief
---
The Socialist readers' comments

Debate on the environment

A waste of a Friday evening
---
Fight all cuts!

Derbyshire: 'Old Labour' cuts hurt just as much

Carmarthenshire council rats

Spelthorne residents demand fire cuts are stopped

Leeds Labour breaks bedroom tax promise
---
Socialist Party reports and campaigns

Bakers union launches fast food rights campaign

Socialist Party Northern region conference
---
Home | The Socialist 29 January 2014 | Join the Socialist Party
Subscribe | Donate | PDF | ebook
---