Link to this page: https://www.socialistparty.org.uk/issue/798/18143
From The Socialist newspaper, 12 February 2014
Editorial from the Socialist issue 798
London tube stoppages show workers can win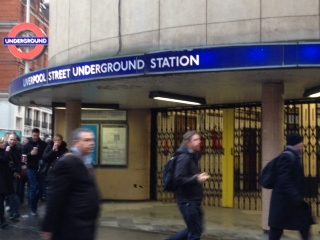 Closed station at Liverpool Street, photo Judy Beishon
The London Underground (LU) dispute is already having the effect of lifting up the sights of trade unionists.
Following the successful first strike management has suspended implementation of all elements of their cuts plan until 8 April.
This includes withdrawing material from the company intranet and halting the voluntary severance process.
RMT members will see this as an important development. Before the strike LU was utterly intransigent but now they have also indicated that they are even prepared to revisit the issue of ticket office closures.
They have also agreed that the terms of the consultation will be mutually agreed and that they will take place at company council level - whereas previously they were at a level that couldn't challenge the economics of the LU proposal.
In return the unions have agreed to withdraw their strike action for 48 hours. Tube workers have shown that management can be forced to retreat - if only partially at this stage.
If LU does not drop their cuts package in the coming negotiations, millions of workers will support the tube workers if they have to reinstate the strike action.
Ticket office closures are opposed by 71% of the population - and the strike reminded Londoners that Boris Johnson promised to keep them open.
The union has produced figures to show that cuts can be avoided by bringing privatised services back in-house, by fighting for restoration of government grant, and by capping senior pay.
Attempts to portray the unions as resistant to technological progress have been shown to be false. When Newsnight presenter Jeremy Paxman sneered at Bob Crow that he was a dinosaur, Bob simply replied, 'well, they were around for a very long time'!
But the unions are clear that they would be happy to discuss changes due to technology as long as workers are retrained and vital services are improved.
But ticket office closures and shedding station staff are not about technology. These services are about the essential human relations that are necessary to make a massive transport system work for everyone.
However the suspension of the attacks doesn't mean a resolution to this strike will necessarily be quick.
The viciousness of senior management calling the police on pickets and encouraging spurious complaints, especially in the case of Mark Harding, shows not only that the managers on the day felt they were losing, but also that the gloves are off.
Members expect their representatives to exploit every opportunity to negotiate. But if the bosses refuse to take the proposals off the table to allow genuine talks, the action must stay on and if necessary be escalated.
If there is no movement, the RMT and TSSA should call a council of war of all the unions in London to build up support of the organised working class across the city.
The current attacks are just 6% of the total £4.6 billion cuts planned - in reality only the first tranche of austerity cuts.
Representatives of the ruling class like Johnson expect a storm - but they're preparing to attack the unions.
He says he would be willing to stand as an MP if only in order to push through further anti trade union legislation.
He wants a 50% participation rule for strike action (which if applied to his own election would see him out of a job!). He has ordered water cannon to be ready for use on the streets of London this summer.
But if the rail unions win, as they have the potential power to, with the backing of the public and of other trade unions in London, it could signal a real step-change in the longer war against austerity.
More on the tube strikes:
Why not click here to join the Socialist Party, or click here to donate to the Socialist Party.
---
In The Socialist 12 February 2014:
---
Socialist Party news and analysis

Floods misery: Government cuts to blame

What future for Labour and the unions?

Fast food workers want decent pay and conditions

NHS: Kick out big Pharma

Them & Us
---
Trade Unionist and Socialist Coalition

Sheffield kicks off election year with 7.6% vote

Standing up against cuts in Reading

Waltham Forest: Rally for rent control

Lewisham Labour no use in the Lions' Den
---
London Underground dispute

Tube strike first round: Trade Unions 1 - Johnson 0

London tube stoppages show workers can win

Effective action builds

State attacks trade union action
---
Socialist Party workplace news

Teachers call national strike

Posties vote yes - where now for postal workers?

Higher Education: Striking for an improved pay offer

Workplace news in brief
---
Reviews and readers' comments

The Square: bravery and disappointment in Egypt

Housing crisis hell: a worker's view

Don't trust Labour with our NHS

2004 Morecambe Bay tragedy: Has anything changed?

Tebay disaster: Workers' grievances can't be sidelined
---
Socialist Party reports and campaigns

Councils continue making Con-Dem cuts

Brighton solidarity with LGBTQ+ Russians

Leicester Socialist Student arrested in peaceful protest

WASP: South African elections announced

Building the Socialist Party
---
Home | The Socialist 12 February 2014 | Join the Socialist Party
Subscribe | Donate | PDF | ebook
---