Link to this page: https://www.socialistparty.org.uk/issue/807/18484
From The Socialist newspaper, 16 April 2014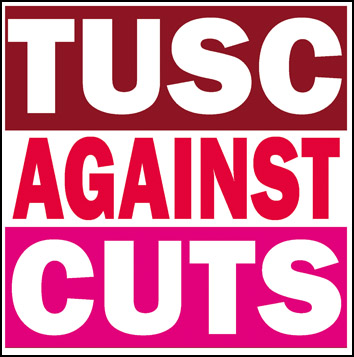 Help TUSC offer a no-cuts alternative on 22 May
New candidates take TUSC within sight of BBC's 'fair coverage' threshold
The Trade Unionist and Socialist Coalition (TUSC) national steering committee has approved a further swathe of no-cuts candidates to stand under the TUSC umbrella in the local council elections taking place on 22 May.
539 candidates have so far been approved by the steering committee - with the number of councils with TUSC candidates also increasing.
Most importantly, with more applications arriving even since the latest approvals broke the 500 barrier, TUSC is now less than 100 candidates short of reaching the BBC's threshold for 'fair media coverage' in the official election period. The full list of the candidates so far, presented in a regional breakdown can be found at www.tusc.org.uk, including the latest applications agreed.
There is still time to come forward as a candidate. The official nomination papers have to be handed in by Thursday 24 April. That means nomination forms could be collected from your council next week, with plenty of opportunities remaining to get ten electors in the ward where you want to stand to sign your form (there are guidance notes for TUSC candidates and agents on electoral procedures on the TUSC website). Reports have come in that candidates have got their forms signed in just an hour's door-knocking, such is the anger at the establishment politicians.
The other formal requirement to appear on the ballot paper as a TUSC candidate is to get a 'Certificate of Authorisation' from TUSC. That means completing the council candidate authorisation application form available on the Candidates page of the TUSC website and e-mailing it as soon as possible to Clive Heemskerk, the TUSC national election agent, at cliveheemskerk@socialistparty.org.uk
This is also a political requirement for TUSC, signifying that prospective candidates have signed up to the TUSC Local Elections Policy Platform, which commits candidates, among other points, to oppose all cuts to council jobs, services, pay and conditions if they were elected. The full platform is available on the website.
It remains to be seen what the BBC would describe as 'fair media coverage' for this platform, a bold alternative to the austerity consensus. But getting TUSC at least to the negotiating stage is now within reach.
TUSC
The Trade Unionist and Socialist Coalition (TUSC) is an electoral alliance that stands candidates against all cuts and privatisation. It involves the RMT transport union, leading members of other unions and socialists including the Socialist Party.
This May TUSC plans to stand hundreds of no-cuts candidates in the council elections against all the austerity parties voting through the destruction of jobs and services. Could you be a candidate?
See tusc.org.uk
See also:
Why not click here to join the Socialist Party, or click here to donate to the Socialist Party.
---
In The Socialist 16 April 2014:
---
Socialist Party election campaigning

Help TUSC offer a no-cuts alternative on 22 May

Election appeal: help us make history

More cuts and another resignation in Southampton
---
Socialist Party news and analysis

Profit vultures out of NHS

Ending MPs' expenses scandal requires socialist change

Con-Dems escalate housing crisis

Tamiflu scandal exposes bloodsucking big pharma

Pit closures: Final act of Tory vandalism

Them & Us
---
International socialist news and analysis

40 years of the Committee for a Workers' International

India: massive election process could end in turmoil
---
Socialist Party workplace news

Gains for left on NUT executive

Stop the education catastrophe!

Health workers vote to fight government pay cuts

Strikers shut cinema in battle for living wage

Let down by Welsh Labour

RMT: Put the tube strike back on and escalate

Workplace news in brief
---
Socialist Party reports and campaigns

Beating Bedroom Tax evictions

NUS conference: sip tea or put up a serious fight?

Goldthorpe: Anger at Thatcher's destruction of mining

Anti-austerity demonstration called in Salford

May Day greetings with the Socialist
---
Readers' comments

Hard loads - and a fightback - on the bins

Working on zero-hour contracts

Disgusted at politicians' big business links
---
Home | The Socialist 16 April 2014 | Join the Socialist Party
Subscribe | Donate | PDF | ebook
---