Link to this page: https://www.socialistparty.org.uk/issue/816/18833
From The Socialist newspaper, 25 June 2014
Miliband attacks young unemployed
Blame the profit system not its victims!
Laurence Maples
In the same week that a new TUC report showed the dismal job prospects for young people in Con-Dem Britain, due to the miserable failure of British capitalism to invest, Labour leader Ed Miliband has launched yet another attack on us.
In a move that shows Labour's determination to demonise the unemployed even more viciously than the Tories, he has outlined plans to strip Jobseeker's Allowance (JSA) from 18-21 year-olds who lack qualifications. This would be replaced by a lower 'youth allowance', conditional on completing training and means tested against parental income.
This builds on the government's attempts to destroy the welfare state and force workers to rely on their families, explicitly recognising that the welfare system will not meet everyone's needs.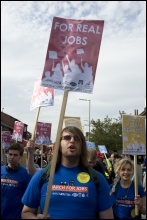 Youth Fight for Jobs, photo Paul Mattsson
Of course, under the pressure of compulsion, young people won't be able to pick the most suitable training courses, but Labour only cares about serving the interests of big business.
The implicit message is that young people are lazy and will look for an easy life on benefits, but at £57 a week JSA is barely enough to survive on. Hardly a life of excess, unlike the six Labour MPs sent to prison for stealing tens of thousands in expenses!
In reality there are not enough jobs to go round, with millions more jobseekers than vacancies. To change this situation, we need a massive programme of investment in public services to build houses, schools and hospitals
Instead, the government is cutting public spending and sacking hundreds of thousands of public sector workers - and Labour is doing its dirty work where it controls local authorities.
As a young unemployed person, I know what it's like to send off endless job applications with no response, while the threat of benefit sanctions constantly hangs over you.
To see wealthy, establishment politicians lecturing us just adds insult to injury. We weren't the ones who let the banks trash the world economy then bailed them out scot-free, or the ones who helped construction companies blacklist workers. That was the fat cat politicians - too busy lining their own pockets to stop their own system collapsing on itself!
If Ed Miliband thinks we're lazy, he should come and debate with young, socialist activists and see the energy that young people have to fight back.
All this demonstrates that the Labour Party does not represent working class people any longer and we need a new party. Having just fought the biggest left of Labour electoral challenge in a lifetime, the Trade Unionist and Socialist Coalition are fighting for a decent future for young people.
We demand:
Benefits you can live on, not just exist on
Jobs for all who are capable of working
£10 an hour minimum wage with no exemptions
Scrap zero-hour contracts
Full trade union rights in all workplaces
Free education and full maintenance grants not loans
Donate to the Socialist Party
Coronavirus crisis - Finance appeal
The coronavirus crisis has laid bare the class character of society in numerous ways. It is making clear to many that it is the working class that keeps society running, not the CEOs of major corporations.
The results of austerity have been graphically demonstrated as public services strain to cope with the crisis.
The government has now ripped up its 'austerity' mantra and turned to policies that not long ago were denounced as socialist. But after the corona crisis, it will try to make the working class pay for it, by trying to claw back what has been given.
The Socialist Party's material is more vital than ever, so we can continue to report from workers who are fighting for better health and safety measures, against layoffs, for adequate staffing levels, etc.
Our 'fighting coronavirus workers' charter', outlines a programme to combat the virus and protect workers' living conditions.
When the health crisis subsides, we must be ready for the stormy events ahead and the need to arm workers' movements with a socialist programme - one which puts the health and needs of humanity before the profits of a few.
Inevitably, during the crisis we have not been able to sell the Socialist and raise funds in the ways we normally would.
We therefore urgently appeal to all our viewers to donate to our special coronavirus appeal.
---
In The Socialist 25 June 2014:
---
Socialist Party news and analysis

10 July: All out to end poverty pay

Western hypocrisy as Iraq disintegrates

Blame the profit system not its victims!

NHS: The world's best - but for how long?

Miliband - the emperor with no clothes

Poverty Britain

Them & Us
---
Socialist Party review

Thomas Piketty: The new Marx?
---
International socialist news and analysis

Hong Kong: Pro-Beijing newspaper attacks socialists

Israel: Nationalist thugs assault CWI members
---
Socialist Party workplace news

How can Unite lead fight against cuts?

Reinstate Bryan Kennedy!

Unison conference: members call for united action

GMB members question Labour link

Safety Glass strikers demonstrate their strength

National Museum Wales strike

Workplace news in brief
---
Socialist Party reports and campaigns

People's Assembly demo shows anti-austerity anger

South Yorkshire 'Freedom Riders' attacked by police

Fighting for young people in Blackwall and Cubitt Town

Victory! York socialists win university letting agency

Tottenham: Stop fascist attacks

Winning recruits for socialism

Tax dodgers feel the heat
---
Readers' comments

Supermarket price wars

A day in the life of a supermarket worker
---
Socialist history

When Thatcher unleashed her attack dogs
---
Obituary

Gerry Conlon: Fighter against state injustice
---
Home | The Socialist 25 June 2014 | Join the Socialist Party
Subscribe | Donate | PDF | ebook
---