Link to this page: https://www.socialistparty.org.uk/issue/824/19189
From The Socialist newspaper, 10 September 2014
Students: Fight debt, poverty & capitalism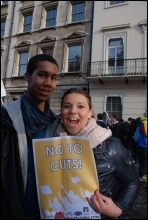 University, college and school students protest in central London against higher tuition fees and education cuts , photo Suzanne Beishon
Jack McLean, Huddersfield
Going to university is supposed to be a stepping stone to a job which you couldn't get without a degree. The reality is that, because of Westminster politicians, the only thing guaranteed for students after completing a degree is debt - lots of debt and little prospect of finding a job in which you're qualified. Capitalism is forcing the majority of young people into unskilled, low-paid jobs, yet still charging us to go to university.
Austerity has terrorised the lives of working-class people across Europe, and education has become a target for cuts. Infamously, in 2010, Nick Clegg and the Liberal Democrats betrayed their voters by backing the Conservative's bill to raise tuition fees to £9,000 a year.
But student debt doesn't just hit you when you graduate. Student loans are nowhere near enough to live on so the number of students in desperate need of a part time job is rising while job opportunities remain stagnant.
'Apathy?'
University for many students has become a time shrouded in financial worries. The average debt for a graduate now stands at £53,000! The stereotype of student life being nothing more than socialising and watching daytime television is no longer true.
Because of the low turnout of students in elections, the major political parties feel that they are able to completely ignore student woes. Some are talking of further increasing tuition fees and none of them are even considering lowering them, never mind abolishing them. Students can't trust these capitalist politicians - that's why so few of us vote, not 'apathy'.
We must fight for a socialist alternative so we can regain education as a right rather than a consumer product. Students should join the mass TUC demo on 18 October as well as supporting the public sector strike on 14 October so we can stand against the cuts that will devastate our future careers. Campaigns should also be taking place on campuses to get as big a turnout as possible to the 19 November student demonstration in London.
Join Socialist Students today to build a united student movement to fight against austerity and end the debt and poverty burdened on us by the super-rich and their capitalist system.
Donate to the Socialist Party
Coronavirus crisis - Finance appeal
The coronavirus crisis has laid bare the class character of society in numerous ways. It is making clear to many that it is the working class that keeps society running, not the CEOs of major corporations.
The results of austerity have been graphically demonstrated as public services strain to cope with the crisis.
The government has now ripped up its 'austerity' mantra and turned to policies that not long ago were denounced as socialist. But after the corona crisis, it will try to make the working class pay for it, by trying to claw back what has been given.
The Socialist Party's material is more vital than ever, so we can continue to report from workers who are fighting for better health and safety measures, against layoffs, for adequate staffing levels, etc.
Our 'fighting coronavirus workers' charter', outlines a programme to combat the virus and protect workers' living conditions.
When the health crisis subsides, we must be ready for the stormy events ahead and the need to arm workers' movements with a socialist programme - one which puts the health and needs of humanity before the profits of a few.
Inevitably, during the crisis we have not been able to sell the Socialist and raise funds in the ways we normally would.
We therefore urgently appeal to all our viewers to donate to our special coronavirus appeal.
---
In The Socialist 10 September 2014:
---
Socialist Party news and analysis

Scotland in revolt against austerity

Scottish referendum: A mass revolt against austerity

Students: Fight debt, poverty & capitalism

Abuse: Cuts have robbed us of the time to talk to these young people

Bedroom Tax edges toward its doom

Government spending cuts deepen prisons' crisis

British leaders back expansion of Nato war machine

Them & Us
---
International socialist news and analysis

Ebola virus: Victims of a failed capitalist system

US: building a movement to end poverty pay!
---
Socialist Party workplace news

NSSN rally: Building pressure for coordinated action

NUT members angry at lack of October strike action

TUC votes for £10 minimum wage

Care UK workers set for longest NHS strike

Probation officers protest against privatisation

Workplace news in brief
---
Socialist Party reports and campaigns

Tamil Solidarity Day: a great success

Labour lets down NHS protesters

North West marches for end to austerity

TUSC councillors back taxi struggle

Socialist Party campaigning
---
Socialist Party comments and reviews

Unison Bureaucracy Unmasked

Guardian story confirms councils can resist cuts
---
Home | The Socialist 10 September 2014 | Join the Socialist Party
Subscribe | Donate | PDF | ebook
---