Link to this page: https://www.socialistparty.org.uk/issue/826/19279
From The Socialist newspaper, 24 September 2014
NHS workers vote to strike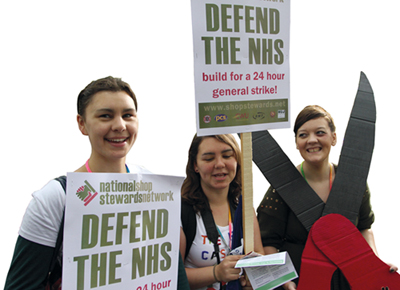 An NHS mental health worker
Health workers in Unison have voted by 68% for full strike action over pay, with 88% in favour of action short of a strike. We are striking for our patients and their carers, as well as ourselves.
Nurses, occupational therapists and other health staff have had enough of this government's brutal austerity agenda and we are sick of seeing our patients' lives ruined by NHS cuts.
In mental health services it is well known that psychosis patients die, on average, 14-20 years earlier than the rest of the population. Poverty is at the root of this shocking statistic. There is no more money being invested, but lots of new demands are made on NHS staff who are already overworked.
We are sick of NHS managers telling us that 'there is no money' as our jobs being downbanded while their pay has gone up 8%! We are sick of being subjected to 'service redesign' which is a euphemism for more cuts, job losses and reduced services.
We are due to strike for four hours on 13 October - the day before local government and college workers strike.
But we want Unison and the other health unions to properly coordinate strike action with other disputes.
13 October should be just the opening NHS strike. Next time we should come out for a whole day at the same time as other public sector workers.
Why not click here to join the Socialist Party, or click here to donate to the Socialist Party.
---
In The Socialist 24 September 2014:
---
Socialist Party news and analysis

We need £10 an hour now!

Labour to continue austerity offensive

Climate change: Summit for nothing

Academies lead to nepotism and profit making

Them & Us
---
Scottish referendum

1.6 million vote Yes in revolt against austerity

After Scotland revolt: all capitalist parties in crisis

Scotland Poll: Electric mood among YES supporters
---
International socialist news and analysis

Millions on streets for Catalan independence

Sweden: Conservatives collapse, extreme-right gains
---
Socialist Party workplace news

United strike action can win

NHS workers vote to strike

College lecturers join 14 October strike

Care UK: 'We'll fight them all the way'

Croydon leisure centre strike for decent wages

West Midlands fire engine cuts

Workplace news in brief
---
Socialist Party reports and campaigns

Tenants threatened by 'feudal lord'

Global day of eco action

Round up: Socialist Students at the freshers fairs
---
Socialist Party comments and reviews

The struggle for decent social care - a personal account

Tony Benn: Will and testament

Obvious Child

Skylight

Front row fury
---
Home | The Socialist 24 September 2014 | Join the Socialist Party
Subscribe | Donate | PDF | ebook
---