Link to this page: https://www.socialistparty.org.uk/issue/837/19822
From The Socialist newspaper, 10 December 2014
Defend universal healthcare access
Save our NHS
Luke Pilling, medical researcher, Exeter hospital
In response to the rising deficit of North, East and West (New) Devon NHS, smokers and obese individuals will be denied surgery unless they quit smoking, or lose 5% of their body weight. There's also talk of this policy being rolled out nationally.
Of course healthier lifestyles should be encouraged, but so-called health managers should not implement such presumptuous policies which undermine the principles of the NHS: to provide free (at the point of use), non-discriminatory healthcare.
Not only does this policy assume that all obese people could lose weight if they wanted to (they can't), but that denial of surgery will somehow decrease costs. But if the surgery is just deferred to a later date, the patient's condition - and treatment cost - may get worse.
And what about the responsibilities of cigarette and food companies? Their profits won't be hit by this policy.
New Devon NHS's £14.5 million deficit speaks of a much wider problem in NHS funding caused by cuts - to pay for the banking crisis of 2008 - and even before that Private Finance Initiative schemes implemented under Labour and the Tories.
Limiting NHS access will not address this, and may open the floodgates to other restrictions and the introduction of additional up-front charges.
No risks?
Plenty of people enjoy activities with risks associated with them, from climbing and cycling, to drinking and dancing. Should the NHS limit access to surgery for anyone with a lifestyle perceived to increase risk? Of course not - we should have a universal healthcare system.
Yet the NHS is currently being privatised, with services tendered out. Who gets certain NHS treatments could be decided by board members and shareholders with no public accountability.
Already in the UK private healthcare providers preferentially treat "acute" (short-term) illnesses, but leave expensive "chronic" (long-term) conditions to the NHS.
To care for everyone effectively, particularly with the average age of the population continuing to increase, we need a socialist National Health Service, owned and operated collectively and democratically.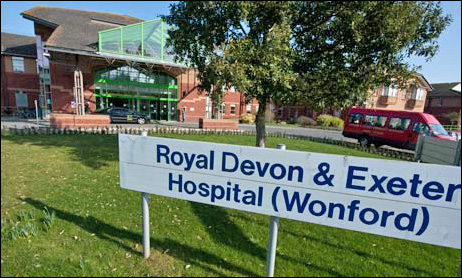 Royal Devon and Exeter hospital
The Socialist Party says:
Scrap and reverse all NHS privatisation
Kick out Private Finance Initiative deals
Bin the Health and Social Care Act
Scrap the £20 billion 'efficiency' savings
For a fully funded, accountable, socialist NHS
Donate to the Socialist Party
Finance appeal
The coronavirus crisis has laid bare the class character of society in numerous ways. It is making clear to many that it is the working class that keeps society running, not the CEOs of major corporations.
The results of austerity have been graphically demonstrated as public services strain to cope with the crisis.
The government has now ripped up its 'austerity' mantra and turned to policies that not long ago were denounced as socialist. But after the corona crisis, it will try to make the working class pay for it, by trying to claw back what has been given.
The Socialist Party's material is more vital than ever, so we can continue to report from workers who are fighting for better health and safety measures, against layoffs, for adequate staffing levels, etc.
When the health crisis subsides, we must be ready for the stormy events ahead and the need to arm workers' movements with a socialist programme - one which puts the health and needs of humanity before the profits of a few.
Inevitably, during the crisis we have not been able to sell the Socialist and raise funds in the ways we normally would.
We therefore urgently appeal to all our viewers to donate to our Fighting Fund.
---
In The Socialist 10 December 2014:
---
Socialist Party news and analysis

Osborne's savage cuts: No return to the 1930s!

Reject the lie that is austerity

Europe: a new wave of workers' struggle has begun

Save our NHS

Tenants can resist Scrooge landlords

Climate change: Sacrificing the future

Them & Us
---
International socialist news and analysis

Uprising against police violence in the US
---
Socialist Party workplace news

London bus drivers: Same job - we want the same pay!

1,000 firefighters march to defend Ricky Matthews

Students join Lambeth walkout

Sharpak Yate packaging strike

Rail franchise jobs: TUPE or not TUPE?
---
Socialist Party reports and campaigns

We have a world to win!

Socialist Students: fight for free education

Election appeal: finding cash to fight the cuts

Campaign news in brief
---
Socialist Party comments and reviews

The 1914 Christmas truce

Mockingjay: Part One

Broadband giants' expensive battle

Quiz 2014
---
Home | The Socialist 10 December 2014 | Join the Socialist Party
Subscribe | Donate | Audio | PDF | ebook
---