Link to this page: https://www.socialistparty.org.uk/issue/845/20173
From The Socialist newspaper, 25 February 2015
Editorial from the Socialist 845
Councils at breaking point: the strategy to fight back
Councils up and down the country are setting budgets, once again forcing through tens of millions - in some cases hundreds of millions - of pounds of cuts.
The headline figures, regularly exposed in the pages of the Socialist, are bad enough. They come on top of similarly savage cuts since 2011. Graeme McDonald, director of the Society of Local Authority Chief Executives and Senior Managers has said that cuts "will push some authorities to breaking point".
These cuts have appalling human consequences. As well as the 'obvious' results - library closures, roads full of potholes, no one answering the phone at the council offices - there are devastating results behind the scenes.
For example, recent newspaper headlines have highlighted the numbers of young people being stabbed in some areas. What they don't mention is the complete stripping out of youth services, including the destruction of youth offending teams. When social work teams dealing with early intervention in families are expected to take on work with young people up to age 19 and troubled families, with no extra resources, it doesn't make the headlines.
Jobs
Hundreds of thousands of people have lost their jobs, and those that remain have faced big pay cuts. The public sector pay freeze applies to council workers. Councils also administer the cuts to housing benefit and council tax rebate, and drag people through the courts to enforce payment of council tax.
Disgracefully, these cuts are the case no matter which capitalist party runs the council. The tragic case of the man in Newham, East London, who committed suicide because of cuts to his housing benefit and demands for impossible payments from the council, was the result of a Labour local authority carrying out the Tory/Lib Dem demands.
The first austerity cuts budgets under the Con-Dems in 2011 were met by big protests. Hundreds of people marched in each town and borough, and even invaded council chambers in the hope of persuading Labour councillors not to vote for cuts.
Scandalously every single Labour council pushed through the cuts.
Then, Labour councillors said they were opposed to cuts but it was the Con-Dems' fault. Now, the excuses have run out. At one recent anti-cuts meeting in Haringey, north London, a local trade unionist who is also a Labour Party member asked: "Why is this Labour council voting for a three-year cuts budget when they expect a Labour government in May?"
Why?
Why indeed. The Socialist Party has argued that councils should, instead of making cuts, use their reserves and prudential borrowing powers, in the first instance, to give them time to mount a mass campaign. Now, with the general election only two months away, why not use that stopgap and demand that an incoming Labour government underwrites any debt?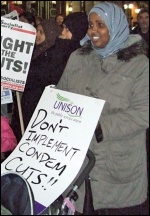 Fighting the cuts in Tower Hamlets, East London
What this betrays is the reality of the new government in May - whoever wins. Labour councillors know full well that if Labour wins in May the cuts in local government will continue.
Ed Miliband, Ed Balls and shadow local government minister Hilary Benn, have all been explicit - there will be no more money for local government.
In May, at the same time as the general election, there will be council elections in the majority of England. While the main press attention is on who will form the next government, in fact councils will be one of the main battle grounds over services, jobs and pay.
Principles
But as austerity intensifies, and as British politics begins to break up, with more voters looking for alternatives, a few Labour councillors are starting to feel that they can stomach what is being demanded of them no longer, and that the possibility of changing Labour has gone.
The principled stand of the Socialist Party and Trade Unionist and Socialist Coalition candidates, in arguing that councillors should not vote for cuts, has helped this process along.
The TUSC conference in January this year brought together rebel councillors from Leicester, Warrington, Hull, Southampton, Harrow and Walsall.
Councils should follow the road of Liverpool Labour council in the 1980s, led by supporters of the Militant, the forerunner of the Socialist Party.
Liverpool council refused to make the Tories' cuts, set a budget to meet the needs of the city, and mounted a massive trade union and community campaign to win the necessary funding.
Strike
The campaign involved thousands of local people in mass demonstrations, a city-wide strike, and real consultation on the services they needed. They attempted at all times to link up with other councils to fight against the government's cuts.
Even just one rebel council, acting in this way, could spearhead a national campaign. The number of rebel councillors could snowball.
This May, as well as 100 general election candidates, TUSC will be standing up to 1,000 council candidates arguing for this approach. Rebel councillors and councils, joining up with community campaigns and linking up with vital national coordinated trade union action, could defeat austerity policies - no matter who wins the general election in May.
Donate to the Socialist Party
Finance appeal
The coronavirus crisis has laid bare the class character of society in numerous ways. It is making clear to many that it is the working class that keeps society running, not the CEOs of major corporations.
The results of austerity have been graphically demonstrated as public services strain to cope with the crisis.
The Socialist Party's material is more vital than ever, so we can continue to report from workers who are fighting for better health and safety measures, against layoffs, for adequate staffing levels, etc.
We must be ready for the stormy events ahead and the need to arm workers' movements with a socialist programme - one which puts the health and needs of humanity before the profits of a few.
Inevitably, during the crisis we have not been able to sell the Socialist and raise funds in the ways we normally would.
We therefore urgently appeal to all our viewers to donate to our Fighting Fund.
---
In The Socialist 25 February 2015:
---
Socialist Party news and analysis

Kick out corrupt politicians

End the housing crisis!

Councils at breaking point: the strategy to fight back

Put the bankers in the stocks!

Defend the right to protest

Them & Us
---
Socialist Party reports and campaigns

May Day greetings: Implacable resolve of lowest paid

Nine-fold growth for Grimsby Socialists

Campaign news in brief
---
International socialist news and analysis

Greece: Syriza at a crossroad

Ireland: five anti-water charges protesters jailed
---
2015 elections

Bristol Greens back 'shocking' austerity policies

Warrington 'vanity project' youth service cuts

With friends like these, who needs enemies?

Election appeal: Funded by you - not by big business
---
Socialist Party workplace news

Left scares Usdaw leadership in elections

Unison activists challenge New Labour

Socialists in Unison call for solidarity with PCS

How to strike against privatisation
---
Reviews and readers' comments

When women's solidarity won battle for trawlermen

Worse off than our parents

Fight tuition fees - support the TUSC alternative

TV football deal: Reclaim the game for the fans
---
Socialist history

50 years on: the assassination of Malcolm X
---
Home | The Socialist 25 February 2015 | Join the Socialist Party
Subscribe | Donate | PDF | ebook
---