Link to this page: https://www.socialistparty.org.uk/articles/20286
Posted on 13 March 2015 at 15:36 GMT
Revealed: Tesco's 2012 plotting against its Doncaster drivers
Alistair Tice
In August 2012, 183 Tesco drivers in Doncaster were transferred over to Eddie Stobart Logistics (ESL), yet within one month were all given notice of redundancy. The drivers, all Unite union members, took 15 days of strike action to try to save their jobs.
We now have evidence that appears to back up what all the drivers thought at the time: that Tesco and Stobart colluded in sacking them, to be replaced by non-union drivers on worse terms and conditions. An email trail of Tesco and ESL memos reveals the employers' cold-hearted calculations to force through their cost-cutting project at the drivers' expense.
After a 91% vote for industrial action, they mass picketed for 50 hours, blockading up to 120 lorries and even drove a tank to the distribution centre gates. This bold action did not stop the redundancies, but did force a 50% better redundancy package.
Unite and the drivers pursued an Employment Tribunal (ET) case for lack of consultation and unfair dismissal. In January this year, the drivers accepted an out of court settlement of £15,000 each in compensation, five times what the companies originally offered.
But the witness statements and disclosure documents submitted for the Employment Tribunal reveal the companies' plotting.
Wining and dining
It began with a dinner in April 2012 at which Tesco informed ESL of its proposal to take back in-house its Goole transport hub (off Stobart) to make savings.
However it appears that Stobart made a counter suggestion. The next day, Tesco Logistics director, Steve Strachota, wrote to Stobart's chief executive, Andrew Tinkler, saying: "I enjoyed our dinner and discussion ...".
Tinkler replied: "It was good to meet last night ... as a long standing valued partner of Tesco" (what about the drivers with over 20 years' service?) "I think we should be afforded more time ... to outline our thoughts on how to help you deliver your cost reduction plan within your network ... I believe Eddie Stobart ... could deliver up to (redacted figure) saving annually and contribute (redacted figure) to your redundancy costs at Doncaster".
Much later, in his ET witness statement, Strachota denied collusion: "To my knowledge there was no agreement with ESL that the drivers should be made redundant", even though they clearly discussed redundancies and savings at their first dinner meeting - months before the transfer and sackings.
In an internal memo, Phil Atkins, a senior Tesco manager, was told: "If you don't make the drivers redundant then you won't get the T & Cs [terms and conditions] saving ...". This indicated that the plan was to sack the Doncaster drivers and their work be taken up by Stobart drivers from nearby Goole on much lower pay.
But this plan was seemingly disguised behind ESL supposedly conducting a four-week audit of running the Doncaster site after the transfer to it in August. Only then, it said, would it be able to decide which of four options it would implement, including 'option D' - making all the Doncaster drivers redundant. On 5th September, ESL duly gave all 183 drivers 90 days notice of redundancy.
As Sheila Woodbridge, ESL Human Resources, made clear: "Tupe (legislation on transfer of employment) does not confer any rights to protection against redundancies if there are factors which mean changes are needed". In other words, in this case, Tupe wasn't worth the paper it's written on!
Anti-trade union
Tesco aimed to get rid of a strongly unionised section of its workforce. In its comments on ESL's proposal, it said: "Benefits - Tesco Unite membership reduced due to the Tupe (transfer) out".
In another internal memo, one Tesco manager said that Stobart's option is a "no brainer" because it would "outsource a site that we will never tackle and is a tough ER (employment relations) challenge ...".
Phil Atkins stated: "... Unite intransigence is a probability and industrial action ... a distinct possibility."
According to ESL managing director Dave Pickering these worries went right to the top of Tesco with the transfer announcement being delayed a week "because Strachota wants to brief Philip Clarke" (Tesco Chief Executive Officer), "the issue they are nervous around is unions ...".
So the companies made plans to break any strike. Tesco wanted to make sure any industrial action caused minimal disruption to it.
Strachota, in his witness statement, said: "... a decision was taken within Tesco to delay transfer until after the conclusion of the [Euro 2012] tournament because of the potential for industrial action to impact on what would have been key trading weekends for Tesco in summer 2012".
Also, a Tesco Recommendation Paper stated: "Given the timing of the Olympics we must plot the timings around doing this to ensure there is no impact to store service".
The same paper stated: "... In the financial analysis we have assumed (redacted £s amount) of volume is rippled from Doncaster to (redacted Tesco site) for 12 weeks to mitigate against service disruption". In other words, they had contingency plans to operate out of other depots and use Stobart and agency drivers to break any strike.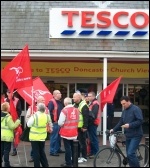 Sacked Tesco drivers, 18.5.13 , photo John Gill
Phil Atkins was especially worried about the possibility of the Doncaster Distribution Centre warehouse workers (also Unite members) being drawn into the dispute. In a conscious divide and rule strategy, he said: "We will seek to separate the warehouse from the transport situation ... Usually we have been successful in this ... However, at Doncaster the warehouse and transport groups are closer than most, so it could be a close call".
Unfortunately the warehouse workers did not come out in support of the drivers but the drivers' strikes and picket blockades "hurt" Stobart, which as an anti-union firm had never faced industrial action before. In handwritten notes of the final negotiations on 12th December, Dave Pickering admitted: "Last few nights have been challenging - brought the operation to a standstill - stores running up to 3 hours late this morning ...".
We all know what bosses can be like but when you see it written down in black and white it is still shocking to see how heartless, calculating and ruthless these ones were in pursuit of maximising their profits.
They cared not a jot for their workers, however many years of loyal service they have given. But they are frightened of trade unions and the power that they have if workers are prepared to fight.
The Tesco drivers did, inspiringly, forcing massive concessions out of Tesco and Stobart.
---
This version of this article was first posted on the Socialist Party website on 13 March 2015 and is longer than the version subsequently printed in the Socialist issue 848.
Donate to the Socialist Party
Finance appeal
The coronavirus crisis has laid bare the class character of society in numerous ways. It is making clear to many that it is the working class that keeps society running, not the CEOs of major corporations.
The results of austerity have been graphically demonstrated as public services strain to cope with the crisis.
The Socialist Party's material is more vital than ever, so we can continue to report from workers who are fighting for better health and safety measures, against layoffs, for adequate staffing levels, etc.
We must be ready for the stormy events ahead and the need to arm workers' movements with a socialist programme - one which puts the health and needs of humanity before the profits of a few.
Inevitably, during the crisis we have not been able to sell the Socialist and raise funds in the ways we normally would.
We therefore urgently appeal to all our viewers to donate to our Fighting Fund.
---