Link to this page: https://www.socialistparty.org.uk/articles/20353
Posted on 18 March 2015 at 14:50 GMT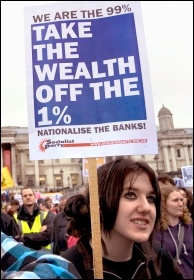 We are the 99% - Take the wealth off the 1% Socialist Party placard, photo Paul Mattsson (Click to enlarge)
The 1% 'walk tall' while the 99% are bowed by austerity
Commenting on today's budget by Tory chancellor George Osborne, TUSC Chair and ex-Labour MP Dave Nellist said:
"Hoping to gain a few extra votes, the chancellor has tried to sell this budget as a little relief from the endless austerity he has offered up for the last five years. It is nothing of the sort. The coalition once again banged the austerity drum, promising £30 billion worth of cuts, including £12 billion from welfare.

"George Osborne says austerity is working but the queues at food banks and pay day lenders tell a different story.
"This government of millionaires might think things are improving, but most ordinary workers are facing a Dickensian future rather than a bright recovery.

"George Osborne says wages have started to increase but - that is only if you include bankers' bonuses in the figures! In fact they are still lower than they were before the 'Great Recession' - for young people a massive 12.5% lower. A 20p an hour increase in the minimum wage is a drop in the ocean compared to that. TUSC is campaigning for an immediate £10 an hour minimum wage for all with no exemptions.
"No one who has experienced five years of Con-Dem government will be surprised by this budget, but where is the opposition? Labour also promises continued austerity. When Osborne put his plans for £30 billion worth of cuts under the next government to parliament only five Labour MPs voted against it!
"It is time to take a stand. That is why the Trade Unionist and Socialist Coalition has attracted a record number of anti-austerity candidates in the elections on 7 May 2015."
---
Information
Trade Unionist and Socialist Coalition:
TUSC was co-founded in 2010 by the late Bob Crow of the transport union RMT, together with the Socialist Party, and other socialist groups, to provide an electoral alternative for those opposing austerity.
TUSC is standing over 120 general election and over 500 local election candidates on 7th May 2015. Candidates are available for interview.
For contacts, information, lists of candidates and video clips about TUSC and more: www.tusc.org.uk @TUSCoalition
Interviews
For interviews with Dave, leading activists and any other information requests, please contact:
Sarah Sachs-Eldridge | National Organiser | Socialist Party, PO Box 24697, London E11 1YD | T: 020 8988 8771 | M: 079 580 320 71 | E: [email protected]
@socialist_party
Donate to the Socialist Party
Finance appeal
The coronavirus crisis has laid bare the class character of society in numerous ways. It is making clear to many that it is the working class that keeps society running, not the CEOs of major corporations.
The results of austerity have been graphically demonstrated as public services strain to cope with the crisis.
The government has now ripped up its 'austerity' mantra and turned to policies that not long ago were denounced as socialist. But after the corona crisis, it will try to make the working class pay for it, by trying to claw back what has been given.
The Socialist Party's material is more vital than ever, so we can continue to report from workers who are fighting for better health and safety measures, against layoffs, for adequate staffing levels, etc.
When the health crisis subsides, we must be ready for the stormy events ahead and the need to arm workers' movements with a socialist programme - one which puts the health and needs of humanity before the profits of a few.
Inevitably, during the crisis we have not been able to sell the Socialist and raise funds in the ways we normally would.
We therefore urgently appeal to all our viewers to donate to our Fighting Fund.
---