Link to this page: https://www.socialistparty.org.uk/issue/474/2059
From The Socialist newspaper, 15 February 2007
SCRAP STUDENT FEES NOW
Build the Campaign to Defeat Fees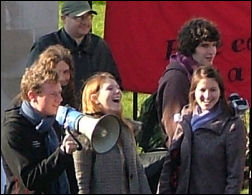 Students are angry - fees are an unbearable burden and massive debts are a shadow over their futures. University used to be about securing a decent future by developing skills and talents; now 70% of students have to work in part-time jobs.
Matt Dobson Socialist Students national co-ordinator
Those who started this academic year and are paying top-up fees will have an average debt of £22,000. More than half of graduates will never be able to afford their own home because of huge debts.
Now Tony Blair's latest scheme is to "embed a culture of charitable giving" in universities by establishing endowment funds where the government will match every £2 of private finance with £1 from public funds. Then students will have the privilege of going cap in hand to beg for their studies to be financed.
Apparently, Blair is concerned about his legacy! Abolishing a free education system wasn't enough for him; he wants to be remembered for dragging education back into the nineteenth century when the rich controlled who had access to universities.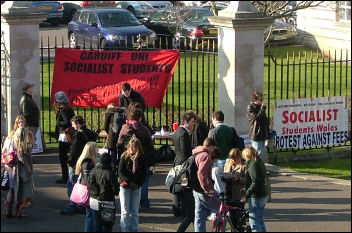 New Labour claims charging fees is needed to pay for higher education. This is not true. There are enough resources to finance free, fully-funded, good quality education but New Labour is more interested in letting fat cats make super-profits and in spending up to £100 billion on Trident.
We need to fight back against fees and all attacks on education. The NUS has publicly stated that it supports the Socialist Student-initiated Campaign to Defeat Fees (CDF) and a number of student unions have passed the CDF motion to abolish fees as policy. Now they need to act on this by using their resources to build a movement with a fighting strategy to defeat New Labour's attacks.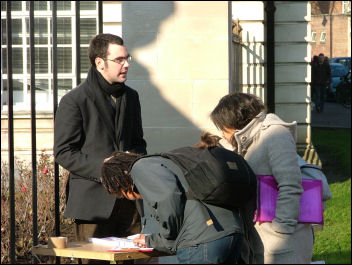 NUS could build a mass movement capable of defeating fees and other attacks on education but it needs to use its resources to get ordinary students involved in the campaign and to link up with the struggles of workers to defend all public services.
To begin with, that means making the 22 February day of action called by CDF as big as possible by campaigning and mobilising students to protest. The day of action will see students demonstrating across England and Wales and will show the potential to build a mass campaign.
Join the nationwide protests on 22 February; build the Campaign to Defeat Fees and organise a protest in your university or college.
Why not click here to join the Socialist Party, or click here to donate to the Socialist Party.
---
In The Socialist 15 February 2007:

Scrap student fees now

Cardiff students build for 22 February

Students must link up with workers

'Saintly' Tesco
---
Campaign for a New Workers Party

A great step forward in Liverpool
---
War and terrorism

Bush threatens Iran over Iraq insurgency

£100 billion Trident?

Angry refugees protest
---
Socialist Party feature

Ten years of the socialist: 1997-2007
---
Bird flu outbreak

Bird flu outbreak: Profits put before health

Job losses fear on turkey farms

Workers' health jeopardised
---
Socialist Party NHS campaign

Fighting back against NHS cuts
---
Socialist Party news and analysis

Police raids dividing community

Save our school buses

£84 million penthouse
---
International socialist news

Workers' strike declared illegal

HSBC imposes charges on aid to Palestinians
---
Workplace news and analysis

PCS action continues

Simclar workers fight sackings

EDS forced into 'U' turn on pay

Greenwich workers prepare to fight

Hackney UNISON
---
Home | The Socialist 15 February 2007 | Join the Socialist Party
---