Link to this page: https://www.socialistparty.org.uk/issue/863/21042
From The Socialist newspaper, 8 July 2015
Education under attack! Reports from the front line of the fightback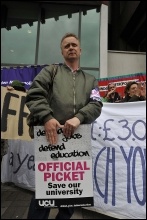 Stafford college wildcat strike against unfit bosses
Dan Smart, Stafford Socialist Party
100 staff members at Stafford College recently staged an unprecedented walk-out in protest at mismanagement and cuts. Earlier, a meeting of around 300 had voted their no-confidence in the college management.
Teachers and other staff members are demanding the resignation of principal Beverly Smith. As Univeristy and College Union rep Marina Bowler told the local Express & Star "Staff feel they are operating in a culture of fear and are being bullied. Workloads have gone up, stress levels have gone up. Staff are not being listened to and good staff have been made redundant."
The protest follows the announcement of cuts and redundancies. The college will face a funding drop from September, with workers and students taking the brunt. Ms. Smith is quoted as saying: "Our transformation will allow the college to be more efficient and gives the opportunity to continue to improve and meet the needs of our stakeholders".
At the same time last year 69 workers faced the axe. A 'consultation period' is currently underway with unions and staff. The main cuts and redundancies will likely fall on adult education. Beverly Smith and the management prove they are not capable of running Stafford College. By exercising their collective power, staff have shown that the management have lost their confidence, and are no longer fit to lead.
As a speaker at the protest put it, Beverly Smith must stand down. If she refuses, workers should argue for official strike action, as well as inviting students for their support. With united action we can build a quality college that serves the needs of workers and students and not the 'stakeholders'.
---
Community rallies behind striking Swansea tutors
Ronnie Job, Secretary, Swansea Trades Council
I attended a great meeting of Save Education Other Than At School recently, bringing support from Swansea Trades Council. Time and again the meeting heard how pupils had been able to successfully complete their school-age education and progress to college only with the assistance of dedicated staff.
It's a scandal that Swansea council officers and Labour councillors seem determined to press ahead with cuts which could see more than half the staff lose their jobs. Trade unionists have shown their determination to defend the service by more than once taking strike action, the last time for three days.
---
Sussex Downs strikes
Phil Clarke, Secretary, Lewes Eastbourne and Wealden NUT
NUT members were on strike again on 2 and 7 July at the Eastbourne Campus of Sussex Downs College against cuts that would severely undermine post 16 education provision in Sussex. Thank you for so many messages of support already, continue this by: signing the petition http://tinyurl.com/sdccuts and pass the link on.
---
Rally against cuts to further education in Leeds
Iain Dalton, Leeds Socialist Party
Around 150 staff and students joined a rally against cuts to Further Education colleges organised by UCU in Leeds on 1 July. At Bradford College, where 140 jobs are threatened as part of £8million worth of cuts, picket lines were solid. One striker told us: "There's real anger - we had 280 staff turn up to a union meeting recently to discuss this."
Speakers at the rally noted that adult education is under threat. Predominantly more working class students access this education. FE workers planned a further strike at Bradford College and balloting is underway in unions at Leeds City College.
---
Salford college faces redundancies
Andrew Sherratt, Salford Socialist Party
57 job losses have been announced at Salford City College following plans to 'streamline' their existing teacher centred programme with a £1million e-learning system. This system will effectively replace teachers and support staff with IT software.
Any cuts to staffing, or resources will result in a downward spiral in the excellent quality of education provided.
The Socialist Party found overwhelming support for the staff who face losing their jobs with students, teachers and the wider public wanting to sign our petition to reverse these cuts.
Donate to the Socialist Party
Finance appeal
The coronavirus crisis has laid bare the class character of society in numerous ways. It is making clear to many that it is the working class that keeps society running, not the CEOs of major corporations.
The results of austerity have been graphically demonstrated as public services strain to cope with the crisis.
The government has now ripped up its 'austerity' mantra and turned to policies that not long ago were denounced as socialist. But after the corona crisis, it will try to make the working class pay for it, by trying to claw back what has been given.
The Socialist Party's material is more vital than ever, so we can continue to report from workers who are fighting for better health and safety measures, against layoffs, for adequate staffing levels, etc.
When the health crisis subsides, we must be ready for the stormy events ahead and the need to arm workers' movements with a socialist programme - one which puts the health and needs of humanity before the profits of a few.
Inevitably, during the crisis we have not been able to sell the Socialist and raise funds in the ways we normally would.
We therefore urgently appeal to all our viewers to donate to our Fighting Fund.
---
In The Socialist 8 July 2015:
---
International socialist news and analysis

Greece: Mighty class-based 'NO' shakes bosses' EU
---
Socialist Party news and analysis

Cuts for us, handouts for rich

Terrorism and classroom spying

Janner case: more establishment child abuse cover-ups

Stop hammering low-paid - £10 an hour now!

ESA under the cosh

Low-income tenants face rent hikes

Them & Us
---
Socialist Party features

NSSN conference 2015: "We could stop austerity in its tracks"

Migrants flee horrors created by capitalism
---
Socialist Party workplace news

Hospital porters mop up in NHS pay battle triumph

Tube union: why we're striking

Britain's biggest union could reconsider funding Labour after leadership elections

Education under attack! Reports from the front line of the fightback

Yorkshire firefighters demonstrate against crew cuts

Workplace news in brief
---
Socialist Party campaigns

Socialist Party LGBT group plans fightback against attacks and austerity

Bitter fight to save Bitterne walk-in centre continues

Scotland and North-West England hold TUSC conferences
---
Socialist Party comments and reviews

Why I joined: 'the Socialist Party has given me political confidence'

TV review: Picasso - Portillo's peculiar perspective
---
Home | The Socialist 8 July 2015 | Join the Socialist Party
Subscribe | Donate | PDF | ebook
---