Link to this page: https://www.socialistparty.org.uk/issue/477/2138
From The Socialist newspaper, 8 March 2007
Brown's pay cut insult
Trade union action for decent pay and public services
"THIS IS the last straw - 1.9% is the final insult" a health visitor angrily told me last Friday.
Alistair Tice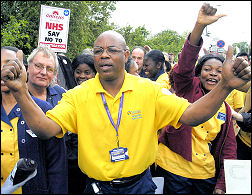 Health workers demonstrate at Whipps Cross hospital in East London, photo Paul Mattsson
On top of job losses, increased workloads, pension cuts and privatisation, public-sector workers were kicked in the teeth last week by New Labour's announcement of an effective pay cut.
Over a million workers are set to get less than a 2% rise. The 'Iron Chancellor', our next prime minister, Gordon Brown boasted: "...overall, awards have come within the inflation target at 1.9%."
The rigged Consumer Price Index (which doesn't include housing costs - like we don't have to pay our rent or mortgages!) is running at 2.7% and the Retail Price Index is going up 4.2%.
Do the maths. This is a pay-cut. Not so says Health Minister Lord Hunt: "I don't see this as a pay-cut at all." No, he wouldn't would he, on his 100 grand-a-year-salary plus expenses. Trained nurses start on less than one fifth of the Lord's salary.
A specialist nurse told me: "Nurses have never been the highest paid workers, the majority being women and many part-time. Workloads increase, complaints increase, violence against NHS staff increases but a demoralised workforce is supposed to take these things in their stride and take a pay cut to boot.
"Patricia Hewitt claims earnings will rise by 4.5% with incremental payments. But many have reached the top of their scales so they will only get 1.9%. Other NHS workers will get even less! Whatever the percentage of a small wage packet, it's always going to be a small rise."
A May Day for Nurses appeal has been launched, signing up Premiership footballers to donate a day's pay on 13 May to help nurses facing hardship. Laudable as their intentions may be, this charity is not the way to beat low pay.
What public-sector workers need is a real May Day. The Royal College of Nursing found in a poll that two thirds of their members would be willing to take industrial action over pay.
One and a half million council workers will have their 5% pay claim rejected later this month. Civil servants, half a million of whom are facing a 1.9% pay limit as well, are consulting on further strike action if they do not reach an acceptable settlement on their demands for decent pay and to defend jobs and services.
The trade union leaders must turn their words of mild indignation into action. All the public-sector trade unions should join together in a campaign of strike action and solidarity for decent pay and public services.
Why not click here to join the Socialist Party, or click here to donate to the Socialist Party.
---
In The Socialist 8 March 2007:

Brown\'s pay cut insult
---
International Socialist Resistance

Young workers: Fight for your rights!
---
Socialist Party NHS campaign

NHS: First priority - a national demonstration

No divide and rule - save these hospitals
---
Socialist Party campaigns

Fury in Camden

They are all the same - even the Greens!

Lambeth demo against cuts

Lambeth Students and Community unite

Kirklees - save our nurseries
---
Education

Secondary education becoming a lottery
---
Socialist Party review

What\'s Left? - not Nick Cohen!
---
International Women's Day

International Women\'s Day
---
Socialist Party campaigns

Socialist Party congress report (2)
---
International socialist news and analysis

Egypt: Strikewave shakes regime and state-run unions

Scotland - Solidarity conference
---
Workplace news and analysis

United action needed to defend Airbus jobs

Council workers ballot for city-wide strike

Uniting the battle against cuts and privatisation

A crucial time for Royal Mail pensions
---
Home | The Socialist 8 March 2007 | Join the Socialist Party
---