Link to this page: https://www.socialistparty.org.uk/issue/874/21574
From The Socialist newspaper, 14 October 2015
Fat-cat Facebook pays less UK tax than couple earning national average wage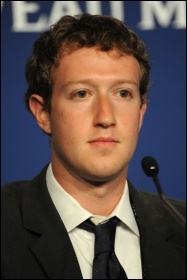 Facebook founder Mark Zuckerberg has a net worth of £23.5 billion, photo Wikimedia Commons (Creative Commons) (Click to enlarge)
Laurel Fogarty
A couple on average wages would have paid more UK tax than corporate giant Facebook in 2014.
The social media multinational paid just £4,327 in UK corporation tax. This is compared to the total £4,800 income tax paid by a couple each earning the median wage of £22,000.
Facebook declared itself to be working at a loss in Britain, despite making £105 million from UK operations last year.
The firm hid profit by moving takings from the UK to Ireland and the Caymen Islands, and paying out huge bonuses to its 362 UK employees. This allowed it to slash its UK tax bill and pay a meagre few thousand - from massive global profits of £1.9 billion.
Public service union PCS estimates £120 billion is lost through tax avoidance and evasion by big business every year. This money could be used to fund our ailing NHS, build much-needed quality social housing, and provide a well-funded social safety net.
Ordinary people continue to pay for the banking crisis with vicious cuts to welfare and working tax credits. But corporation tax has steadily dropped - from 28% to 21% since George Osborne took over the treasury in 2010.
The Socialist Party says: nationalise the parasitic corporations that dominate our economy under the democratic control of workers and the public. Then we could plan production and service to cater to the needs of ordinary people, not the profits of the wealthiest 1%.
Donate to the Socialist Party
Finance appeal
The coronavirus crisis has laid bare the class character of society in numerous ways. It is making clear to many that it is the working class that keeps society running, not the CEOs of major corporations.
The results of austerity have been graphically demonstrated as public services strain to cope with the crisis.
The government has now ripped up its 'austerity' mantra and turned to policies that not long ago were denounced as socialist. But after the corona crisis, it will try to make the working class pay for it, by trying to claw back what has been given.
The Socialist Party's material is more vital than ever, so we can continue to report from workers who are fighting for better health and safety measures, against layoffs, for adequate staffing levels, etc.
When the health crisis subsides, we must be ready for the stormy events ahead and the need to arm workers' movements with a socialist programme - one which puts the health and needs of humanity before the profits of a few.
Inevitably, during the crisis we have not been able to sell the Socialist and raise funds in the ways we normally would.
We therefore urgently appeal to all our viewers to donate to our Fighting Fund.
---
In The Socialist 14 October 2015:
---
Socialist Party news and analysis

Organise to fight endless austerity

Tory tax credit thieves take up to £1,700 a year from workers

Workers on Tory 'living' wage can't afford Tory 'starter homes'

80 ambulance calls in two years for exhausted Sports Direct staff

Fat-cat Facebook pays less UK tax than couple earning national average wage

Them & Us

Daily Mail cake bake race hate debate
---
Socialist Party feature

Health service: condition critical

Doctors fight back!
---
Socialist Party youth and students

Under-25s: productive, passionate and underpaid

Boozers of the world unite! London Marx pub crawl

Reading launches new Socialist Students group
---
International socialist news and analysis

Syria: Western governments' interventionist strategy in tatters

Bomb attack on Ankara peace demo
---
Workplace news and analysis

Should trade unions be re-affiliating to the Labour Party?

Napo at a crossroads

Junior doctors' dispute

Unison general secretary election: Roger Bannister wins place on ballot paper

Workplace news in brief

Living wage victory for Hackney traffic wardens

School support staff: Furious response to pay cut threat

Glasgow's trade unions demand 'no-cuts' budget from council

College cuts and funding chaos
---
Socialist Party reports and campaigns

Fighting Fund target smashed!

Thousands cram 'the People's Post' rally to hear Corbyn

TUSC groups writing to Labour councillors
---
Home | The Socialist 14 October 2015 | Join the Socialist Party
Subscribe | Donate | Audio | PDF | ebook
---