Link to this page: https://www.socialistparty.org.uk/issue/478/2158
From The Socialist newspaper, 15 March 2007
Blair's Britain
£billions for rich... Pennies for us!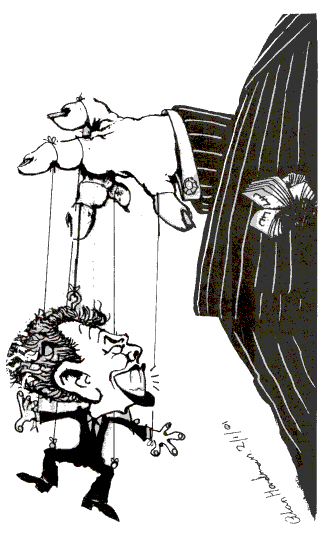 Tony Blair - Bosses' puppet
BRITAIN IS now more unequal than at any time in living memory. If you are a low-paid worker on the minimum wage you're offered a pay rise way below the real inflation rate. It's the same 'offer' for many public-sector workers. If you are an out-of-work single parent, you're harassed by the government to get any job, no matter how low-paid. If you are one of the super-rich, however, this government will fawn on you.
Roger Shrives
There are now 946 billionaires in the world according to Forbes magazine, and their total wealth went up by 35% last year to an incredible $3.5 trillion. Britain is home to 54 billionaires. Many of them became filthy rich through takeovers, mergers and equity deals by speculating with vast sums of credit and paper money. Their greed costs many workers their jobs.
Having made their billions, these people try to pay as little as possible in taxation. And this government helps them. Britain's 54 billionaires last year had an estimated income of £126 billion. If they paid full tax at 40%, £50 billion would find its way into the tax coffers. In fact, accountancy firm Grant Thornton calculates, these super-rich parasites paid just £14.7 million tax - just 0.12%!
A professor at Essex university, Prem Sikka, points out that the poorest fifth of the population pay nearly ten per cent of their income in direct taxes, and another 28% in indirect taxation. Yet billionaires pay only an eighth of one per cent!
This is a government for the rich. While they moan about how much lone parents and disabled people cost the public purse, they keep quiet about the loss of between £97 billion and £150 billion of tax revenues from Britain's wealthy.
Blair's government has introduced many new ways for rich business people to avoid taxation. Many very profitable firms pay no or very little corporation tax. Likewise, five of the ten largest private equity groups paid no corporation tax in 2005-6.
The trade unions should take action to stop New Labour attacking the poorer sections of society. They should put pressure on billionaire-lovers Blair and Brown to plug these ludicrous tax loopholes and make the rich pay. And if you seriously want to stop Britain's wealth gap becoming a chasm, join the Socialist Party's battle to build a democratic and more egalitarian socialist society.
Why not click here to join the Socialist Party, or click here to donate to the Socialist Party.
---
In The Socialist 15 March 2007:

£billions for rich... Pennies for us!

Minimum wage insult
---
Socialist Party NHS campaign

UNISON Health group votes for summer demo

Hewitt's 'day of exchange'
---
Socialist Party news and analysis

Fighting the cuts in Camden

Lambeth council attacks services for vulnerable people

Barking BNP don't oppose council cuts

Lewisham council's outrageous attack

Kurdish asylum seekers living in fear
---
Northern Ireland and Scotland

Northern Ireland Assembly elections: Another sectarian headcount...

We Won't Pay Campaign conference success

Solidarity builds party profile ahead of elections
---
Marxist analysis: history

February revolution 1917 - what lessons for today?
---
International socialist news and analysis

US continues threats over Iran's nuclear ambitions

Iraq war: Convicted Bush official is 'fall guy' over WMD scandal
---
International Women's Day

Celebrating International Women's Day
---
Housing

Tenants vote no to council housing sell-off

Market-driven 'social housing' threatens tenants
---
Environment and socialism

Will government plans stop climate change?
---
Socialist Students

Build the campaign to defeat fees

International Socialist Resistance (ISR) and Socialist Students conference
---
Campaign for a New Workers Party

Trade Unions and the Labour Party: CWU branch asks some awkward questions

Campaign for a New Workers' Party conference
---
Workplace news and analysis

Reinstate Dave Condliffe now

UNISON leaders lead members into dead end

SOUTHAMPTON council strike

PCS prepares for more struggles

Right wins lecturers' union leadership - on a 14% turnout
---
Home | The Socialist 15 March 2007 | Join the Socialist Party
---