Link to this page: https://www.socialistparty.org.uk/issue/875/21610
From The Socialist newspaper, 21 October 2015
TV review: We Want Our Country Back
'Britain First' - tiny and violent
Laurence Maples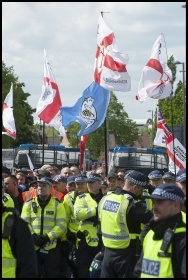 Police enabling another far-right group, the EDL to rally in Walthamstow, 9.5.15, photo Paul Mattsson (Click to enlarge)
Tiny far-right group 'Britain First' has attracted disproportionate levels of media coverage over the last year. The BBC is latest to jump on the bandwagon. Its documentary is provocatively titled 'We Want Our Country Back'.
Cuts, unemployment and deprivation - coupled with the racist rhetoric of establishment politicians - are the fertile soil far-right ideas lay root in. They play on workers' genuine fears about jobs and services, but try to scapegoat minority groups instead of fighting back against cuts politicians and greedy bosses.
The BBC does not address these issues.
The film follows the group embarking on its activities. They engineer a confrontation with local Muslim youth in Luton. They pose with offensive slogans outside mosques. And they try to intimidate Muslim businesses with absurd claims that halal food funds terrorism.
Britain First produces these stunts to provide 'clickbait' - sensational material designed to capture online traffic - for its Facebook page. The media marvel at their success in building an online presence. But they are partly responsible with the coverage they provide.
Media coverage
Britain First, and other miniscule far-right groups, receive far more mainstream media coverage than the Socialist Party. This is despite the Socialist Party being a much larger organisation with many elected representatives, especially in trade unions.
The real strength of Britain First is shown by the turnout they achieve on demonstrations - around 200 for a 'national mobilisation'. This documentary tries to portray the group as a mass movement, or at least the embryo of one. But it is a phantom movement; nothing but a micro-sect with a military fetish.
Violence is a constant theme. The vicious, anti-worker character of Britain First is exposed as they try to intimidate striking taxi drivers.
Despite the incessant racist bile of the gutter press and establishment politicians, there is no public yearning for a far-right mass movement. An anti-austerity mass movement, on the other hand, would be extremely popular - as support for Jeremy Corbyn shows.
We Want Our Country Back is available on BBC iPlayer until 8 November 2015
Donate to the Socialist Party
Finance appeal
The coronavirus crisis has laid bare the class character of society in numerous ways. It is making clear to many that it is the working class that keeps society running, not the CEOs of major corporations.
The results of austerity have been graphically demonstrated as public services strain to cope with the crisis.
The government has now ripped up its 'austerity' mantra and turned to policies that not long ago were denounced as socialist. But after the corona crisis, it will try to make the working class pay for it, by trying to claw back what has been given.
The Socialist Party's material is more vital than ever, so we can continue to report from workers who are fighting for better health and safety measures, against layoffs, for adequate staffing levels, etc.
When the health crisis subsides, we must be ready for the stormy events ahead and the need to arm workers' movements with a socialist programme - one which puts the health and needs of humanity before the profits of a few.
Inevitably, during the crisis we have not been able to sell the Socialist and raise funds in the ways we normally would.
We therefore urgently appeal to all our viewers to donate to our Fighting Fund.
---
In The Socialist 21 October 2015:
---
Socialist Party news and analysis

Strike to save the NHS

Hands off tax credits

1% owns more than half the world's wealth

Damning report on NHS staffing levels delayed by Tories

Labour MP refuses to back strike

Them & Us

What we saw
---
Socialist Party features

Corbyn campaign: Opportunity for raising socialist ideas

How can workers resist capitalist cuts and closures?
---
International socialist news and analysis

World economy: 'biggest danger to capitalism is capitalism'

Germany: refugee crisis and the fight against the racist right

International news in brief
---
Workplace news and analysis

For a fighting, socialist Unison general secretary, back Roger Bannister

Hull's Labour council in aggressive bid to remove all union convenors

Welsh Government should think outside 'the Box'

Determined mood at Napo conference

Sports Direct action over sacking

Rally opposes the Tory trade union bill

Workplace news in brief
---
Socialist Party reports and campaigns

Organising to defend Corbyn's anti-cuts mandate

Help fund the fight for socialism

Huge support for the Wales March for Homes
---
Socialist Party comments and reviews

Former war hero fighting for the future: a pensioner speaks out

'Britain First' - tiny and violent
---
Home | The Socialist 21 October 2015 | Join the Socialist Party
Subscribe | Donate | Audio | PDF | ebook
---