Link to this page: https://www.socialistparty.org.uk/issue/478/2162
From The Socialist newspaper, 15 March 2007
Fighting the cuts in Camden
CAMDEN SOCIALIST Party has held a public meeting just a week after the storming of the town hall (see the socialist 477). Community campaigners, trade unionists, student activists and socialists discussed how to fight £40 million cuts that the Tory/Lib-Dem council want to put through over the next three years.
Carlene Edwards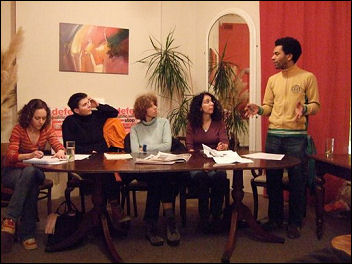 Camden Socialist Party public meeting
Charges are set to rise for meals on wheels, there will be cuts and closures of youth and play services, adult social services and homeless hostels and over 300 jobs are threatened.
There was a great feeling in the meeting of like-minded people coming together from different campaigning backgrounds and working to find the best strategy to win. Sian and Hannah, from Save Kilburn Grange Play Centre campaign, spoke about the campaign to save their long-running play centre from closure.
Councillors have made empty promises to them and lied about alternative places for children who currently attend the Play Centre.
Didi from the threatened Winvisible service talked of how public service cuts hit disabled people and of the double effect on women with disabilities, who still bear the primary responsibility for the care of children and elderly people in the family.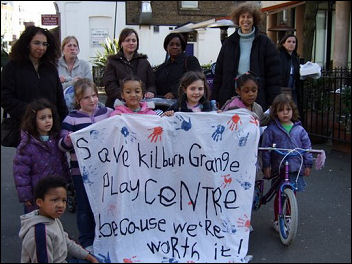 Camden protest against cuts
The meeting discussed ideas for boosting the campaign by reaching more people affected by these cuts who would fight to defeat the attacks on local jobs and services.
We also talked about the need for a broad campaign for better public services, involving trade unionists and community campaigners. A local Fire Brigades Union (FBU) representative spoke about the need for a campaign against privatisation that could bring people from different unions together.
The meeting wanted a strategy to beat the council and all agreed that unity was key. UNISON publicity officer and convener for education, Hugo Pierre, spoke (in a personal capacity) about the role of Camden council's workforce and UNISON members in defeating the council's outrageous plans.
Campaigners, trade union reps and Socialist Party members plan to meet again before the next UNISON steering committee to take these ideas to the meeting for further discussion with other campaigners.
Donate to the Socialist Party
Coronavirus crisis - Finance appeal
The coronavirus crisis has laid bare the class character of society in numerous ways. It is making clear to many that it is the working class that keeps society running, not the CEOs of major corporations.
The results of austerity have been graphically demonstrated as public services strain to cope with the crisis.
The government has now ripped up its 'austerity' mantra and turned to policies that not long ago were denounced as socialist. But after the corona crisis, it will try to make the working class pay for it, by trying to claw back what has been given.
The Socialist Party's material is more vital than ever, so we can continue to report from workers who are fighting for better health and safety measures, against layoffs, for adequate staffing levels, etc.
Our 'fighting coronavirus workers' charter', outlines a programme to combat the virus and protect workers' living conditions.
When the health crisis subsides, we must be ready for the stormy events ahead and the need to arm workers' movements with a socialist programme - one which puts the health and needs of humanity before the profits of a few.
Inevitably, during the crisis we have not been able to sell the Socialist and raise funds in the ways we normally would.
We therefore urgently appeal to all our viewers to donate to our special coronavirus appeal.
---
In The Socialist 15 March 2007:

£billions for rich... Pennies for us!

Minimum wage insult
---
Socialist Party NHS campaign

UNISON Health group votes for summer demo

Hewitt's 'day of exchange'
---
Socialist Party news and analysis

Fighting the cuts in Camden

Lambeth council attacks services for vulnerable people

Barking BNP don't oppose council cuts

Lewisham council's outrageous attack

Kurdish asylum seekers living in fear
---
Northern Ireland and Scotland

Northern Ireland Assembly elections: Another sectarian headcount...

We Won't Pay Campaign conference success

Solidarity builds party profile ahead of elections
---
Marxist analysis: history

February revolution 1917 - what lessons for today?
---
International socialist news and analysis

US continues threats over Iran's nuclear ambitions

Iraq war: Convicted Bush official is 'fall guy' over WMD scandal
---
International Women's Day

Celebrating International Women's Day
---
Housing

Tenants vote no to council housing sell-off

Market-driven 'social housing' threatens tenants
---
Environment and socialism

Will government plans stop climate change?
---
Socialist Students

Build the campaign to defeat fees

International Socialist Resistance (ISR) and Socialist Students conference
---
Campaign for a New Workers Party

Trade Unions and the Labour Party: CWU branch asks some awkward questions

Campaign for a New Workers' Party conference
---
Workplace news and analysis

Reinstate Dave Condliffe now

UNISON leaders lead members into dead end

SOUTHAMPTON council strike

PCS prepares for more struggles

Right wins lecturers' union leadership - on a 14% turnout
---
Home | The Socialist 15 March 2007 | Join the Socialist Party
---