Link to this page: https://www.socialistparty.org.uk/issue/879/21768
From The Socialist newspaper, 18 November 2015
Support for Roger Bannister in Unison election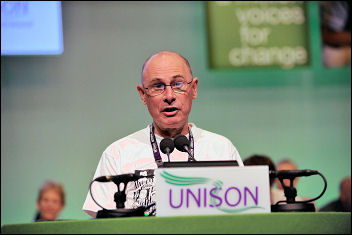 Unison conference 2009: Roger Bannister, photo Paul Mattsson
There has been widespread support for Roger Bannister in his campaign to be elected Unison general secretary, with Unison members leafleting workplaces and announcing on social media why they have voted for him.
Bowen Whiteoak, an activist in the West Midlands Community and Voluntary sector branch explained: "I support Roger because he stands for a proper fighting union. We need a leader that will back their words with direct action and won't back down in the face of adversity. Roger is that leader."
Ronnie Job, a Unison member in Swansea announced: "I've voted for a socialist general secretary of Unison on a member's wage."
If you are a Unison member and agree that Unison needs a fighting strategy to beat the cuts and win victories for members, we urge you to vote for Roger Bannister.
Ballot papers are out now and voting closes 4 December.
Follow the campaign at:
@Roger4UNISON
http://roger4gensec.wordpress.com
Note: the Unison members mentioned were speaking in a personal capacity
Donate to the Socialist Party
Coronavirus crisis - Finance appeal
The coronavirus crisis has laid bare the class character of society in numerous ways. It is making clear to many that it is the working class that keeps society running, not the CEOs of major corporations.
The results of austerity have been graphically demonstrated as public services strain to cope with the crisis.
The government has now ripped up its 'austerity' mantra and turned to policies that not long ago were denounced as socialist. But after the corona crisis, it will try to make the working class pay for it, by trying to claw back what has been given.
The Socialist Party's material is more vital than ever, so we can continue to report from workers who are fighting for better health and safety measures, against layoffs, for adequate staffing levels, etc.
Our 'fighting coronavirus workers' charter', outlines a programme to combat the virus and protect workers' living conditions.
When the health crisis subsides, we must be ready for the stormy events ahead and the need to arm workers' movements with a socialist programme - one which puts the health and needs of humanity before the profits of a few.
Inevitably, during the crisis we have not been able to sell the Socialist and raise funds in the ways we normally would.
We therefore urgently appeal to all our viewers to donate to our special coronavirus appeal.
---
In The Socialist 18 November 2015:
---
Socialist Party news and analysis

How to defend Corbyn and defeat austerity

We can defeat the Tory cuts!

Tories flog bank assets to hellhound US profiteers

Athletics doping scandal: big business profits behind global sports corruption

Councils won't spend a penny

Them & Us
---
Socialist Party features

The end of social housing? How can we solve the housing crisis?

How can young people organise to support Jeremy Corbyn?
---
International socialist news and analysis

Paris terror attacks
---
Workplace news and analysis

Junior doctors: first strikes in 40 years

Trade union action needed to fight for steel jobs

Historic London bus drivers' agreement

Reinstate sacked CWU reps

Pro-Corbyn mood among Usdaw members

Support for Roger Bannister in Unison election

Workplace news in brief
---
Readers' comments and reviews

All NHS unions should join junior doctors' strike

A day in the life of a Game retail worker

Why I joined: "I already feel as if I am finally home"

Robert Tressell's characters are all too real to me

My struggle for an income I can live on
---
Socialist Party reports and campaigns

Labour bans union activist

Thousands march against India premier's bloody sectarianism

Strike to save Lambeth libraries

Gaining momentum in Lewisham

Anger at care home closure
---
Home | The Socialist 18 November 2015 | Join the Socialist Party
Subscribe | Donate | Audio | PDF | ebook
---