Link to this page: https://www.socialistparty.org.uk/issue/886/22124
From The Socialist newspaper, 27 January 2016
Red doors and wristbands scandal
Stop stigmatising refugees!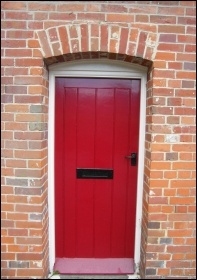 Migrants' homes were marked with red doors, photo by Paul Flint and Co (Creative Commons) (Click to enlarge)
Sabah Ahmed, Social worker
Refugees and asylum seekers in Middlesbrough, Teesside, have been experiencing daily abuse and attack. Their homes were marked out with red-painted doors by property developer Jomast.
Meanwhile in Cardiff, private firm Clearsprings Ready Homes has been marking the asylum seekers it houses with compulsory red wristbands.
Jomast, owned by Stuart Monk, is a subcontractor for notorious private security firm G4S. Monk receives millions of pounds annually to provide accommodation for thousands of asylum seekers.
G4S
Local campaigners first raised the matter four years ago with G4S, asking it to change the doors; the firm refused. Then they raised it with Parliament's Home Affairs Committee. Now, with increasing violence, the Home Office has ordered an urgent review.
Refugees report that they feel vulnerable and unsafe. One said: "This red door affects our life.
"When we open it, we have to watch our back in case we meet someone trying to do something. We have had eggs thrown at the door, they bang on the windows and we get abuse."
The Times reported that asylum seekers at one house felt so stigmatised that they painted their door white. Jomast repainted it red after an inspector visited and said it was "against company policy".
Jomast's "company policy" is reminiscent of marking the doors of Jews with the Star of David in 1930s Germany. It must end now. The council must provide safe, decent accommodation for refugees.
Clearsprings has now promised to stop its wristbands policy after public outrage. It also appears that Jomast has finally conceded under the glare of national publicity, and is repainting the doors.
The Tory government has cynically placed refugees in some of the country's poorest areas, which already have too few resources. The Socialist Party campaigns for investment in affordable homes for all, and the right to stay for migrants.
We fight against racism and stand in solidarity with refugees and all workers. Reverse all cuts and kick out the warmonger politicians!
Donate to the Socialist Party
Finance appeal
The coronavirus crisis has laid bare the class character of society in numerous ways. It is making clear to many that it is the working class that keeps society running, not the CEOs of major corporations.
The results of austerity have been graphically demonstrated as public services strain to cope with the crisis.
The Socialist Party's material is more vital than ever, so we can continue to report from workers who are fighting for better health and safety measures, against layoffs, for adequate staffing levels, etc.
We must be ready for the stormy events ahead and the need to arm workers' movements with a socialist programme - one which puts the health and needs of humanity before the profits of a few.
Inevitably, during the crisis we have not been able to sell the Socialist and raise funds in the ways we normally would.
We therefore urgently appeal to all our viewers to donate to our Fighting Fund.
---
In The Socialist 27 January 2016:
---
Socialist Party news and analysis

Housing: smash the Tory wrecking bill

Davos summit: a broken capitalist system

Google pays pittance for avoiding £2bn tax

Red doors and wristbands scandal

Steelworkers may face benefit cut-off for not seeking bar jobs

Oscars snub black artists: fight racism and austerity in the arts

Labour councillor smears TUSC policy as 'BNP'

Them & Us

Top tweets: #TraditionallySubmissive
---
Teachers under attack

Teaching: a perfect storm is brewing

Teachers need national strategy for a national struggle

A day in the life of a teacher and mother
---
International socialist news and analysis

New wave of protests in Tunisia

India: student death exposes caste oppression
---
What we think

Tories 'Prevent' civil liberties
---
Council cuts and the fight in Labour

Labour councillor suspended for fighting cuts

Dave Nellist's byelection appeal to Jeremy Corbyn: 'let's discuss how to fight the cuts'

Labour election post-mortem: nothing to report!

The dark arts of Labour's right

Councillors must fight to defend our services

'People's budgets' and local democracy

Lewisham: no backsliding in council cuts fight!
---
Workplace news and analysis

"I have left work many times in tears" - a council worker

Trade union bill will stretch resources and limit action

Birmingham teachers strike to resist academy attack

24-hour tube strike suspended

Care services under threat in Haringey

Workplace news in brief
---
Readers' comment

The end for deep coal mining jobs in Britain

Obituary: Dean Meehan 1962-2016

Letters
---
Socialist Party reports and campaigns

Protesting against closure of Huddersfield A&E

Coventry children's services closure protest

New Socialist Party branch fights against St Austell austerity

Socialist Party discusses the fight for socialism

Socialist Students bake-off
---
Home | The Socialist 27 January 2016 | Join the Socialist Party
Subscribe | Donate | Audio | PDF | ebook
---