Link to this page: https://www.socialistparty.org.uk/issue/480/2222
From The Socialist newspaper, 29 March 2007
Closures, cutbacks, privatisation...
Hands off our postal service!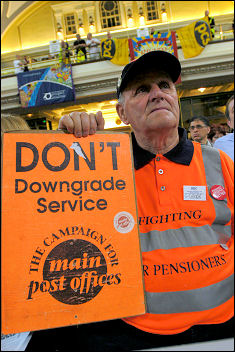 TUC rally in Westminster against cuts in public spending, photo Paul Mattsson
Faced with massive opposition to post office privatisation from the general public and from postal workers, as with education and the NHS, the government has been pursuing a backdoor route to privatisation.

JANE JAMES answers some questions about this attack on a vital public service, and argues it must be fought.
What is happening to our postal service?
The post office network, which is part of Royal Mail Group, has been in the news regularly with reports of closures and losses. The closure of even more rural post offices will leave millions of people without access to these vital services. But it is not only rural post offices that have closed. In the last 20 years, one in five post offices across the country have closed and many more are threatened.
The post office network loses £2 million a week and reported an operating loss of £111 million for the financial year 2005-06. What is more, it is now losing out to private companies like TNT and other companies who are taking on lucrative parts of the business. Its losses are expected to double in the current year.
Royal Mail Group has negative net assets of £3 billion due to having a pension deficit of £5.6 billion (an increase of £2 billion over the last three years) and now wants to close its final salary pension scheme. Nearly half of the Parcelforce depots closed between 2002 and 2004, with resulting job losses.
What are the reasons for these losses and cutbacks?
As faR back as 1998, Peter Mandelson (then New Labour's Trade and Industry secretary) and Chancellor Gordon Brown were key in New Labour's desire to privatise the post office. The Postal Services Act, passed in 2000, was the beginning of the 'opening up' of the postal service which consists mainly of Royal Mail sorting and delivery depots, the post office network with its products and services and Parcelforce.
An unelected regulator, Postcomm, was created to oversee the opening of the postal market to private competitors after 350 years of being a publicly owned service. Similar to other public services being prepared for privatisation the government has allowed Royal Mail to be run down, leaving out-dated infrastructure in place and under-paying workers. As part of this process, Royal Mail has been judged on selective performance targets and costs rather than as a service to the public.
The massive pensions deficit is due to Royal Mail scandalously taking a 13 year 'holiday' from paying pension contributions (from 1990 to 2003), and from over-estimating investment returns.
How is competition affecting the postal service?
In order to meet Postcomm's criteria for the service to be run on a commercial basis, cuts and closures have taken place of Parcelforce depots and post offices. January 2006 saw the full opening up to competition, forcing Royal Mail to compete with commercial rivals while being denied any government subsidy. Three years ago all the letter business was with Royal Mail whereas now, one in eight letters are dealt with by private companies.
Private companies TNT and Business Post are targeting Royal Mail's lucrative business mail customers (500 big business mail customers make up half of the £6 billion turnover of Royal Mail). BT has just signed a three year contract worth up to £90 million with TNT to deliver 170 million items of bulk post each year (ironic considering BT and Royal Mail were once part of the same public industry). Royal Mail bid for this contract, but lost.
As predicted, big business is picking off the most lucrative parts of the service while Royal Mail will be left with the delivery of letters to the remoter parts of the UK.
Royal Mail is supposed to provide a 'universal service at a fixed price' as well as maximising its profitablity and cutting costs. Most people recognise that providing essential services is not compatible with profitability.
The new competitors do not bear the same costs as Royal Mail such as having to update old sorting equipment, and they can charge what they like, unlike Royal Mail.
Even the government is now giving its business to private companies instead of its own Royal Mail. The Department of Work and Pensions has awarded a £12 million contract to UK Mail.
Royal Mail is proposing an increase of 6p on all stamps and abandonment of the 'one-price goes anywhere' universal service so that it can compete in the new postal market. But Postcomm chairman Nigel Stapleton states that 'every initiative that the company has taken to improve efficiency has been absorbed either by higher wage rates or increased pension costs'. This is a clear message to Royal Mail saying that it will have to attack the pay and conditions of its well-unionised workforce. Once again ordinary workers - already low paid - are expected to accept more cuts in their living standards to suit the bosses' agenda.
Will we be seeing postal workers in orange uniforms delivering our letters?
TNT, the biggest private post competitor to Royal Mail, plans to operate a door-to-door letter delivery system within the UK (clad in orange uniforms), but only in large cities where it is more profitable.
This is the first possibility of a private company delivering door-to-door albeit in limited areas. TNT, once a public provider of postal services in the Netherlands, was privatised in 1989.
How will users of the post office be affected?
Almost all adults (97%) visit a post office at least once a year and rely on them for a wide range of services besides buying stamps. But this is set to change because of the closures. Crown post offices and rural ones are a particular loss.
If the government insists on all post offices being profitable then 15 million people who use 8,000 post offices in rural areas will have no service at all as they will all close. The £150 million annual government subsidy of the post office network is set to end next year.
As post offices are franchised out (WH Smiths being the latest bidder) the expertise and skills of counter staff are lost, resulting in a worse service and worse conditions for the new staff.
Traditional services that people took for granted are being moved out of post offices. State pensions and benefits will be paid by the government directly into commercial bank accounts. The post office card account - used by one in four pensioners and benefit claimants - is to be abolished by 2010. Many living on estates far away from main shops and banks will have to use fee-charging cash machines in small shops when they need cash from their bank accounts, while others are denied any bank account at all.
The price of stamps will increase. Since Sweden's public post network was 'liberalised' in 1993 the price of a first class stamp has increased by 72%, while costs for business users have decreased.
A TV licence can no longer be purchased at a post office - the BBC has now awarded the licence-selling contract to Pay Point. The Passport Service plans to move away from allowing post offices to deal with first time passport applications.
Suffering most from all the changes will be those reliant on pensions and benefits, and those in rural areas or urban deprived communities where there are few local facilities.
What has Europe got to do with it?
The European Commission is committed to 'liberalisation' of the European mail market by 2009. Unsurprisingly New Labour has liberalised the UK mail market three years ahead of schedule.
The European Commission has been slower to push privatisation of postal services than other public services. The right-wing Economist journal (20.01.07) believes this is due to "the size of the heavily unionised postal industry" and "old-fashioned resistance to open markets".
Private companies operating in the UK and vying for more postal contracts have successfully lobbied the European Commission to look into the £2.6 billion finance package which the government has just given to Royal Mail. While the government argues that the funding is a loan and the use of some reserves to plug the pension deficit and other losses, big business is urging the Commission to classify these funds as 'state aid' which goes against the agreed 'liberalisation' of the market.
If the EU rules against the government's package then Royal Mail could be labelled unviable giving the government the opportunity to either declare privatisation as the 'only option' or to allow Royal Mail to deteriorate further.
What future is there for the post office?
The Warwick agreement signed by the government and the trade unions stated that Royal Mail would not be privatised as did New Labour's 2005 election manifesto. While the Communication Workers Union (CWU) saw this as a positive step, the government will not see this as binding and its overall privatisation agenda across the public sector is clear.
The government could still move to privatise the Royal Mail Group, though at present their strategy is to allow it to be pushed aside and allowed to deteriorate so that big business vultures can pick off the best bits.
When all the profitable parts have been picked off the government can pose the only options as being to keep a minimal service consisting of a relatively small number of franchised post offices with some door-to-door delivery to remoter areas, financed by the government, or the privatisation of what is left of Royal Mail.
Either 'option' would result in massive closures and sackings with remaining workers on worse contracts, and would mark the end of a decent public postal service.
Can the postal service be saved?
THE CWU is threatening to cut funding for the Labour Party if it backs Royal Mail plans to close its final salary pension scheme. (The union contributed £735,000 to the party between 2002 and 2005). The Socialist Party argues that all trade unions should withdraw funding from Labour, a government carrying out policies attacking working class people. However the union needs to go further to defend workers' jobs, pensions, conditions and services.
Widespread opposition to privatisation both publicly and from unionised workers within the postal service have forced governments across Europe to tread carefully over mail privatisation. The government and the bosses in Britain recognise the potential strength of the postal workers which is why they have not yet privatised Royal Mail itself.
CWU members have a proud tradition of defending their jobs and conditions, taking effective unofficial action if necessary. The union needs to draw on this strength with a fighting strategy to return all postal services to a properly funded public service.
The recent one day strike by civil servants in the PCS union and plans for future action to defend jobs and services in the civil service is the direction that other public sector unions need to go in.
A trade union-led campaign against the privatisation and loss of key postal services, involving the wider community, would get massive support.
No privatisation of Royal Mail Group; all private postal services to be brought back within the Group.
Re-open all closed post offices with full facilities.
For a fully funded public postal service, managed and controlled democratically by service users and workers in the industry.
No attacks on postal workers' pensions.
Decent pay and conditions for all postal workers.
A fighting trade union campaign, involving the wider community, to achieve these demands.
---
>
"On a collision course with Royal Mail or the government or both"
Interview with Gary Clark, Vice-chair, Communications Workers' Union (CWU), Scotland No 2 branch
How have postal workers' pay, conditions and jobs been affected by privatisation ?
Although Royal Mail has not been sold off, the industry has been opened up to the private sector which has led to a drop in revenue for Royal Mail. This has lead to an attack by Royal Mail to make "efficiency savings" which has put increased workload onto the postal workers with very little increase on the basic pay which is at present £323.65 per week based on a 40-hour week.
Why does the CWU oppose shares being issued to the workforce?
It's been clear that the agenda of Royal Mail's leadership is privatisation to make a quick buck out of the industry. At present they have been forced back as the Labour government have not been in a position to take on the union. They then came up with the 'phantom share issue' which is just a profit share scheme which in turn will be an attack on basic pay when negotiations take place for the next pay increase. Shares for workers will be offered instead of decent pay rises.
What will the consequences be if TNT plans go ahead to deliver letters door-to-door?
If TNT or any other postal company starts to deliver post it will have a major impact on postal workers. I would compare it to when the telecomindustry was opened up and the effect this had on the BT workforce. But at present no company is able to do the "universal service" but will be able to cherry pick certain profitable areas of the country. There would be a major job reduction. Already over the last four years there has been 40,000 jobs gone and Royal Mail plans the same over the next four years.
The Labour government is insisting that Royal Mail itself will not be privatised; what do you think its future will be and how can the CWU defend the interests of its members and users ?
At this stage the government are not in a position to take on the postal workers because of everything else they are facing. The government may take the choice that they don't need to as they have privatised the industry with down-stream access but the time may come when they will be confident enough to take us on or they will need to raise finance. Then it will be clear either on this or on the question of pensions that we will head for a collision course with Royal Mail or the government or both.
Why not click here to join the Socialist Party, or click here to donate to the Socialist Party.
---
In The Socialist 29 March 2007:

Council workers fight pay cut scandal

The 'Single Status' scandal

Council unions reject 2% pay offer

Fighting cuts and privatisation

Stop council's sell-off plans
---
Socialist Party NHS campaign

PUSH for mass demo
---
What we think

A simple conclusion from a 'simplification' budget
---
Socialist Party news and analysis

Tenants defeat housing sell-off

Universities fail to accept state school pupils

Suffolk: Save our schools

London Olympics: Big business bonanza - and we pay

Fast News
---
Socialist Party election campaign

For the millions, not the millionaires
---
Socialist Party feature

Hands off our postal service!

Edinburgh postal workers fight back

Workers' fightback to defend postal services
---
Northern Ireland agreement

Will the new agreement last?

We Won't Pay anti-water charges demo 31 March
---
International socialist news and analysis

Italy: What future for Prc?

Turkish state attacks Kurdish protestors
---
Socialist Party workplace news

Airbus walkout - joint action needed across Europe

Reject regional pay

Determined campaigners win reprieve

Manchester Unity Stewards and activists group

Hants library workers fight cuts

Sacked electricians win tribunal ruling

Ealing workers fight pay cuts
---
Home | The Socialist 29 March 2007 | Join the Socialist Party
---