Link to this page: https://www.socialistparty.org.uk/issue/889/22236
From The Socialist newspaper, 17 February 2016
Record-high 170 evictions a day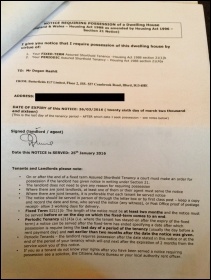 An eviction notice for a tenant on the Butterfields estate, Waltham Forest, east London, photo by Socialist Party (Click to enlarge)
Stephanie Hammond
Evictions in England and Wales reached a record high last year as over 170 people lost their homes every day.
Ministry of Justice figures revealed a 53% increase since 2010. Nearly 20,000 evictions in England were from social landlords and 5,919 were by private landlords.
16,440 were made using the "accelerated procedure" - where landlords hurry evictions through the courts.
16 of the 20 worst areas were in London. The highest rate of repossessions was in Labour-controlled Newham, east London, at 191 for every 100,000 households.
The Conservative Party is intent on destroying social housing for good.
The Housing and Planning Bill will fully transform housing associations into cut-throat businesses. Councils will sell off the last of their stock.
Market
And 'pay to stay' will force social tenants on joint incomes of £40,000 to rent at the inflated market rate.
Recently, Conservative MPs filibustered a motion to put an end to revenge evictions, and this year voted down a proposal for homes to be 'fit for human habitation'.
Meanwhile, Labour councils have enthusiastically sold off council housing and played a shameful role in social cleansing.
But tenants can organise together to resist evictions. From the historic Glasgow rent strikes to the recent win by students at University College London, the record shows that when tenants join forces we can win.
This must take place as part of a general movement against austerity.
The Socialist Party calls for councils to refuse to evict social tenants, and start compulsory registration of private landlords to help prevent abuses. We want democratic committees of tenants and workers to set controls on private rents. And we demand a mass programme of council house building to provide homes for all.
Why not click here to join the Socialist Party, or click here to donate to the Socialist Party.
---
In The Socialist 17 February 2016:
---
Socialist Party news and analysis

Councils have a choice: no cuts to jobs or services

Junior doctors must stand firm

£300 million to cushion cuts in Tory councils

Scotland: battle heats up against council cuts

US fears EU exit will hinder vulture privatisers

Liverpool fans score victory v £77 ticket hike

Record-high 170 evictions a day

Boycott ban

Them & Us
---
Socialist Party feature

An open letter to John McDonnell from Tony Mulhearn
---
International socialist news and analysis

Irish election: fighting on an anti-austerity agenda
---
Socialist Party youth and students

Socialist Students conference 2016: Delegates enthusiastic and confident
---
Socialist Party workplace news

Doctors' strike 10th February - photos and reports

Rally to defend jobs in Northern Ireland: "We won't sit on the sidelines"

Library workers prepare to escalate strike action

Historic joint further education strike

Public meetings show readiness of workers to fight back

Workplace news in brief
---
Socialist Party reports and campaigns

Hands off the Butterfields estate!

Sheffield no-cuts People's Budget conference

Southampton: absence of Corbynism as Labour swings Tory axe again!

"Staines has never seen anything like it!"

Students, unions and parents unite to save Pent Valley School

"You can cut the cake but not our libraries!"

London lobbies against cuts to jobs and services
---
Readers' comments and reviews

If I had been in 1980s Labour, I'd have supported Militant

Socialist's anti-war art on show in Bradford

Poem: Journey

Letter: Brum Blairite
---
Home | The Socialist 17 February 2016 | Join the Socialist Party
Subscribe | Donate | Audio | PDF | ebook
---