Link to this page: https://www.socialistparty.org.uk/issue/889/22247
From The Socialist newspaper, 17 February 2016
"Staines has never seen anything like it!"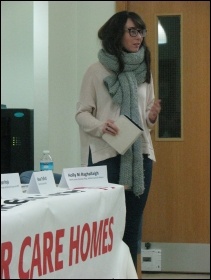 A junior doctor addressing Staines Socialist Party's anti-austerity public meeting, 11.2.16, photo by Paul Couchman (Click to enlarge)
Paul Couchman, Staines Socialist Party and Save Our Services in Surrey
Given the absence of a local Momentum group, Staines Socialist Party decided to host a meeting on 11 February to discuss the Corbyn phenomena and to invite all those interested in a real anti-cuts, socialist movement to come along.
We invited anti-austerity activists from the local Labour Party, Green Party, and the Socialist Party to speak. RMT President Sean Hoyle addressed the meeting.
Momentum
All agreed on the need for Momentum to be inclusive and open to non-Labour Party members and on its potential for growth if it was. There was a real mood of optimism at the packed meeting, full of energy and enthusiasm. Staines has never seen anything like it!
Holly, a local BMA junior doctors' rep, fresh from her picket line at St. Peters Hospital the day before, said how nice it was to hear all about this great guy called Jeremy - unfortunately there is a very different Jeremy in her life at the moment! In the face of Jeremy Hunt imposing the new contracts she promised more action to come.
Ali, one of the 'Heathrow 13' Plane Stupid protesters explained how they are currently threatened with prison sentences over their direct action protest against a third runway at Heathrow.
Everyone agreed that the election of Jeremy Corbyn was a significant breakthrough for the left.
Matt, a local Socialist Party member and prison officers' union rep said he wished he had gotten involved earlier. He decided to join the Socialist Party during the 2015 general election when he saw no difference between the mainstream parties and was impressed with our stand as part of the Trade Unionist and Socialist Coalition (TUSC). TUSC fought on the side of the trade unions and for socialist policies - including for the right to strike for the Prison Officers' Association.
Rebecca Geach, local Spelthorne Labour Party parliamentary candidate at the last election, said we should build on the unity seen at the meeting.
Unison and Unite
The news that both Unite and Unison's local government groups have adopted a policy of calling on Labour councils to refuse to make cuts was greeted with a huge round of applause.
The meeting agreed to work together within Save Our Services in Surrey to develop and expand the anti-cuts network and to also to continue to push Momentum to open its doors to the wider anti-austerity left and commit to socialist policies.
Why not click here to join the Socialist Party, or click here to donate to the Socialist Party.
---
In The Socialist 17 February 2016:
---
Socialist Party news and analysis

Councils have a choice: no cuts to jobs or services

Junior doctors must stand firm

£300 million to cushion cuts in Tory councils

Scotland: battle heats up against council cuts

US fears EU exit will hinder vulture privatisers

Liverpool fans score victory v £77 ticket hike

Record-high 170 evictions a day

Boycott ban

Them & Us
---
Socialist Party feature

An open letter to John McDonnell from Tony Mulhearn
---
International socialist news and analysis

Irish election: fighting on an anti-austerity agenda
---
Socialist Party youth and students

Socialist Students conference 2016: Delegates enthusiastic and confident
---
Socialist Party workplace news

Doctors' strike 10th February - photos and reports

Rally to defend jobs in Northern Ireland: "We won't sit on the sidelines"

Library workers prepare to escalate strike action

Historic joint further education strike

Public meetings show readiness of workers to fight back

Workplace news in brief
---
Socialist Party reports and campaigns

Hands off the Butterfields estate!

Sheffield no-cuts People's Budget conference

Southampton: absence of Corbynism as Labour swings Tory axe again!

"Staines has never seen anything like it!"

Students, unions and parents unite to save Pent Valley School

"You can cut the cake but not our libraries!"

London lobbies against cuts to jobs and services
---
Readers' comments and reviews

If I had been in 1980s Labour, I'd have supported Militant

Socialist's anti-war art on show in Bradford

Poem: Journey

Letter: Brum Blairite
---
Home | The Socialist 17 February 2016 | Join the Socialist Party
Subscribe | Donate | Audio | PDF | ebook
---