Link to this page: https://www.socialistparty.org.uk/issue/889/22255
From The Socialist newspaper, 17 February 2016
An open letter to John McDonnell from Tony Mulhearn
Dear John,
Your assessment of the Tory government's brutal attack on local authorities in your article in the February edition of Labour Briefing is absolutely correct.
This is a government acting as the political wing of the fat cats, hedge fund managers, private equity companies and the bankers - the class that crashed the economy in 2008 for which the working class is paying at enormous social cost. It is recognised, even by Cameron's mother, that councils are now staring into the abyss.
It is obviously welcome then that you support Labour councils using their reserves in an attempt to defend services. But without this being linked to developing a campaign of refusing to implement any further cuts, it falls far short of what is necessary.
Dented shield
Your stance appears to be a repeat of the 'dented shield policy' - in reality a 'no shield' policy - advocated in the 1980s by the then Labour leader Neil Kinnock. You mention the 'no rates' strategy pursued by some councils in the 1980s, naming Lambeth as a brave example. But you say that as it failed then so it will fail again.
But nobody is proposing today that councils should not set a council tax rate - raising that is really a red herring.
In Liverpool at that time, we spectacularly won the first round of the battle against Thatcher's assault on local councils. We argued against the strategy of refusing to set a rate. After the other councils (except for Lambeth) had abandoned the struggle, we adopted the tactic of setting a 'needs budget'.
We identified the shortfall in our budget - which was £30 million. We then launched a mass campaign based on the slogans 'better to break the law than break the poor' and 'no cuts in jobs and services,' which set as its objective winning back the cash that the government had stolen from the city.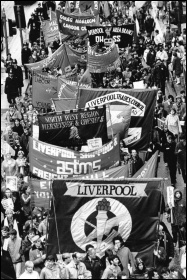 The campaign built by Liverpool city council in 1983-87 to win extra funding inspired thousands of workers, photo Dave Sinclair (Click to enlarge)
If all of those councils who had initially engaged in that campaign stood firm like Liverpool instead of knuckling under, there is no doubt in my mind that Thatcher would have been compelled to retreat. In the event, we were left isolated as the likes of David Blunkett and Graham Stringer (the then leaders of Sheffield and Manchester councils) one by one retreated.
I know you were a staunch supporter of Liverpool at that time so it seemed strange that in your article you didn't refer to our success.
I note that you do call for a mass campaign of opposition to cuts with the objective of placing the blame on the Tories. But if this is to be effective it must be on the basis of Labour councillors refusing to vote for cuts.
Our campaign involved all sections of the labour movement and rank and file community organisations. Mass rallies, demonstrations and strike action by 30,000 council workers supported by thousands of other workers, were part of this campaign.
This mass activity succeeded in forcing the Tory government to make concessions worth £60 million to Liverpool which enabled us to continue to build houses, create jobs, open nursery classes and defend services.
An essential element in the success of that campaign was our refusal to implement cuts. In short, the opposite of what Labour councils are currently doing. Liverpool was the only council which actually extracted funds from the government. That is truly a record to be proud of.
Commissioners
The same threats of commissioners which are used today to justify implementing cuts were used in the 1980s by those who balked at emulating Liverpool's action. But such was the level of support we received, both on the streets and in the ballot box, that even Thatcher drew back from sending them in.
You argue that because legislation allegedly enables "council officers to take over from councillors the ability to set budgets", councillors have no choice but to do their dirty work for them.
But it is just not true that council officers have such powers. It is ultimately a matter for councillors themselves to decide to accept their officers' advice or not on whether their budget is 'balanced'.
Councillors standing firm and mobilising mass support can effectively neutralise these petty bureaucrats, particularly if councillors in more than one council stood together to resist the cuts. I would hope that you and Jeremy Corbyn would give energetic support to this.
We need Labour councillors to adopt the brave stance, not only of Liverpool and Lambeth, but also of Clay Cross in 1972 and of the Poplar councillors in 1921.
We can't wait
Labour councils today should refuse to make working class people pay for the reckless crimes of the financial spivs who are still unregulated and amassing huge wealth. Those under attack cannot wait until the election of a Corbyn-led government in 2020. The question is what to do now.
Remember, Jeremy Corbyn was propelled into the leadership on a clear anti-austerity programme. This must include Labour councillors voting against cuts.
If such a call was made by you and Jeremy and linked to a mass campaign against austerity, the Tories could be compelled to retreat and to abandon the current all-out assault on the working class and every gain it has made since 1945.
Yours fraternally,
Tony Mulhearn, former Liverpool City Councillor 1984-87
Why not click here to join the Socialist Party, or click here to donate to the Socialist Party.
---
In The Socialist 17 February 2016:
---
Socialist Party news and analysis

Councils have a choice: no cuts to jobs or services

Junior doctors must stand firm

£300 million to cushion cuts in Tory councils

Scotland: battle heats up against council cuts

US fears EU exit will hinder vulture privatisers

Liverpool fans score victory v £77 ticket hike

Record-high 170 evictions a day

Boycott ban

Them & Us
---
Socialist Party feature

An open letter to John McDonnell from Tony Mulhearn
---
International socialist news and analysis

Irish election: fighting on an anti-austerity agenda
---
Socialist Party youth and students

Socialist Students conference 2016: Delegates enthusiastic and confident
---
Socialist Party workplace news

Doctors' strike 10th February - photos and reports

Rally to defend jobs in Northern Ireland: "We won't sit on the sidelines"

Library workers prepare to escalate strike action

Historic joint further education strike

Public meetings show readiness of workers to fight back

Workplace news in brief
---
Socialist Party reports and campaigns

Hands off the Butterfields estate!

Sheffield no-cuts People's Budget conference

Southampton: absence of Corbynism as Labour swings Tory axe again!

"Staines has never seen anything like it!"

Students, unions and parents unite to save Pent Valley School

"You can cut the cake but not our libraries!"

London lobbies against cuts to jobs and services
---
Readers' comments and reviews

If I had been in 1980s Labour, I'd have supported Militant

Socialist's anti-war art on show in Bradford

Poem: Journey

Letter: Brum Blairite
---
Home | The Socialist 17 February 2016 | Join the Socialist Party
Subscribe | Donate | Audio | PDF | ebook
---