Link to this page: https://www.socialistparty.org.uk/issue/891/22322
From The Socialist newspaper, 2 March 2016
Stop Tory attacks on NHS
Support junior doctors' strikes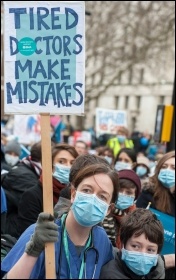 Junior doctors march against attacks on NHS and their contracts, photo by Paul Mattsson (Click to enlarge)
Health unions must coordinate action
Jackie Grunsell
Health minister Jeremy Hunt has declared war on junior doctors by imposing a contract which will remove safeguards to them working more unsocial hours, and for less pay.
It's a contract that the public knows will put patients' safety at risk. It's a hard pill to swallow when there are massive shortages of doctors and nurses across the National Health Service (NHS). How does Hunt intend to fill these vacancies when junior doctors have been made to feel undervalued and demoralised by the stance he has taken, and when student grants for nurses have been axed?
No option
Doctors didn't pick this fight but make no mistake, they are determined to win it. Left with no other option the BMA doctors' union has announced an escalation of action to three 48-hour strikes in March and April.
Does Hunt think that junior doctors who are used to working upwards of 70 hours a week won't have the stamina to keep up this action?
No junior doctor disagrees with the call to improve cover in the NHS over the whole of the week. To do this requires more staff and extra funding. But this is not what the government proposes.
It's clear that this dispute is over so much more than pay and hours. Junior doctors know the NHS is under threat. This contract is part of the Tories' plan to destabilise the NHS, run it down, claim it is failing, and then pass it over to the eagerly waiting hands of the private sector.
Junior Doctors know what's at stake. It is essential for all health workers and all of us who use the NHS to support them in their fight. Other health unions need to show the determination of their BMA colleagues and come together to organise coordinated action to save the NHS.
Emergency protest
A national demonstration in March should be called as an emergency to galvanise support behind health workers and build for an intensive campaign to defeat the government.
Donate to the Socialist Party
Finance appeal
The coronavirus crisis has laid bare the class character of society in numerous ways. It is making clear to many that it is the working class that keeps society running, not the CEOs of major corporations.
The results of austerity have been graphically demonstrated as public services strain to cope with the crisis.
The government has now ripped up its 'austerity' mantra and turned to policies that not long ago were denounced as socialist. But after the corona crisis, it will try to make the working class pay for it, by trying to claw back what has been given.
The Socialist Party's material is more vital than ever, so we can continue to report from workers who are fighting for better health and safety measures, against layoffs, for adequate staffing levels, etc.
When the health crisis subsides, we must be ready for the stormy events ahead and the need to arm workers' movements with a socialist programme - one which puts the health and needs of humanity before the profits of a few.
Inevitably, during the crisis we have not been able to sell the Socialist and raise funds in the ways we normally would.
We therefore urgently appeal to all our viewers to donate to our Fighting Fund.
---
In The Socialist 2 March 2016:
---
Socialist Party news and analysis

Socialism back on the agenda

EU referendum: 'In' campaigners crank up Project Fear

Support junior doctors' strikes

Tories propose endless austerity...We say: 'No way!'

Fifa: invest in working class sport, not profits

Rough sleeping flies up 30% in one year

Credit calls

Family finance

Them & Us
---
International Women's Day

International Women's Day 2016: Should women support Hillary Clinton?
---
International socialist news and analysis

Irish voters reject 'two-and-a-half party system'

Stop the war on the Kurds!
---
Socialist Party workplace news

Historic further education strike in England

Determined junior doctors fight on

A day in the life of a Women's Aid worker in Wales

Food workers "adamant" in fight against pay cut

Labour council attacks trade unions

May Day greetings with the socialist

Workplace news in brief
---
Socialist Party reports and campaigns

Uprising against A&E closure

Swansea: youth orchestra joins protest against cuts

Labour rush to cut, with Tory support

The Isle of Wight needs socialism!

Workers' fightback sets tone for East Mids conference

Help us seize every opportunity to fight austerity

Housing nightmare the focus of student campaign

Young Labour conference: Left and right lock horns
---
Comment

Why I joined: "The same values that I believed"

Letters
---
Home | The Socialist 2 March 2016 | Join the Socialist Party
Subscribe | Donate | Audio | PDF | ebook
---