Link to this page: https://www.socialistparty.org.uk/issue/897/22585
From The Socialist newspaper, 13 April 2016
Houses for offshore investment while we're stuck at home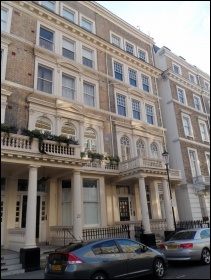 Tax-free offshore capital revealed in the Panama Papers is partly responsible for Britain's extreme housing bubble, photo by Spudgun67 (Creative Commons) (Click to enlarge)
Juliette Fogelman, Waltham Forest
The Panama Papers proved what many people already know, that the rich will do whatever they can to hide their vast sums of money and avoid paying tax.
The leak also revealed how the UK property market (particular in London) had been inflated by the super rich using offshore companies to buy properties as investments rather than as homes that people can actually live in.
Sheikh Khalifa bin Zayed Al Nahyan, the United Arab Emirate president, is just one example. He owns £1.2 billion worth of property in London through offshore companies.
This is pretty galling for a worker like myself since ever rising rents in the UK mean that I, along with over three million people in their 20s and 30s, still live at home with my parents. The alternative is paying nearly half of my salary to live in private rented accommodation that is often badly maintained - damp and mould are common problems! - by landlords whose main aim is to make profits.
David Cameron might have talked tough in the past and claimed the Tory government is going to tackle tax dodging but not only has he benefited from selling shares in his father's offshore investment fund but he has also profited from London's inflated property market. Cameron has made £500,000 from renting his Notting Hill home since he was elected in 2010 and moved into Downing Street.
Just think of all the council homes that could be built with the money the 1% stash away offshore!
Why not click here to join the Socialist Party, or click here to donate to the Socialist Party.
---
In The Socialist 13 April 2016:
---
Panama Papers

Panama Papers reveal corrupt system of the 1%

Austerity not needed

Reactionary EU campaigners implicated by Panama Papers

Another Fifa corruption scandal

Houses for offshore investment, we're stuck at home
---
Socialist Party workplace news

Nationalise to save all Steel jobs

Save BIS Sheffield: we won't be a Northern Poorhouse!

RMT branch calls for TUSC backing to continue

Doctors fight on against imposed contracts

Construction workers defend jobs and pay

Workplace news in brief
---
Review: Militant by Michael Crick

Review: 'Militant' by Michael Crick
---
Refugees

Solidarity with refugees: fight for jobs, homes and services for all

Campaigning for scholarships for refugees - and free education for all
---
International socialist news and analysis

France: full-scale struggle with government is erupting

Bangladesh: stop the Rampal power project

Brazil: solidarity with attacked civil servants

International Panama Papers protests
---
EU referendum

Bosses back EU to boost NHS sell-offs
---
Socialist Party campaigns

Library occupation ends with march on cutting council

Sales of the Socialist on the rise, read all about it!

No A-level courses in Knowsley thanks to 'academies' system

Workers and youth unite to defend vital services

"Not the church, not the state - women must decide their fate!"
---
Defend the NHS

Huddersfield A&E fightback grows

Demonstration to defend the NHS in Leicester

Worcestershire: hands off our health service!
---
Comment

Letter: Women and work
---
Home | The Socialist 13 April 2016 | Join the Socialist Party
Subscribe | Donate | Audio | PDF | ebook
---