Link to this page: https://www.socialistparty.org.uk/issue/899/22695
From The Socialist newspaper, 27 April 2016
Anti-cuts stand wins support from students in Leeds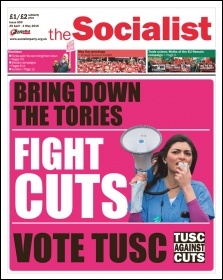 The Socialist issue 899 front page: Bring down the Tories - fight cuts - vote TUSC (Click to enlarge)
Maddy Steeds, Leeds Socialist Party
On 20 April, Leeds University student union held a hustings for Hyde Park and Woodhouse candidates in the local council elections. The idea was to get more students interested in local politics. TUSC candidate Ben Mayor made a strong case for why students should vote for anti-cuts councillors.
On a panel with the Green Party, Liberal Democrats, Ukip and the Conservatives, TUSC was the only anti-cuts party. While the Green Party often try to put themselves forward as being anti-austerity, their candidate stated that councillors' "hands are tied" over cuts.
Solidarity
Ben made it clear that TUSC fights for ordinary working class people and stand shoulder to shoulder with them during struggles. TUSC's programme of capping rents and setting up an ethical letting agency was popular.
Another topic discussed was sexual assault and safety. Ben was clear that sexual assault survivors need support and concrete measures to improve safety around the ward.
The Lib-Dem candidate instead gave the impression that sexual assault is a result of victims being irresponsible - showing how out of touch politicians are with the consent campaigns making up an important part of today's student politics.
Students in the audience were nodding along to Ben's points. The positive reception shows that students are ready for political change and are very open to socialist ideas.
Donate to the Socialist Party
Finance appeal
The coronavirus crisis has laid bare the class character of society in numerous ways. It is making clear to many that it is the working class that keeps society running, not the CEOs of major corporations.
The results of austerity have been graphically demonstrated as public services strain to cope with the crisis.
The government has now ripped up its 'austerity' mantra and turned to policies that not long ago were denounced as socialist. But after the corona crisis, it will try to make the working class pay for it, by trying to claw back what has been given.
The Socialist Party's material is more vital than ever, so we can continue to report from workers who are fighting for better health and safety measures, against layoffs, for adequate staffing levels, etc.
When the health crisis subsides, we must be ready for the stormy events ahead and the need to arm workers' movements with a socialist programme - one which puts the health and needs of humanity before the profits of a few.
Inevitably, during the crisis we have not been able to sell the Socialist and raise funds in the ways we normally would.
We therefore urgently appeal to all our viewers to donate to our Fighting Fund.
---
In The Socialist 27 April 2016:
---
Socialist Party news and analysis

Historic all-out junior doctors' strike action

Tata steel crisis: 100% nationalisation now!

Hillsborough inquest victory: cops unlawfully killed 96

Nationalise BHS to save 11,000 jobs

Rich List betrays lies of austerity

Queen reaches 90: abolish the monarchy

Most diesels emit illegal levels of poison

Them & Us

Top tweets: TUSC
---
What we think

Defeats and u-turns show Tories are weak
---
EU referendum

Trade unions: myths of EU 'Remain' campaign
---
Elections 2016

An anti-austerity alternative on the ballot paper

Welsh Assembly elections: A working class voice to say 'save our steel!'

Scottish elections: strong mood for anti-cuts strategy continues

London elections: fight for an anti-austerity GLA

Warrington: Socialist councillor fighting cuts and hitting doorsteps

Why I'm standing: TUSC can make a real difference

Southampton Labour council faces crisis as cuts hit city

Anti-cuts stand wins support from students in Leeds

Countering the growth of Ukip in south Wales
---
Workplace news and analysis

Junior doctors withdraw all labour to step up pressure

Trade Union Bill concessions made - now fight to scrap the lot!

Housing: Catalyst needs converting

Workplace news in brief
---
Socialist Party reports and campaigns

Butterfields: campaign to stay getting results

Women's Lives Matter
---
International socialist news and analysis

USA: the un-Democratic primary

Poland: anger at abortion ban plan
---
May Day greetings 2016: click here
---
Home | The Socialist 27 April 2016 | Join the Socialist Party
Subscribe | Donate | Audio | PDF | ebook
---