Link to this page: https://www.socialistparty.org.uk/issue/899/22700
From The Socialist newspaper, 27 April 2016
Butterfields: campaign to stay getting results
Waltham Forest Socialist Party members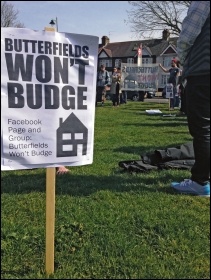 The Socialist Party has been to the fore in assisting Butterfields tenants in organising the 'Butterfields Won't Budge' campaign (Click to enlarge)
This is a longer version of the edited article printed in the Socialist.
A happy ending may be in sight for tenants of the Butterfields estate in Walthamstow who have been campaigning since February to keep their homes. A housing association, Dolphin Living, has expressed an interest in buying all the homes and keeping tenants in them on their current rents.
Nicole, one of the leading organisers of the campaign, said: "It's very exciting. It's the very beginning of this process but we're hopeful. And we're so grateful for the work everyone has put into the campaign."
As the Socialist has previously reported, 63 homes on the estate were sold by their previous charity owner, the Glasspool Trust, to private developers Butterfields E17 Ltd. That company then began proceedings to evict all the tenants so they could sell the properties for a quick profit.
The Socialist Party has been campaigning with the tenants, exploring all avenues that may keep them in their homes. We have written to as many housing associations as possible and had interest from several, lobbied the council and issued draft motions calling on the council to act. We encouraged the tenants to set up a tenants association which has organised many of the meetings and protests.
Staying firm
The bottom line of the Butterfields Won't Budge campaign from the start was just that - the tenants would not budge. Socialist Party members strongly encouraged the idea that a strategy must be built around the idea that there would be no compromise on this point - no one was going to be forced out of their home.
The offer from Dolphin is a vindication of this approach. Only by staying well beyond when asked to leave by the landlords (despite intimidation and threats) and getting prepared for potential legal action and physical eviction resistance if that became necessary, have the tenants got this far.
Tenants are determined to keep the tenants association going and prepare for any future attacks. They stress that they have learnt a lot from the campaign - all are now more aware of the issues in the housing crisis and want to stay involved in the movement against it.
Margaret, another tenant, said that they have all done things they wouldn't have thought they were capable of - being interviewed on television, for example. This group of working class people have been knitted together through this struggle and have found their political voices.
Any victory for the Butterfields Won't Budge campaign must be the start, not the end, of a major fightback against the housing crisis in Walthamstow. We must use the momentum to organise resistance against other local attacks - including the Orwellian sounding 'Walthamstow Development Plan'. This threatens to demolish much of the local market and build yet more expensive, private homes on public land, including on a children's playground.
The Socialist Party calls for:
End gentrification and social cleansing - We Won't Move!
Rent control to cap rents in the private sector at genuinely affordable levels
A mass council house-building programme
Donate to the Socialist Party
Finance appeal
The coronavirus crisis has laid bare the class character of society in numerous ways. It is making clear to many that it is the working class that keeps society running, not the CEOs of major corporations.
The results of austerity have been graphically demonstrated as public services strain to cope with the crisis.
The government has now ripped up its 'austerity' mantra and turned to policies that not long ago were denounced as socialist. But after the corona crisis, it will try to make the working class pay for it, by trying to claw back what has been given.
The Socialist Party's material is more vital than ever, so we can continue to report from workers who are fighting for better health and safety measures, against layoffs, for adequate staffing levels, etc.
When the health crisis subsides, we must be ready for the stormy events ahead and the need to arm workers' movements with a socialist programme - one which puts the health and needs of humanity before the profits of a few.
Inevitably, during the crisis we have not been able to sell the Socialist and raise funds in the ways we normally would.
We therefore urgently appeal to all our viewers to donate to our Fighting Fund.
---
In The Socialist 27 April 2016:
---
Socialist Party news and analysis

Historic all-out junior doctors' strike action

Tata steel crisis: 100% nationalisation now!

Hillsborough inquest victory: cops unlawfully killed 96

Nationalise BHS to save 11,000 jobs

Rich List betrays lies of austerity

Queen reaches 90: abolish the monarchy

Most diesels emit illegal levels of poison

Them & Us

Top tweets: TUSC
---
What we think

Defeats and u-turns show Tories are weak
---
EU referendum

Trade unions: myths of EU 'Remain' campaign
---
Elections 2016

An anti-austerity alternative on the ballot paper

Welsh Assembly elections: A working class voice to say 'save our steel!'

Scottish elections: strong mood for anti-cuts strategy continues

London elections: fight for an anti-austerity GLA

Warrington: Socialist councillor fighting cuts and hitting doorsteps

Why I'm standing: TUSC can make a real difference

Southampton Labour council faces crisis as cuts hit city

Anti-cuts stand wins support from students in Leeds

Countering the growth of Ukip in south Wales
---
Workplace news and analysis

Junior doctors withdraw all labour to step up pressure

Trade Union Bill concessions made - now fight to scrap the lot!

Housing: Catalyst needs converting

Workplace news in brief
---
Socialist Party reports and campaigns

Butterfields: campaign to stay getting results

Women's Lives Matter
---
International socialist news and analysis

USA: the un-Democratic primary

Poland: anger at abortion ban plan
---
May Day greetings 2016: click here
---
Home | The Socialist 27 April 2016 | Join the Socialist Party
Subscribe | Donate | Audio | PDF | ebook
---