Link to this page: https://www.socialistparty.org.uk/issue/901/22778
From The Socialist newspaper, 11 May 2016
No to the bosses' EU, yes to international solidarity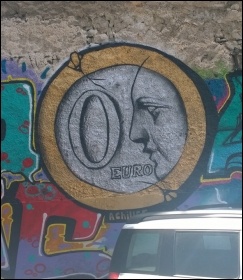 Zero euro coin Greece EU money currency drachma Denis Bocquet (Creative Commons), photo Denis Bocquet (Creative Commons) (Click to enlarge)
For an independent workers' voice
The debate on European Union (EU) membership has been reduced in the establishment media to a clash between different wings of the Tory party.
It's Cameron versus Boris, they say. Two old Etonians - with another ex-public schoolboy, Nigel Farage, in the ring too.
But what about if you're outside the 1% elite? Struggling to get by on low wages, a zero-hour contract maybe, or facing soaring rents and underfunded public services? Who's campaigning for our interests in the debate?
The Trade Unionist and Socialist Coalition (TUSC) - which includes the Socialist Party - is arguing for a leave vote in June's EU referendum.
We stand in the tradition of the late Bob Crow, leader of transport union RMT and co-founder of TUSC. He was well-known for his support for international workers' solidarity, while opposing the EU as a body that pushes anti-worker, pro-austerity policies.
TUSC's core policies include renationalising the railways, Royal Mail and other privatised public services, industries and utilities. We stand for defending the right to asylum and opposing racist immigration controls. And we want democratic public ownership of the banks and major companies.
None of these policies are compatible with EU treaties. So why should we give a vote of confidence to EU laws and institutions - which, as Greece has shown, will be used to try and block socialist policies?
TUSC stands for real internationalism. Many of our problems - from economic stagnation, endless wars, the appalling treatment of refugees, to planet-threatening global warming - can only be solved at an international level.
If society remains organised as it is today, divided into competing nations by the capitalist profit system which the EU helps maintain, the prospects for humanity will be bleak indeed.
But that's why we need a socialist Europe. Not the 'Employers' Union' that is the EU, with its austerity agenda.
Voting to leave on 23 June is a step towards defeating a weak and divided Tory government. This would aid the building of a movement that can unite workers across Europe to fight for a different world.
Read more about why workers should vote Leave at www.socialistcase4exit.eu
Donate to the Socialist Party
Finance appeal
The coronavirus crisis has laid bare the class character of society in numerous ways. It is making clear to many that it is the working class that keeps society running, not the CEOs of major corporations.
The results of austerity have been graphically demonstrated as public services strain to cope with the crisis.
The government has now ripped up its 'austerity' mantra and turned to policies that not long ago were denounced as socialist. But after the corona crisis, it will try to make the working class pay for it, by trying to claw back what has been given.
The Socialist Party's material is more vital than ever, so we can continue to report from workers who are fighting for better health and safety measures, against layoffs, for adequate staffing levels, etc.
When the health crisis subsides, we must be ready for the stormy events ahead and the need to arm workers' movements with a socialist programme - one which puts the health and needs of humanity before the profits of a few.
Inevitably, during the crisis we have not been able to sell the Socialist and raise funds in the ways we normally would.
We therefore urgently appeal to all our viewers to donate to our Fighting Fund.
---
In The Socialist 11 May 2016:
---
Socialist Party news and analysis

Tories retreat: now drive them out!

No to the bosses' EU, yes to international solidarity

Teachers force Tory academies u-turn

TUSC announces '20-city tour': the socialist case against the EU

Independent inquiry into Orgreave now!

Blair played matchmaker between Saudi oil barons and Chinese dictators

What we saw

Them & Us
---
Socialist readers' comments and reviews

John Mann's Israel hypocrisy

Council estate exhibition shows the full picture

Film review: Eddie the Eagle

The Socialist postbag
---
Elections 2016

Elections showed anger and fragmentation

TUSC election campaigns show opposition to cuts

Over 1,700 votes for TUSC in Warrington

Scotland: SNP wins but new openings for socialist alternative emerge

Wales: no change and all change

Northern Ireland elections: positive moves against sectarian politics

Over 1,800 votes for TUSC candidate in Bristol

Third anti-cuts councillor elected in Southampton

TUSC increases vote in Coventry by 25%

Fourth place for TUSC in Liverpool
---
Workplace news and analysis

Blacklisted workers win millions in legal victory

Government blinks first in junior doctors' dispute

Trade Union Bill becomes law

Prison officers walk out over health and safety

Potential new steel bosses refuse to take on pensions

Workplace news in brief
---
Socialist Party reports and campaigns

Let kids be kids: children 'strike' against Sats tests

What way forward for Tamil rights?

Save Paignton Hospital campaign launched

May Day demo says: no cuts to childrens' centres!

Support for junior doctors at campaign stalls
---
International socialist news and analysis

Greek general strike: more needed to defeat austerity

How to trump Donald
---
Home | The Socialist 11 May 2016 | Join the Socialist Party
Subscribe | Donate | Audio | PDF | ebook
---