Link to this page: https://www.socialistparty.org.uk/issue/904/22936
From The Socialist newspaper, 1 June 2016
Khan air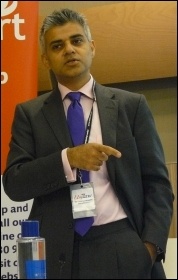 Sadiq Khan, London's new Blairite mayor, photo by Policy Exchange (Creative Commons) (Click to enlarge)
The new mayor of London has approved an urban airport's right to buy public land for expansion.
Right-wing Labour stalwart Sadiq Khan overturned the previous objection - from Tory mayor Boris Johnson! London City Airport is right in the middle of an east London residential area.
Khan's approval came around the same time that Johnson's suppressed report on the capital's poisonous air was surfacing (see socialistparty.org.uk, 'Boris hid killer air report'). No to Tories, no to Blairites, no to London City Airport expansion. Fight the cuts - fight for investment in green tech and public transport.
Donate to the Socialist Party
Coronavirus crisis - Finance appeal
The coronavirus crisis has laid bare the class character of society in numerous ways. It is making clear to many that it is the working class that keeps society running, not the CEOs of major corporations.
The results of austerity have been graphically demonstrated as public services strain to cope with the crisis.
The government has now ripped up its 'austerity' mantra and turned to policies that not long ago were denounced as socialist. But after the corona crisis, it will try to make the working class pay for it, by trying to claw back what has been given.
The Socialist Party's material is more vital than ever, so we can continue to report from workers who are fighting for better health and safety measures, against layoffs, for adequate staffing levels, etc.
Our 'fighting coronavirus workers' charter', outlines a programme to combat the virus and protect workers' living conditions.
When the health crisis subsides, we must be ready for the stormy events ahead and the need to arm workers' movements with a socialist programme - one which puts the health and needs of humanity before the profits of a few.
Inevitably, during the crisis we have not been able to sell the Socialist and raise funds in the ways we normally would.
We therefore urgently appeal to all our viewers to donate to our special coronavirus appeal.
---
In The Socialist 1 June 2016:
---
Socialist Party news and analysis

Shatter the Tories: vote out

Motion passed for no-cuts council budgets

Jobseekers told: take three-hour commute

Public asset sales will lose us money

Stop Ryedale fracking

Blairite baloney

Khan air

Library lie

Them & Us
---
The BBC

Tories out to knife the BBC
---
France

France: struggle against government intensifies

France 1936: sit-in strikes

Fighting austerity: French strikes show the way
---
What we think

Tories tearing themselves apart over EU referendum: vote leave to get Cameron out
---
Socialist Party workplace news

PCS conference takes serious approach to key political and industrial questions

Could it be 3 strikes and you're out at 2 Sisters?

Welsh Government under attack at Wales TUC conference...and museum strikers close to victory

University lecturers strike for fair pay

Thomas Cook cabin crew to strike over breaks

BIS office closure: Anger and determination to fight on

Workplace news in brief
---
Socialist Party reports and campaigns

Property speculators target Butterfields tenants

Pent Valley campaigners take council to judicial review

George Tomlinson school: Academy fears

Birmingham Labour council takes credit for Tory privatisation

Peterborough PFI palaver

Get a copy of the Socialist from a workplace near you!
---
International socialist news and analysis

Solidarity with protesters in Kazakhstan

Portugal: Lisbon dockers' victory
---
Socialist Party comments and reviews

Film: Money Monster

Obituary: Simon Gomery 1968-2016

Letter: Parcel farce
---
Home | The Socialist 1 June 2016 | Join the Socialist Party
Subscribe | Donate | Audio | PDF | ebook
---