Link to this page: https://www.socialistparty.org.uk/issue/483/2308
From The Socialist newspaper, 19 April 2007
Young socialist standing for Save Huddersfield NHS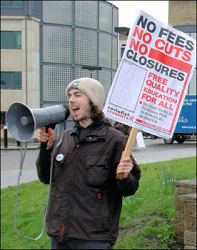 Ian Slattery
THE CAMPAIGN of Save Huddersfield NHS to elect a second fighting, socialist councillor has carried on from where it left off last year.
The 2006 election victory of Dr Jackie Grunsell, showed the willingness of people to vote for an electoral alternative to the main political parties. This year's candidate, standing in the ward where Jackie Grunsell is a councillor, is 21 year old Socialist Party member Ian Slattery. Ian spoke to the socialist about the campaign:
"Despite the cuts to Huddersfield's hospitals being at an early stage, almost everyone we've met has been disgusted by the attacks on our health facilities. Patients from St Lukes Hospital, which specialises in mental health, are being put into combined wards despite having completely different conditions. Many people are also pledging votes to us on the basis of other issues, such as the impact Jackie has made in the council, and in spite of the allegedly bad haircuts and youthful looks of the candidate!"
The campaign has canvassed over half the Crossland Moor and Netherton ward so far. In the first week of the campaign 186 copies of the socialist were sold and over £300 of donations have been received.
Donate to the Socialist Party
Coronavirus crisis - Finance appeal
The coronavirus crisis has laid bare the class character of society in numerous ways. It is making clear to many that it is the working class that keeps society running, not the CEOs of major corporations.
The results of austerity have been graphically demonstrated as public services strain to cope with the crisis.
The government has now ripped up its 'austerity' mantra and turned to policies that not long ago were denounced as socialist. But after the corona crisis, it will try to make the working class pay for it, by trying to claw back what has been given.
The Socialist Party's material is more vital than ever, so we can continue to report from workers who are fighting for better health and safety measures, against layoffs, for adequate staffing levels, etc.
Our 'fighting coronavirus workers' charter', outlines a programme to combat the virus and protect workers' living conditions.
When the health crisis subsides, we must be ready for the stormy events ahead and the need to arm workers' movements with a socialist programme - one which puts the health and needs of humanity before the profits of a few.
Inevitably, during the crisis we have not been able to sell the Socialist and raise funds in the ways we normally would.
We therefore urgently appeal to all our viewers to donate to our special coronavirus appeal.
---
In The Socialist 19 April 2007:

Kick big business out of the NHS

Nurses' fury at cuts and attacks on jobs

NHS London - delivering private health
---
Socialist Students

Build for national action against fees
---
Socialist Party election campaign

Election manifesto 2007

Leicester: A principled stand against opportunists

Young socialist standing for Save Huddersfield NHS

Wales manifesto launch

Save our NHS campaign fields five candidates in South Lakes

Nursery cuts campaign launch

Making a difference in Lincoln

Vote Socialist Alternative on 3 May
---
Socialist Party editorial

RMT victory: Union militancy pays
---
Campaign for a New Workers Party

Wanted - a new mass party for workers

Campaign for a New Workers' Party Conference
---
Socialist Party workplace news

Tube workers win big victory over Metronet

Campaigning for a £26,000 minimum wage

Young trade unionists reject New Labour

Greenwich UNISON steps up fight against pay cuts
---
International socialist news and analysis

Venezuela: Will the trade unions give up their independence?

Bush's man at the World Bank in corruption scandal
---
Socialist Party news and analysis

Bosses' Pension

Blockading Britain's warhead factory

Fighting for the right to walk in the countryside

Cuts reduce advice for the people who most need help

Bank that only serves the rich
---
Home | The Socialist 19 April 2007 | Join the Socialist Party
---