Link to this page: https://www.socialistparty.org.uk/issue/484/2328
From The Socialist newspaper, 26 April 2007
Blair's legacy... war, cuts & privatisation
Vote socialist on 3 May
Time for a new workers' party
THE ELECTIONS on Thursday 3 May will be a chance for voters to reject New Labour and a last chance to reject it under Tony Blair's leadership. Blair is expected to hand over the job of prime minister to Gordon Brown in July. The verdict is likely to be damning, with Blair leaving with one of the lowest ever popularity ratings for a prime minister, and with Labour losing a large number of council seats.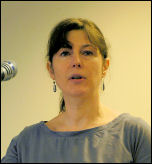 Judy Beishon, speaking at Socialist Party congress 2007, photo Paul Mattsson
Judy Beishon
For many people, Blair's biggest crime was helping US president Bush with the war on Iraq and occupation. A grim total of 110 British soldiers have now lost their lives in Iraq and Iraqi civilians are dying at the terrible rate of over 70 a day.
One in seven Iraqi people have fled their homes, to become refugees. A majority of those who remain face constant bloodshed and lack of basic necessities such as sanitation, clean water and adequate food.
Blair had the nerve to complain last week of a "relentless focus on the negative". What positive conclusions can be drawn from the nightmare in Iraq? The news of sectarian bombings and other killings just gets worse every week.
The journalist Polly Toynbee lamented in the guardian (20.4.07): "What have we done, what have we unleashed ... This is our war, our fault, our bloodshed for aiding America's reckless and incompetent invasion and for failing to stop civil war".
But it is not our war or our fault. Ordinary people expressed strong opposition to the war when two million marched in London in February 2003. It is Bush and Blair who are to blame, and a majority of people in both Britain and the US can't wait to see the back of them.
The 3 May elections will also be a verdict on Blair and New Labour's home policies. Most people see them as highly negative too. In a poll by the Observer, only 10% of people said that Britain is a more pleasant place in which to live in 2007 than it was when New Labour was elected in 1997. A majority said that the standard of NHS care in their area has deteriorated over the same ten years.
However, what alternative is on offer in these elections? Many people face a choice between the three big business parties - Tories, Liberals and Labour - who will all make further cuts in living standards and quality of life if elected.
Fortunately though, there are a growing number of left and independent, anti-war and anti-cuts candidates standing. In areas where they are standing, a walk to the polling station is worthwhile.
And where Socialist Party candidates are standing - as Socialist Alternative on the ballot paper - voters are not only able to vote against cuts and privatisation, but can go a qualitative step further and support a party that is building a socialist alternative to the parties of big business.
Why not click here to join the Socialist Party, or click here to donate to the Socialist Party.
---
In The Socialist 26 April 2007:

Blair's legacy... war, cuts & privatisation

Civil servants' union May Day strike

Free Arrested activists now
---
Socialist Students

Join the campaign to defeat fees

No victimisation - support Deeside college lecturers

Campaign to Defeat Fees National Meeting
---
Socialist Party election analysis

New Labour - lowest poll ratings since 1983

Come to the Campaign for a New Workers' Party conference

Campaign for a New Workers' Party conference

Support for Labour falling in Scotland

Campaigning for socialist ideas in South Wales

Huddersfield: Fighting against NHS cuts and closures

Coventry socialists fight Post Office closure

Southampton: Save our Services!

Brighton: Stop privatisation

Merseyside: Tweedledee, Tweedledum, Bootle has a real socialist alternative

Manchester Wythenshawe: NHS cuts threaten lives

Donate to fund a socialist alternative

Socialist solidarity on May Day
---
International socialist news and analysis

Socialist wins court battle in Kazakhstan

France: Record turnout sees Royal and Sarkozy go through to second round

Yeltsin's real record - 'wild capitalism' in Russia

US mass shooting horror

Nigerian elections - a dangerous farce
---
Socialist Party workplace news

Support the Sunvic strikers

UNISON Delegates demand action
---
Home | The Socialist 26 April 2007 | Join the Socialist Party
---