Link to this page: https://www.socialistparty.org.uk/issue/912/23343
From The Socialist newspaper, 10 August 2016
Paul Reilly for RMT EC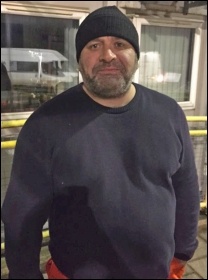 Rail worker and Socialist Party member Paul Reilly is standing for the executive of transport union RMT (Click to enlarge)
Socialist Party member Paul Reilly, a branch secretary of the RMT transport workers' union in Nuneaton, is a candidate for the union's national executive committee to represent the Midlands region.
Network rail worker Paul was a Trade Unionist and Socialist Coalition (TUSC) candidate in Nuneaton at the 2015 general election and has been involved in the campaign to save City Link jobs last year and recently the campaign in support of Jeremy Corbyn. Paul moved the motion at the 2016 RMT conference to support Corbyn.
Follow the campaign at facebook.com/ReillyRMTNEC
Why not click here to join the Socialist Party, or click here to donate to the Socialist Party.
---
In The Socialist 10 August 2016:
---
#KeepCorbyn

#KeepCorbyn: stand firm for socialism

Liverpool: Corbyn slams "politics of the elite"

Wallasey Labour meet in resistance to the Blairites

Mood for unity but not with right-wing Labour infiltrators

Thousands attend Corbyn rally in Cornwall

Bristol: Jeremy Corbyn wins support from young people

Hull: Jeremy Corbyn rally the biggest for 20 years

Jeremy Corbyn attracts 1,000 in York
---
Socialist Party news and analysis

Fresh bank crash looms

No to new grammars

Fight to defend HIV drug victory

UK wage drop as bad as Greece

Privatised medical record chaos

Them & Us
---
Grunwick strike

Grunwick strike 40 years on - lessons of an epic battle
---
Socialist Party workplace news

Fawley strike defeats 'race to bottom' exploitation of migrant workers

Low paid cleaners declare victory after 58 days on strike

Samworth Brothers step up bullying and intimidation of workers

Communication Workers Union backs Jeremy Corbyn

HMY Radford shopfitters strike against penny-pinching company

South Wales NUM supports Jeremy Corbyn

Paul Reilly for RMT EC
---
2011 Riots

2011 riots: An outpouring of anger at the system
---
Socialist Party reports and campaigns

Axe the Housing Act: 'We can't pay, we'll organise and we'll stay'

Great reception in Hackney for Chicago 'Black Lives Matter' socialist

South London #BlackLivesMatter protest marches on Downing Street

Leeds Pride 2016: Pride must be political!
---
Socialist Party comments and reviews

Sanctioned - a victim of government callousness

Food waste - the logic of capitalism

The Socialist inbox
---
Home | The Socialist 10 August 2016 | Join the Socialist Party
Subscribe | Donate | Audio | PDF | ebook
---