Link to this page: https://www.socialistparty.org.uk/issue/913/23442
From The Socialist newspaper, 24 August 2016
Workplace news in brief
Short reports on some of the latest trade union struggles.
---
>
Lights, camera, action!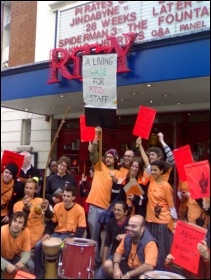 Cinema workers in Bectu at the Ritzy Picturehouse, Brixton, striking for the London Living Wage in 2015 (Click to enlarge)
Members of Bectu, the entertainment technicians' union, who work at the Ritzy cinema in Brixton, are balloting for strike action over pay. Workers at the cinema have been engaged in a long campaign to win the London Living Wage of £9.40 an hour. But Picturehouse Cinemas have rejected the claim and refused to negotiate with the union and rejected the chance for talks at Acas.
The current minimum rate at the Ritzy is £8.80. Bectu's assistant general secretary, Luke Crawley, said: "Bectu has tried to talk to Picturehouse Ltd but the company are being very hard faced in ignoring our pay claim. Union members at The Ritzy have shown how strong they can be when working together."
In 2014 Bectu members fought a long and successful campaign (including 13 strikes) in pursuit of the London Living Wage as defined by the Living Wage Foundation. The current ballot closes on 30 August.
---
>
Blairite crush
John McTernan, the political strategist who masterminded massive defeats for the Labour Party in the 2016 Australian general election and in Scotland at the 2015 general election, has claimed to know what voters want with regards to the rail unions.
Writing in the Telegraph McTernan, allegedly a Labour Party man, urges the Tories to crush the rail unions once and for all. He says: "Where are the core Tory values? Where is the support for management's right to manage?"
Before wiping out Labour in two different elections McTernan worked for Tony Blair and Gordon Brown. So a Blairite through and through calling for crushing working class people and implementing Tory values and of course opposing Jeremy Corbyn.
Voters in the Labour leadership election will decide between Blairite Owen Smith and supporter of rail workers and nationalisation Corbyn. Will it be another crushing defeat for the Blairites?
Why not click here to join the Socialist Party, or click here to donate to the Socialist Party.
---
In The Socialist 24 August 2016:
---
#KeepCorbyn

Kick out the Blairites

#KeepCorbyn: Answer right's attacks with firm socialist programme

Corbyn union nominations round-up and view from the workplace

#KeepCorbyn: huge support at rallies and among Labour rank and file
---
Socialist Party news and analysis

Black footballer's taser death: stop police racism now

Pay still below pre-crisis levels

Train fares to rise again - nationalise railways now!

£500m on civil service redundancies in two years

Them & Us
---
International socialist news and analysis

Trump in trouble - political polarisation deepens

International news in brief
---
Socialist readers' comments

Readers respond to Trotskyist red scare smears by capitalist media

Would you call G4S for help over discrimination?

The Socialist inbox
---
Workplace news and analysis

Deliveroo strike action forces bosses to back down

Junior doctors set for further strike action

A day in the life of a call centre worker

Workplace news in brief
---
Save our NHS

Save our NHS!

The threat of private health insurance

Organise against secretive NHS cuts plans
---
Socialist Party reports and campaigns

Greenwich council tenants: We won't pay! We won't move!

Local estate agents back Butterfields tenants

Nottinghamshire Pride makes history

Immingham residents' housing battle
---
Home | The Socialist 24 August 2016 | Join the Socialist Party
Subscribe | Donate | Audio | PDF | ebook
---