Link to this page: https://www.socialistparty.org.uk/issue/914/23458
From The Socialist newspaper, 31 August 2016
Join the student fightback to end education cuts and austerity
As the new academic term begins, students at schools, college and universities around the country face a year of important struggles. Here two young people comment on some of the difficulties facing working class students.
Alice Murray, school student
There are many things that anger students in the current economic crisis. However, more recent betrayals have really hit home for this generation.
Cuts to education have affected us dramatically, for instance the range of subjects have become extremely limited. Vocational subjects that allow students who don't excel academically to gain useful skills have been cut.
One of the reasons for this is that teachers are being made redundant; many of my peers have been told that they're unable to pursue their interests in child development, health and social care and performing arts, all because of vicious cuts. Now our schools are gradually becoming academies. They're transforming into businesses discriminating against the poor - even the food is now extortionate.
Another aspect of the government's attacks that directly affects our generation is exam grade boundaries. The increase of these makes it almost impossible to achieve good grades.
This becomes a class issue when privately educated students are privileged with small classes, well paid qualified teachers and better equipment. This means they achieve high grades bringing up school averages and therefore grade boundaries, keeping the working class out of university and well paid jobs.
These are only a few of the many attacks that especially target the younger generations and the struggle posed by the Tory government's austerity.
---
The destruction of the working class student
Mark Attwood, student
I'm 18 and about to start a bachelor's degree, which really should help me achieve my goals and dreams in life, right? However, after my degree I will also be in over £50,000 of debt just like hundreds of thousands of other students. This is unacceptable.
An investment in your future should mean you definitely have one worth investing in. But the reality is I could go to university, study solidly for years, and come out feeling like Aristotle, but it will never guarantee me the good future I worked hard for. Therefore I think it's perfectly acceptable to say that higher education is not worth even close to £9,000 a year.
Students are the future of this 'great' country, and should be entitled to a high standard of education without putting them in over £50,000 worth of debt. Even if they do end up one of the lucky ones with a pretty big salary, they have to pay even more for an education that was probably still not worth it.
With only an average of ten or eleven hours of lectures a week, I highly doubt there are students out there feeling liberated knowing they spent £9,000 annually.
And with the addition of some universities raising their fee to £9,250 a year, working class students and working class families can rarely afford this huge amount of debt - it is entirely discouraging. I have seen this first-hand with most of my friends, who do not see the point in going to university.
For all we know, they could be the next Picasso, or the next Mozart. The government values the profits of companies and war over the futures of coming generations. I find this utterly mind boggling, as a socialist. Britain spends £60 million on machines of death which could be spent on better things, like the NHS or housing and helping the homeless.
For the solution to this madness we need leaders who can put their foot down and turn away from big businesses looking to fill their greed-meters, and say: "The future belongs to the young". We must ensure that everyone, from every background and every corner of society can enjoy an education packed with opportunity and discovery, without having to worry about any debt.
---
We demand:
An end to education cuts
No to academies and 'free schools'
Abolish fees and introduce grants including EMA
No to austerity and racism
For a mass socialist party of youth and workers
---
Socialist Students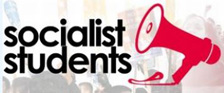 Text 'JOIN' plus your name & college to 077493 79010
Donate to the Socialist Party
Finance appeal
The coronavirus crisis has laid bare the class character of society in numerous ways. It is making clear to many that it is the working class that keeps society running, not the CEOs of major corporations.
The results of austerity have been graphically demonstrated as public services strain to cope with the crisis.
The government has now ripped up its 'austerity' mantra and turned to policies that not long ago were denounced as socialist. But after the corona crisis, it will try to make the working class pay for it, by trying to claw back what has been given.
The Socialist Party's material is more vital than ever, so we can continue to report from workers who are fighting for better health and safety measures, against layoffs, for adequate staffing levels, etc.
When the health crisis subsides, we must be ready for the stormy events ahead and the need to arm workers' movements with a socialist programme - one which puts the health and needs of humanity before the profits of a few.
Inevitably, during the crisis we have not been able to sell the Socialist and raise funds in the ways we normally would.
We therefore urgently appeal to all our viewers to donate to our Fighting Fund.
---
In The Socialist 31 August 2016:
---
#KeepCorbyn

#KeepCorbyn: For a party that fights for workers

Right's purges and exclusions show we must fight for a party for the 99%

Packed meeting discusses Trotskyism, Corbyn and socialist change

Trade unionists for Corbyn rally in Cardiff
---
Education fightback

Education: fightback needed

Pressure, lies and head games: being a school student in Tory Britain

Join the student fightback to end education cuts and austerity
---
No NHS cuts or closures

No NHS cuts or closures

Grantham protest against night-time closure of A&E
---
Socialist Party news and analysis

Invest in grassroots sports needs

Women still take home 36% less than men

Over a million families in 'extreme problem debt'

Scot schools scandal

Smith v refugees

What We Saw

Them & Us
---
International socialist news and analysis

France: Burkini ban fuels division

Chile: general strike threat as pensions protests grow
---
Socialist Party workplace news

UberEats: Angry delivery drivers protest over pay

Solid bus strike for better terms and pay

Southern strike
---
Socialist Party reports and campaigns

Why you should join the Socialist Party today

Socialist Party 'collectathon' to raise crucial cash

Ken Loach and a Socialist seller join Sisters Uncut protest
---
Socialist Party Summer Camp

Sunshine and socialism at Socialist Party summer camp
---
Comment

Can Britain have a pay rise?
---
Home | The Socialist 31 August 2016 | Join the Socialist Party
Subscribe | Donate | Audio | PDF | ebook
---