Link to this page: https://www.socialistparty.org.uk/issue/914/23463
From The Socialist newspaper, 31 August 2016
One in three GB Rio 2016 medallists privately educated
Invest in grassroots sports needs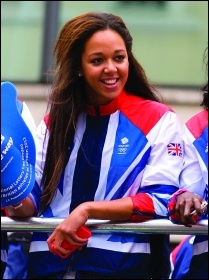 State-educated Liverpudlian Katarina Johnson-Thompson broke the British outdoor high-jump record in Rio this year photo Jim Thurston/Creative Commons (Click to enlarge)
Lenny Shail
Britain's second-place finish in the Olympic table has been used widely by the establishment as a show of the greatness of British sport and successful investment strategies. But the reality is far from this image.
32% of the UK's Rio medallists went to private schools, according to research by education charity Sutton Trust. Only around 6.5% of children go to private school.
This reveals serious problems in how sport is funded and organised, who controls the funds, and what sporting organisations seek to achieve.
Millions, young and old, will have been inspired by Mo Farah floating down the track, or Laura Trott darting round the velodrome. But the opportunities for working class people in Britain to take part in basic sports - let alone those requiring equipment and facilities - are worse than ever.
Swimming is part of the national curriculum. Schools are meant to ensure children can swim 25 metres unaided by eleven. Despite this, figures from 2014 found more than a thousand primaries didn't provide any lessons, and 45% of children start secondary school unable to swim.
Previously, the Sports Council - motto 'sport for all' - directed and governed sport in the UK. In 1994 the Tory government replaced it with UK Sport, which concentrates funding on top-end professionals.
The idea behind this came from Olympics chief Seb Coe. He saw financial support for elite sport as the overriding priority, putting local authorities in charge of grassroots sport.
But over many years of Tory and New Labour attacks on public services, funding for mass participation has been one of the first victims. This has excluded the majority from ever getting the opportunity to try out many sports.
Sports funding elitism has even reached a stage where some athletes were denied selection for Rio despite having qualifying times - because they weren't deemed 'medal winners'.
The Socialist Party campaigns for the funding, facilities and time for everyone to take part in sports. Reverse cuts and sell-offs of school and community facilities. For investment in free, high-quality sport aimed at participation at every level.
History
For decades of history the super-rich class has attempted to block working class people from sports. The famous 'mechanics exclusion clause' was adopted by many early amateur sports bodies in the 19th century, including rowing and even athletics. Its job was to keep out the successful new breed of working class professional athletes.
This excluded not only those who made a simple living from sports, but also anyone "who is or has been by trade or employment for wages a mechanic, artisan or labourer." Later these sports, predominately Olympic, allowed workers to take part - but banned 'professionals', meaning only those with an independent income could train full-time.
Despite this, many workers throughout the 20th century continued to pursue their chosen sport to the highest level. This often involved training multiple hours a day around full-time manual work. Today, low wages and long working hours are still an insuperable barrier to many aspiring athletes.
A socialist society could see a complete change in how sport is organised and run. All sports and facilities could be opened up, and hugely expanded, for enjoyment by everyone. This could be run democratically by fans, athletes, coaches and the local community.
It could be based around workplaces, schools, communities, and local clubs, as part of a nationally planned set-up sharing expertise and resources.
This would allow everyone to play and take part to whichever standard they wish - just for fun, to keep fit or to become a professional athlete.
Donate to the Socialist Party
Finance appeal
The coronavirus crisis has laid bare the class character of society in numerous ways. It is making clear to many that it is the working class that keeps society running, not the CEOs of major corporations.
The results of austerity have been graphically demonstrated as public services strain to cope with the crisis.
The government has now ripped up its 'austerity' mantra and turned to policies that not long ago were denounced as socialist. But after the corona crisis, it will try to make the working class pay for it, by trying to claw back what has been given.
The Socialist Party's material is more vital than ever, so we can continue to report from workers who are fighting for better health and safety measures, against layoffs, for adequate staffing levels, etc.
When the health crisis subsides, we must be ready for the stormy events ahead and the need to arm workers' movements with a socialist programme - one which puts the health and needs of humanity before the profits of a few.
Inevitably, during the crisis we have not been able to sell the Socialist and raise funds in the ways we normally would.
We therefore urgently appeal to all our viewers to donate to our Fighting Fund.
---
In The Socialist 31 August 2016:
---
#KeepCorbyn

#KeepCorbyn: For a party that fights for workers

Right's purges and exclusions show we must fight for a party for the 99%

Packed meeting discusses Trotskyism, Corbyn and socialist change

Trade unionists for Corbyn rally in Cardiff
---
Education fightback

Education: fightback needed

Pressure, lies and head games: being a school student in Tory Britain

Join the student fightback to end education cuts and austerity
---
No NHS cuts or closures

No NHS cuts or closures

Grantham protest against night-time closure of A&E
---
Socialist Party news and analysis

Invest in grassroots sports needs

Women still take home 36% less than men

Over a million families in 'extreme problem debt'

Scot schools scandal

Smith v refugees

What We Saw

Them & Us
---
International socialist news and analysis

France: Burkini ban fuels division

Chile: general strike threat as pensions protests grow
---
Socialist Party workplace news

UberEats: Angry delivery drivers protest over pay

Solid bus strike for better terms and pay

Southern strike
---
Socialist Party reports and campaigns

Why you should join the Socialist Party today

Socialist Party 'collectathon' to raise crucial cash

Ken Loach and a Socialist seller join Sisters Uncut protest
---
Socialist Party Summer Camp

Sunshine and socialism at Socialist Party summer camp
---
Comment

Can Britain have a pay rise?
---
Home | The Socialist 31 August 2016 | Join the Socialist Party
Subscribe | Donate | Audio | PDF | ebook
---