Link to this page: https://www.socialistparty.org.uk/issue/485/2354
From The Socialist newspaper, 3 May 2007
NHS cuts... privatisation... widening wealth gap...
TIME FOR A NEW WORKERS' PARTY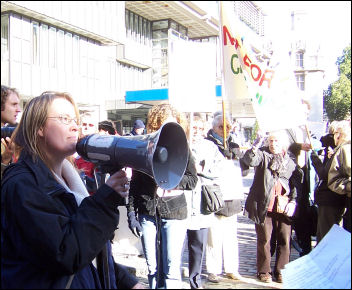 Jackie Grunsell, Save Huddersfield NHS campaign councillor in 2006, photo Alison Hill
THE GOVERNMENT'S relentless attacks on the NHS show that health workers and NHS users need a new political party, as well as fighting trade unions. We need to resist New Labour's onslaught of privatisation, service cuts and attacks on our terms and conditions and arm ourselves with a programme that would be in the interests of working-class people rather than the super-rich.
Adrian O'Malley Branch chair, UNISON Wakefield & Pontefract Hospitals branch
Not content with handing over more than £5 billion annually to private contractors, for treatment centres, GP services etc, the government have offered the job of commercial director at the Department of Health to R. Channing Wheeler, former vice-president of an American private healthcare purchasing company. This is another clear sign that they want to bring American-style healthcare into the NHS, with its two-tier health system - one for the rich and one for the poor.
Health Secretary Patricia Hewitt is already saying that hospitals should refuse treatment to certain categories of patient, including people who are clinically obese. This means that if you can afford to pay for healthcare, you can have what you need - the rest of us will be rationed.
The recent UNISON health conference voted for a national demonstration in defence of the NHS, which is to be held in London on 13 October. It also voted unanimously to reject the 2.5% pay award and for industrial action, including strike action if a "significant offer above the rate of inflation" is not made.
I was at the conference and delegate after delegate attacked Labour's policies and the handing of more and more of the NHS over to their friends in big business.
With the GMB union and even the Royal College of Nursing also voting for strike action, strikes in the civil service and possibly also in local government, we could be facing a summer of discontent in the public sector.
But we need to go further - all the main political parties support privatisation of the health service and the rest of the public sector.
Unfortunately, the leaders of UNISON and most of the other trade unions are firmly in the camp of New Labour. They bury their heads in the sand and refuse to discuss any alternative when more and more workers are demanding that the unions break the link with Labour and fight back against Labour's attacks.
We need to make the demonstration to defend the NHS in October as big as possible to stop the privatisers in their tracks and to support health workers in their fight to defend jobs and services.
This demo could also be a springboard towards launching a new workers' party that will unite working-class people to defend the public sector against privatisation and cuts and begin to build an electoral alternative to the three big business parties.
---
>
CNWP conference
Saturday 12 May, 12noon-5pm
Venue: University College London, Gower Street.
To register or find out more visit www.cnwp.org.uk
Speakers include:
Ricky Tomlinson - actor and Shrewsbury Two Campaign
Chris Baugh - PCS union assistant general secretary
Dave Nellist - Socialist Party councillor
Mel Mills - Huddersfield parent - campaigning against the closure of local nurseries and standing in the 3 May elections
Tony Mulhearn - Liverpool 47
Why not click here to join the Socialist Party, or click here to donate to the Socialist Party.
---
In The Socialist 3 May 2007:

2007 election analysis: Time for a new workers' party

Scottish Elections: Labour rocked as SNP wins
---
Socialist Party election campaign

NHS cuts... privatisation... widening wealth gap

Campaign for a New Workers' Party conference
---
Socialist Party NHS campaign

NHS: A matter of life and death in Swansea

Fat cats eye the cream
---
Socialist Party workplace news

PCS: Fighting for jobs, pay and services

Picketing the Tate Modern
---
Socialist Party editorial

Widening wealth gap needs working-class response
---
Socialist Party election campaign

Packed election rally for Scotland's Solidarity

Irish election - Socialist Party takes on the establishment

New Labour panics and resorts to lies

Yorkshire ISR and Socialist Students day of action
---
Global Warming

Alternative energy: Winds of change?
---
Education

Stop these education cuts
---
Socialist Students

Campaign to Defeat Fees

Seattle students walkout against the Iraq war

Pressure mounts for troops withdrawal
---
Socialist Party Marxist analysis

Russia April 1917: Lenin returns from exile
---
Comment

Women must have the right to choose!
---
Socialist Party news and analysis

What 'public-private partnerships really mean

Campaigning for LGBT rights

Oppose legal aid contracts tooth and nail
---
Socialist Party workplace news

Support the Sunvic strikers

Greenwich workers fight on

Remember the dead but fight for the living

The scandal of HSE cuts
---
Home | The Socialist 3 May 2007 | Join the Socialist Party
---