Link to this page: https://www.socialistparty.org.uk/issue/919/23684
From The Socialist newspaper, 5 October 2016
UK workers born in early 1980s half as wealthy as those born in 1970s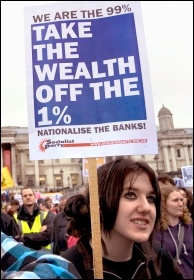 We are the 99% - Take the wealth off the 1% Socialist Party placard, photo Paul Mattsson (Click to enlarge)
James Clopp
People born in the early 1980s are half as well-off as those born in the 1970s were at their age. This won't come as any surprise to today's 30-somethings.
A new report from the Institute for Fiscal Studies shows rising rent and house prices, combined with stagnating wages, put home ownership beyond the reach of many who have entered the workplace since 2000.
Certainly, from my own experience, the idea that you could save £30,000 - while the majority of your meagre salary is swallowed up by rent - seems impossible.
Leaving housing in the hands of private landlords and building firms has meant younger people are held to ransom. Not enough houses are built. Many lie deliberately vacant to keep prices high, while speculation in the property market drives rent higher and higher.
When I tell my friends that in the '80s, tenants could appeal to rent boards run by the local council to fix fair rents or guarantee tenure, they are incredulous! These are the kind of policies we need to escape the rent trap, along with a return to a mass council housing building programme.
The report also points out that pension entitlements have dropped dramatically for children born after 1980. We now face the nightmare scenario of heading into retirement with very little savings, while seeking housing in a hostile rental market.
We can start to turn this around by getting organised in trade unions, and fighting for higher pay and better pensions. In the longer term, we need to fight for a government with socialist policies.
The wealth hoarded by the capitalist elite should be taken off them, and used instead to guarantee everyone access to housing, and a dignified working life and retirement.
Why not click here to join the Socialist Party, or click here to donate to the Socialist Party.
---
In The Socialist 5 October 2016:
---
What we think

Combative, vibrant unions should be central to the Corbyn movement
---
Socialist Party news and analysis

Tories out!

Come to Socialism 2016!

Sam Allardyce corruption shame: reclaim the game!

Asos workers fear taking toilet breaks, sacked for panic attacks

UK workers born in early 1980s half as wealthy as those born in 1970s

Millions have less than £100 savings

Them & Us

What we saw
---
Black History Month

Fighting racism today
---
Workplace news and analysis

RMT president Sean Hoyle speaks to the Socialist

Durham teaching assistants ballot for strike

Napo conference 2016: new mood of determination

London Met strike against job cuts and victimisation

Workplace news in brief
---
Socialist readers' comments and reviews

Corbyn's praise for Cardiff Labour is mistaken

Review: where you live can kill you

Review: international jazz protest storytelling

The Socialist inbox
---
Socialist Students

Socialist ideas - winning a new generation of students
---
Socialist Party reports and campaigns

Thousands march against Tory conference

Protests against children's centre closures in Bolton

Why I joined the Socialist Party

Fighting fund record smashed again!

Leeds: Solidarity demo with Irish abortion fight

London: Socialism Today milestone celebration

Worcester: Public meeting discusses Corbyn
---
International socialist news and analysis

Poland: Fighting back against anti-abortion law

Ireland: repeal the 8th Amendment!

Joint declaration by Izquierda Revolucionaria and the CWI
---
Home | The Socialist 5 October 2016 | Join the Socialist Party
Subscribe | Donate | Audio | PDF | ebook
---