Link to this page: https://www.socialistparty.org.uk/issue/919/23695
From The Socialist newspaper, 5 October 2016
London: Socialism Today milestone celebration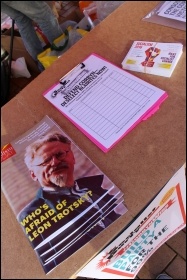 Socialism Today on sale at the Tory party conference demo 2 October 2016 photo Samantha Smith (Click to enlarge)
West London Socialist Party members hosted a successful '200th edition' celebration of the party's magazine Socialism Today on 14 September.
Addressing the gathering, editor Lynn Walsh stressed its importance in providing a thorough Marxist analysis of events and a guide to action for the workers movement, and the struggle for socialism.
Lynn's speech was made just a few hours after Jeremy Corbyn's re-election as leader of the Labour Party. Forthcoming issues would show what was needed now to develop Labour as an inclusive, democratic, and campaigning socialist organisation.
A woman living in Streatham, originally from Serbia, attended because it was the only event advertised on the internet that that was going to discuss Corbyn's election.
Also, Socialist Party finance organiser Naomi Byron explained the importance of fundraising, which the party relies on. She concluded with a financial appeal which raised £116. This was doubled by the coins collected by Sharon Dixon from her sales of the Socialist.
Several people joined the Socialist Party.
Keith Dickinson
Why not click here to join the Socialist Party, or click here to donate to the Socialist Party.
---
In The Socialist 5 October 2016:
---
What we think

Combative, vibrant unions should be central to the Corbyn movement
---
Socialist Party news and analysis

Tories out!

Come to Socialism 2016!

Sam Allardyce corruption shame: reclaim the game!

Asos workers fear taking toilet breaks, sacked for panic attacks

UK workers born in early 1980s half as wealthy as those born in 1970s

Millions have less than £100 savings

Them & Us

What we saw
---
Black History Month

Fighting racism today
---
Workplace news and analysis

RMT president Sean Hoyle speaks to the Socialist

Durham teaching assistants ballot for strike

Napo conference 2016: new mood of determination

London Met strike against job cuts and victimisation

Workplace news in brief
---
Socialist readers' comments and reviews

Corbyn's praise for Cardiff Labour is mistaken

Review: where you live can kill you

Review: international jazz protest storytelling

The Socialist inbox
---
Socialist Students

Socialist ideas - winning a new generation of students
---
Socialist Party reports and campaigns

Thousands march against Tory conference

Protests against children's centre closures in Bolton

Why I joined the Socialist Party

Fighting fund record smashed again!

Leeds: Solidarity demo with Irish abortion fight

London: Socialism Today milestone celebration

Worcester: Public meeting discusses Corbyn
---
International socialist news and analysis

Poland: Fighting back against anti-abortion law

Ireland: repeal the 8th Amendment!

Joint declaration by Izquierda Revolucionaria and the CWI
---
Home | The Socialist 5 October 2016 | Join the Socialist Party
Subscribe | Donate | Audio | PDF | ebook
---