Link to this page: https://www.socialistparty.org.uk/issue/920/23768
From The Socialist newspaper, 12 October 2016
Lambeth working class demo against cuts and gentrification
James Ivens, Lambeth Socialist Party
Working class campaigners glitter-bombed council steps and marched against Blairite gentrification and austerity in Lambeth, south London, on 8 October.
The newly formed 'Stand Up to Lambeth' has the backing of nearly 30 different campaigns. These include estates the right-wing Labour council wants to demolish, and libraries it wants to turn into private gyms. The local branches of trade unions Unison and Unite also support the campaign.
Angry but upbeat marchers wore pink boots, tops and even wigs. The campaign's symbol is a pair of pink Doc Martens standing up to the Blairite council. The march threw pink glitter at the town hall's entrance as it passed.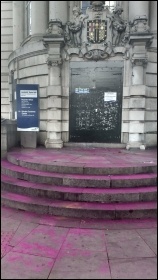 Anti-gentrification marchers glitter-bombed the steps of Blairite-run Lambeth Council, 8.10.16, photo by James Ivens (Click to enlarge)
Involvement
This effort to draw together the various campaigns against Blairite council attacks is an important development. Lambeth Socialist Party supports it fully, and takes part in organising meetings.
We joined around 200 others on the demonstration. This was a great turnout for the campaign's first event.
Speaking at the opening rally, we called for kicking the Blairites out of Labour and letting socialists back in. Then we can take on the Tories effectively, and push for mass investment in homes, jobs and services for all.
Unfortunately, Jeremy Corbyn has so far not responded to the campaign's appeals for support. This is a mistake. The Corbyn movement must push for unity with working class fighters, not Tory shills still clinging to Labour.
Donate to the Socialist Party
Finance appeal
The coronavirus crisis has laid bare the class character of society in numerous ways. It is making clear to many that it is the working class that keeps society running, not the CEOs of major corporations.
The results of austerity have been graphically demonstrated as public services strain to cope with the crisis.
The government has now ripped up its 'austerity' mantra and turned to policies that not long ago were denounced as socialist. But after the corona crisis, it will try to make the working class pay for it, by trying to claw back what has been given.
The Socialist Party's material is more vital than ever, so we can continue to report from workers who are fighting for better health and safety measures, against layoffs, for adequate staffing levels, etc.
When the health crisis subsides, we must be ready for the stormy events ahead and the need to arm workers' movements with a socialist programme - one which puts the health and needs of humanity before the profits of a few.
Inevitably, during the crisis we have not been able to sell the Socialist and raise funds in the ways we normally would.
We therefore urgently appeal to all our viewers to donate to our Fighting Fund.
---
In The Socialist 12 October 2016:
---
Housing crisis

Butterfields victory: housing crisis can be beaten

Tories' £5bn for housing not enough
---
What we think

Tories whip up division over Brexit...fight for a socialist, internationalist exit

Where next for the BMA junior doctors' dispute
---
Socialist Party news and analysis

Say no to fracking!

Support the Rotherham 12

Suicidal phone calls: fight to reverse tax credit cuts
---
Black History Month

Malcolm X: hero of black liberation
---
Socialist Party workplace news

Union library campaign strikes blow against Bromley Tories

Bin workers' strike - "about more than just pay"

AMEY = A Massive Empty Yard

Ritzy strikers walk-out and rally

Workplace news in brief
---
International socialist news and analysis

Poland: Mass movement stops total ban on abortion

South Africa: The battle for free education

Shimon Peres - a wolf in sheep's clothing
---
Socialist Party reports and campaigns

Lambeth working class demo against cuts and gentrification

Appeal: Don't let the banks wreck our finances!

Momentum should show Blairites the door, not Socialist Party members!

Lobby to keep vital day centre funding

Bradford day centre campaigners meet to fight closure

Fight to save care homes in Carlisle

Cable Street 80th anniversary demo
---
Health and social care attacks

Attack on young people's health and social care: urgent fightback needed
---
The Socialist inbox

The Socialist inbox
---
Home | The Socialist 12 October 2016 | Join the Socialist Party
Subscribe | Donate | Audio | PDF | ebook
---