Link to this page: https://www.socialistparty.org.uk/issue/920/23778
From The Socialist newspaper, 12 October 2016
Reader's comment
Malcolm X: hero of black liberation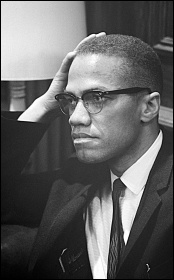 "You can't have capitalism without racism" - Malcolm X's politics evolved from black separatism to socialism (Click to enlarge)
Julian Moore-Cook, Socialist Party black and Asian group
After reading 'The Autobiography of Malcolm X' I am left in awe.
I'm upset that I have only read it now at 25 years of age, and have sent a copy to my younger brother. This book is essential reading for the black activist and any socialist. Never have I read words more radicalising, or that have changed my perception of the world around me so much.
Malcolm Little was born in Omaha, Nebraska, in 1925. He articulates very well key moments of racism in his life - from his house being burned down as a child, to the little comments and judgements black people face every day. He talks of straightening his hair, and how many black people did this because of the deep-seated idea that anything black was bad.
This is what this book has helped me with the most: seeing oppression. Things I had never noticed before I notice all the time. Comments I would have never thought of as racist before stick out and jar against my ear. The book has helped give me the courage to respond.
Anger
To say the book is radicalising is not an exaggeration. The main fulcrum for Malcolm going from petty criminal to activist is an epiphany he has while in prison. The sum of the epiphany is "all white people are devils". These are extreme words, but they express the profound anger and alienation black people and oppressed racial groups can feel in racist capitalist society.
Malcolm retracts this later in life. He has a religious experience praying in Mecca with Muslims of all different races. Most importantly, he comes to recognise that in order to defeat racism, you need to defeat the capitalist system which created it and keeps it going. That means workers of all races and nationalities coming together against our common enemy: the capitalist class.
For me, as a socialist, I realise that racist ideas and behaviours start at the top. They are the result of a capitalist system that needs racism to stay alive, to justify slavery and the exploitation of poorer nations, and to foster false divisions between workers.
But Malcolm's political thought evolved throughout his life, and at the start he favoured black separatism over working class unity.
He writes, for example, of white people going to black bars - and, when drunk, saying clumsy things like: "I want you to know I'm not better than you, we're the same." He speaks of the arrogance of believing black people need to be told by white people we are equal.
It's true that in the current system, even some well-meaning people are sometimes going to exhibit racist behaviour. But capitalism exploits white workers too. Only by patient explanation - and most importantly, fighting side by side against capitalism and racism - can we can overcome these mistakes, and tackle their real cause.
I cannot recommend this book enough. As a black person fighting racism it has left me with a sense of pride and dignity I never had before.
Martin Luther King Jr said being silent is sometimes the worst thing you can do. Malcolm X's autobiography can give you some of the understanding to start breaking that silence. To speak up, and rail against the bosses, those responsible for oppression and injustice in every form. You can apply that teaching to race, gender, sexuality - and definitely the class struggle.
---
>
The Autobiography of Malcolm X
£9.99 plus postage from www.leftbooks.co.uk (or call 020 8988 8789)
Donate to the Socialist Party
Coronavirus crisis - Finance appeal
The coronavirus crisis has laid bare the class character of society in numerous ways. It is making clear to many that it is the working class that keeps society running, not the CEOs of major corporations.
The results of austerity have been graphically demonstrated as public services strain to cope with the crisis.
The government has now ripped up its 'austerity' mantra and turned to policies that not long ago were denounced as socialist. But after the corona crisis, it will try to make the working class pay for it, by trying to claw back what has been given.
The Socialist Party's material is more vital than ever, so we can continue to report from workers who are fighting for better health and safety measures, against layoffs, for adequate staffing levels, etc.
Our 'fighting coronavirus workers' charter', outlines a programme to combat the virus and protect workers' living conditions.
When the health crisis subsides, we must be ready for the stormy events ahead and the need to arm workers' movements with a socialist programme - one which puts the health and needs of humanity before the profits of a few.
Inevitably, during the crisis we have not been able to sell the Socialist and raise funds in the ways we normally would.
We therefore urgently appeal to all our viewers to donate to our special coronavirus appeal.
---
In The Socialist 12 October 2016:
---
Housing crisis

Butterfields victory: housing crisis can be beaten

Toriesí £5bn for housing not enough
---
What we think

Tories whip up division over Brexit...fight for a socialist, internationalist exit

Where next for the BMA junior doctors' dispute
---
Socialist Party news and analysis

Say no to fracking!

Support the Rotherham 12

Suicidal phone calls: fight to reverse tax credit cuts
---
Black History Month

Malcolm X: hero of black liberation
---
Socialist Party workplace news

Union library campaign strikes blow against Bromley Tories

Bin workers' strike - "about more than just pay"

AMEY = A Massive Empty Yard

Ritzy strikers walk-out and rally

Workplace news in brief
---
International socialist news and analysis

Poland: Mass movement stops total ban on abortion

South Africa: The battle for free education

Shimon Peres - a wolf in sheep's clothing
---
Socialist Party reports and campaigns

Lambeth working class demo against cuts and gentrification

Appeal: Don't let the banks wreck our finances!

Momentum should show Blairites the door, not Socialist Party members!

Lobby to keep vital day centre funding

Bradford day centre campaigners meet to fight closure

Fight to save care homes in Carlisle

Cable Street 80th anniversary demo
---
Health and social care attacks

Attack on young people's health and social care: urgent fightback needed
---
The Socialist inbox

The Socialist inbox
---
Home | The Socialist 12 October 2016 | Join the Socialist Party
Subscribe | Donate | Audio | PDF | ebook
---