Link to this page: https://www.socialistparty.org.uk/issue/919/23893
From The Socialist newspaper, 2 November 2016
What we saw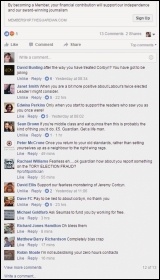 Facebook users didn't hold back when the Guardian was last advertising 'membership'... (Click to enlarge)
The Guardian, house newsletter of the Labour right and hypocritical zero-hour-contract employer, has been trying to attract 'members' again.
For £49 a year, you can take part in democratic decision-making and help elect the newspaper's editorial board. Just kidding. In fact, the only "benefits" the Guardian lists are a "welcome pack", "premium" app and "regular member emails".
The liberal rag's latest sponsored ad on Facebook invited readers to "support our fearless, independent journalism". Here are the initial responses to that...
---
>
Top tweets
Alleged 'train operating company' Southern tried to incite commuters to attack transport union RMT on Twitter. Its tweet on 3 October backfired.
Some users piled onto the RMT for striking to save skilled guards' jobs and protect passenger safety. But many laid into Southern's incompetent, profiteering management instead.
Southern @SouthernRailUK
Time to get back on track. Tweet @RMTunion & tell them how rail strikes make you feel. #SouthernBackOnTrack
Scott Jones @scottfrankjones
@SouthernRailUK @RMTunion Full support & solidarity with RMT strike against you for putting profit above safety. Nationalise now!
Matt Woosie @MattWoosie
@SouthernRailUK @RMTunion and I'd rather be delayed by a strike than your company's inability to hire enough staff
Elizabeth Ammon @legsidelizzy
@SouthernRailUK @RMTunion fully behind them. You, southern rail, are the issue. Not the union.
Cr O'Grizimov @Mr_Ogrizovic
.@SouthernRailUK Have you been running one of Europe's most delayed and ineffective train services, all year, because of strikes?
.@SouthernRailUK Have I been more delayed this year than the rest of my life put together - on non-strike days - because of strikes?
---
>
Fifa shuts racism squad
International football organisation Fifa has closed its anti-racism taskforce, declaring it has "completely fulfilled its temporary mission".
The taskforce existed to make recommendations to Fifa, and bosses claim there will still be ongoing anti-racist initiatives. But many believe the decision speaks to a certain light-mindedness on fighting racism in the sport.
This includes former taskforce member Osasu Obayiuwana. He said that "the problem of racism in football remains a burning, very serious and topical one, which needs continuous attention.
"I personally think there remained a lot of very serious work for the task force to have done - the 2018 World Cup in Russia being one such matter. But it is evident the Fifa administration takes a different position."
Donate to the Socialist Party
Coronavirus crisis - Finance appeal
The coronavirus crisis has laid bare the class character of society in numerous ways. It is making clear to many that it is the working class that keeps society running, not the CEOs of major corporations.
The results of austerity have been graphically demonstrated as public services strain to cope with the crisis.
The government has now ripped up its 'austerity' mantra and turned to policies that not long ago were denounced as socialist. But after the corona crisis, it will try to make the working class pay for it, by trying to claw back what has been given.
The Socialist Party's material is more vital than ever, so we can continue to report from workers who are fighting for better health and safety measures, against layoffs, for adequate staffing levels, etc.
Our 'fighting coronavirus workers' charter', outlines a programme to combat the virus and protect workers' living conditions.
When the health crisis subsides, we must be ready for the stormy events ahead and the need to arm workers' movements with a socialist programme - one which puts the health and needs of humanity before the profits of a few.
Inevitably, during the crisis we have not been able to sell the Socialist and raise funds in the ways we normally would.
We therefore urgently appeal to all our viewers to donate to our special coronavirus appeal.
---
In The Socialist 2 November 2016:
---
What we think

Combative, vibrant unions should be central to the Corbyn movement
---
Socialist Party news and analysis

Tories out!

Come to Socialism 2016!

Sam Allardyce corruption shame: reclaim the game!

Asos workers fear taking toilet breaks, sacked for panic attacks

UK workers born in early 1980s half as wealthy as those born in 1970s

Millions have less than £100 savings

Them & Us

What we saw
---
Black History Month

Fighting racism today
---
Workplace news and analysis

RMT president Sean Hoyle speaks to the Socialist

Durham teaching assistants ballot for strike

Napo conference 2016: new mood of determination

London Met strike against job cuts and victimisation

Workplace news in brief
---
Socialist readers' comments and reviews

Corbyn's praise for Cardiff Labour is mistaken

Review: where you live can kill you

Review: international jazz protest storytelling

The Socialist inbox
---
Socialist Students

Socialist ideas - winning a new generation of students
---
Socialist Party reports and campaigns

Thousands march against Tory conference

Protests against children's centre closures in Bolton

Why I joined the Socialist Party

Fighting fund record smashed again!

Leeds: Solidarity demo with Irish abortion fight

London: Socialism Today milestone celebration

Worcester: Public meeting discusses Corbyn
---
International socialist news and analysis

Poland: Fighting back against anti-abortion law

Ireland: repeal the 8th Amendment!

Joint declaration by Izquierda Revolucionaria and the CWI
---
Home | The Socialist 2 November 2016 | Join the Socialist Party
Subscribe | Donate | Audio | PDF | ebook
---