Link to this page: https://www.socialistparty.org.uk/issue/924/23908
From The Socialist newspaper, 9 November 2016
Courts and tribunal services face huge cuts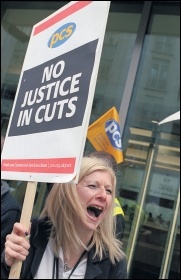 Members of public sector union PCS fighting cuts in the justice sector, photo by Paul Mattsson (Click to enlarge)
Tessa Warrington, PCS Ministry of Justice group executive committee member
Huge changes are afoot in the civil service that will leave jobs slashed and public services a husk of their former selves. Given that 86,000 jobs have already been axed from the civil service over the past five years, this may seem like old news but the scale and scope of the Tories' austerity-driven changes are only now being revealed.
I work in the county court and it has recently been announced that over the next six years HM Courts and Tribunal Service staffing will be cut by one third. However, the Public and Commercial Services union (PCS) puts estimates closer to 50%. I look around my office and imagine half of us disappearing. It is terrifying.
We are being sold these cuts as part of the 'Reform' project, which will leave the justice system almost unrecognisable. Courts will no longer exist as they do now. Instead there will be hearing centres with no admin staff and no specialisation, dealing with every jurisdiction of law.
The recent court closure programme got rid of 86 courts but another 250 are now slated for closure. All queries will be handled by bulk customer service centres, in reality call centres.
£1 billion is being invested in this transformation, primarily into updating IT so that functions that staff currently perform can be digitally replaced with new programmes and service users doing the work themselves online.
The justice sector leaves a lot to be desired and improved IT is sorely needed but it is the motivation behind these changes that concerns me. The £1 billion has only been agreed in return for ongoing cuts in departmental spending of a quarter of a billion a year.
Staff nationally are being forced to attend workshops called 'One Conversation' where we are pressured by upper management to be subservient and help carry through these changes. One staff member was even threatened with being down-graded on performance for having their arms crossed as this was perceived as negative!
Justice?
We know that 'Reform' is not for the benefit of the public but a further degrading of a public service to save money. Cuts to Legal Aid and the Citizens Advice Bureau have already left access to justice non-existent for those who cannot afford it.
Further reliance on online processing will replicate the 'Digital by Default' scenario illustrated in Ken Loach's new film 'I, Daniel Blake' where those who are not IT literate or can't afford access to the internet are penalised.
However, this is just part of the national picture in the civil service, which across the board is showing a trend towards centralisation on a massive scale.
My partner works in HMRC where they are going nationally from 148 offices to 17 regional hubs. His office is down to close in 2021 and we could both be out of our jobs at the same time.
It's a good job we're both socialists! We should never accept that cuts are a foregone conclusion - workers have the power to stop them in their tracks.
Public sector unions urgently need to come together in joint industrial action not only to defend the civil service but our libraries, schools, emergency services and the NHS, all of which are under attack from austerity. This could be a first step towards a one-day general strike and a strategy to bring down the Tory government.
Donate to the Socialist Party
Coronavirus crisis - Finance appeal
The coronavirus crisis has laid bare the class character of society in numerous ways. It is making clear to many that it is the working class that keeps society running, not the CEOs of major corporations.
The results of austerity have been graphically demonstrated as public services strain to cope with the crisis.
The government has now ripped up its 'austerity' mantra and turned to policies that not long ago were denounced as socialist. But after the corona crisis, it will try to make the working class pay for it, by trying to claw back what has been given.
The Socialist Party's material is more vital than ever, so we can continue to report from workers who are fighting for better health and safety measures, against layoffs, for adequate staffing levels, etc.
Our 'fighting coronavirus workers' charter', outlines a programme to combat the virus and protect workers' living conditions.
When the health crisis subsides, we must be ready for the stormy events ahead and the need to arm workers' movements with a socialist programme - one which puts the health and needs of humanity before the profits of a few.
Inevitably, during the crisis we have not been able to sell the Socialist and raise funds in the ways we normally would.
We therefore urgently appeal to all our viewers to donate to our special coronavirus appeal.
---
In The Socialist 9 November 2016:
---
High Court Brexit bombshell

Bosses' government, bosses' EU...fight for socialism

High Court bombshell on Brexit decision
---
Socialist Party news and analysis

Stop the 54,000 yearly maternity sackings

Build housing for the kids without homes this Xmas

Unions must act on pay restraint!

Court slams Tory air quality plans

Them & Us
---
Socialist Party reports and campaigns

Build the education fightback

Read the Socialist

Over a thousand march to fight museums and libraries cuts

Library cuts: working class kids suffer most

Momentum left meeting excludes socialists

New Socialist Party pamphlet: Fight racism, fight for socialism

Far-right given short shrift in Darlington

Obituary: Hilary Mooney 1945-2016
---
Socialist Party workplace news

Action needed to defend workers at the sharp end of prisons crisis

Courts and tribunal services face huge cuts

Newcastle council cuts: opportunity for trade union fightback

Birmingham's Labour council freezes workers' pay

Hackney Picturehouse strike
---
International socialist news and analysis

Turkey: Erdogan tightens repressive screw

Ireland: Gardai strike threat

South Africa: State victimises #OutsourcingMustFall activists
---
Socialist Party comments and reviews

Horror of health-wrecking toil for Polish migrants

HyperNormalisation: Arbitrary selection of ideas to confirm feelings of powerlessness

Socialist inbox
---
Home | The Socialist 9 November 2016 | Join the Socialist Party
Subscribe | Donate | Audio | PDF | ebook
---