Link to this page: https://www.socialistparty.org.uk/issue/924/23918
From The Socialist newspaper, 9 November 2016
Stop the 54,000 yearly maternity sackings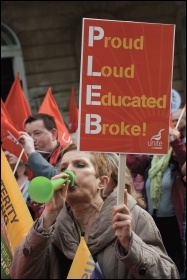 Every year, 54,000 women are pushed out of their jobs within 12 months of returning from maternity leave, photo by Paul Mattsson (Click to enlarge)
Angie Waller, Barnsley Socialist Party
About 54,000 women a year are pushed out of their jobs within 12 months of returning from maternity leave - that's 11% - according to the Equality and Human Rights Commission (EHRC).
This practice is going unchallenged, as most women cannot afford the costs of a tribunal. In fact only 1% have actually challenged their employers. This is down to the £1,200 charge for tribunals the Tories and Lib Dems introduced in 2013.
It is costing businesses £280 million a year to hire replacement staff and make redundancy payments. Add this to the cost to the state in benefits for those women who lose their jobs. As well as being clear sexist discrimination, this means losing experienced workers from the workforce.
For those who manage to stay in their jobs, many find their pay reduced, projects they were working on passed to 'more committed' team members, not considered for promotions, and receiving lower pay rises and bonuses.
Frustrating
I had the frustrating experience where, one week after having my first son, my boss announced that there was a team leader vacancy within my team! I was only one week into my maternity leave, and had no knowledge this was on the cards.
I had ten years' experience with the council as an engineer, but obviously the promotion wasn't intended for me. I was 'safely' out of the way for six months.
The EHRC has now called on the government to extend its time limit for tribunals to six months, and is promoting flexible working. By improving the chance of getting to a tribunal, companies can be held to account by more women being able to challenge them.
But we need more than this. The Socialist Party fights for free childcare, adult care and education for all; the abolition of employment tribunal fees; full maternity and paternity pay; and a socialist society that can begin to end all sexist practices and attitudes. Then both women and men alike can start to see real change.
Donate to the Socialist Party
Finance appeal
The coronavirus crisis has laid bare the class character of society in numerous ways. It is making clear to many that it is the working class that keeps society running, not the CEOs of major corporations.
The results of austerity have been graphically demonstrated as public services strain to cope with the crisis.
The government has now ripped up its 'austerity' mantra and turned to policies that not long ago were denounced as socialist. But after the corona crisis, it will try to make the working class pay for it, by trying to claw back what has been given.
The Socialist Party's material is more vital than ever, so we can continue to report from workers who are fighting for better health and safety measures, against layoffs, for adequate staffing levels, etc.
When the health crisis subsides, we must be ready for the stormy events ahead and the need to arm workers' movements with a socialist programme - one which puts the health and needs of humanity before the profits of a few.
Inevitably, during the crisis we have not been able to sell the Socialist and raise funds in the ways we normally would.
We therefore urgently appeal to all our viewers to donate to our Fighting Fund.
---
In The Socialist 9 November 2016:
---
High Court Brexit bombshell

Bosses' government, bosses' EU...fight for socialism

High Court bombshell on Brexit decision
---
Socialist Party news and analysis

Stop the 54,000 yearly maternity sackings

Build housing for the kids without homes this Xmas

Unions must act on pay restraint!

Court slams Tory air quality plans

Them & Us
---
Socialist Party reports and campaigns

Build the education fightback

Read the Socialist

Over a thousand march to fight museums and libraries cuts

Library cuts: working class kids suffer most

Momentum left meeting excludes socialists

New Socialist Party pamphlet: Fight racism, fight for socialism

Far-right given short shrift in Darlington

Obituary: Hilary Mooney 1945-2016
---
Socialist Party workplace news

Action needed to defend workers at the sharp end of prisons crisis

Courts and tribunal services face huge cuts

Newcastle council cuts: opportunity for trade union fightback

Birmingham's Labour council freezes workers' pay

Hackney Picturehouse strike
---
International socialist news and analysis

Turkey: Erdogan tightens repressive screw

Ireland: Gardai strike threat

South Africa: State victimises #OutsourcingMustFall activists
---
Socialist Party comments and reviews

Horror of health-wrecking toil for Polish migrants

HyperNormalisation: Arbitrary selection of ideas to confirm feelings of powerlessness

Socialist inbox
---
Home | The Socialist 9 November 2016 | Join the Socialist Party
Subscribe | Donate | Audio | PDF | ebook
---