Link to this page: https://www.socialistparty.org.uk/issue/487/2412
From The Socialist newspaper, 17 May 2007
Save our NHS
Partial climbdown encourages Maudsley fight back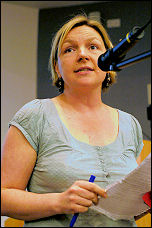 Lois Austin at the Campaign for a new workers' party conference 2007, photo Paul Mattsson
EXECUTIVES AT Maudsley Mental Health Hospital Trust have been forced into a partial climb-down over their plans to close the hospital's emergency clinic (EC). Just as legal action was about to be served on the trust, the chief executive, Stuart Bell, dramatically announced that the clinic would remain open.
Lois Austin, secretary Southwark and Lambeth KONHSP
This proves that seemingly unshakeable health chiefs can be forced to back down in the face of opposition from the community. Health workers, trade unionists and service users, united in a model campaign to push back these cuts to an already deprived mental health service in south London.
But the campaign is far from over. The trust says that the clinic will remain open as an information point only and that there will be no clinical service. There is still uncertainty over the future of the current consultant psychiatrist.
The secretary of state only granted agreement to close the emergency clinic on the basis that alternative arrangements for an emergency mental health service were put into place. Maudsley said that King's College Hospital A&E, just across the road, was creating a separate area to deal with this.
They also said that voluntary sector providers were coming in to run an information service. Tony Blair backed up this claim in parliament last week, when questioned by Simon Hughes MP, about the clinic.
None of this has happened. The chief executive of King's admitted at a patient's forum last week that they never had any intention of creating a separate area to replace the emergency clinic. We are investigating whether it is still possible to take legal action against Maudsley for scaling down the EC's role when no other replacement service is in operation.
Meanwhile the campaign in the community and on the streets will continue. Regular protests are planned outside the Maudsley until the EC's future is secured. We are also fighting to save the elderly day hospital, the Felix Post Unit and the Eamon Fottrell Unit in Lambeth.
There is no slack or wastage in the health system. There must be no going back to the dark days of pre-welfare state Britain when mental health was dealt with by the criminal justice system and charities. We are determined to win a full victory. We are demanding that a full clinical service is maintained at the EC. Please support us.
THE TWO big dates for health campaigners nationally are 5 July, NHS anniversary day when there will be a protest in Parliament Square and 13 October, the date of the union-organised national demonstration in central London.
Start winning support for these events now among health workers and campaigners. Let's ensure we get huge turnouts in defence of our health service.
Why not click here to join the Socialist Party, or click here to donate to the Socialist Party.
---
In The Socialist 17 May 2007:

Good riddance to Blair!

Gillingham greets Gordon

Editorial: Blair's departure: Curtain falls on disastrous reign
---
Socialist Party NHS campaign

Partial climbdown encourages Maudsley fight back
---
International Socialist Resistance

Protest against the G8 Rostock 2007

Join ISR in a summer of protest!
---
Campaign for a New Workers Party

Conference for a working class political alternative
---
Global Warming

Who pays to stop climate change?
---
Ireland

The 'politics of smiles'

Irish election: An above average Joe
---
International socialist news

Israel: Students battle against fees and cutbacks

7.30, Tuesday 22 May, Kings Cross, London
---
Socialist Party election campaign

No gains for the BNP in Lincoln

Socialists take on the hospital crisis in Bristol

Baguley: Socialists are left opposition to New Labour
---
Socialist Party workplace news

Left victory in PCS elections

Postal workers: Vote 'yes' for strike action

FBU conference: Preparing for future battles
---
Home | The Socialist 17 May 2007 | Join the Socialist Party
---