Link to this page: https://www.socialistparty.org.uk/issue/931/24197
From The Socialist newspaper, 11 January 2017
Bosses earn average annual salary in under three days
'Fat Cat Wednesday' - take the wealth off the 1%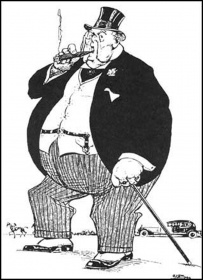 'The subsidised mineowner - poor beggar!' Cartoon from a 1925 trade union magazine, photo Wikimedia (Creative Commons) (Click to enlarge)
Carl Harper, Peterborough Socialist Party
Top bosses had earnt more than the £28,200 median salary by around midday on 4 January - 'Fat Cat Wednesday'.
According to the figures from High Pay Centre, the average FTSE 100 chief executive now earns more than £1,000 an hour. These bosses now typically earn 129 times more than their average employee.
Figures for 2015 showed that average annual pay for a FTSE 100 boss was £5.5 million, or 401 times that of a minimum wage worker.
The Fat Cat Wednesday calculation is based on bosses starting back at work after Christmas on 2 January, based on median FTSE 100 chief executive pay of £4 million in 2015.
The hourly pay rate of £1,009 is calculated based on bosses working 12 hours a day, including three out of every four weekends, and taking fewer than ten days' holiday a year.
Undoubtedly some bosses do work extreme hours. But so do many nurses in our struggling NHS, doing far more useful work for a tiny fraction of the pay.
And the gulf in pay is undoubtedly larger. Official pay figures downplay the army of workers in insecure, precarious work, since the average is based on those who have been in their job for at least a year.
Frances O'Grady, leader of the Trade Union Congress, apparently responded by calling for Theresa May to honour her promise to put workers on boards. How about building for coordinated strikes against austerity?
And why just token workers on boards? Why shouldn't workers own and control the lot?
As long as super-rich minority owns and controls the top corporations, they'll use them for private profit. Nationalise them under the democratic control and management of workers, so the working class can plan what we make to meet the needs of all!
Why not click here to join the Socialist Party, or click here to donate to the Socialist Party.
---
In The Socialist 11 January 2017:
---
NHS in meltdown

NHS in meltdown

NHS in meltdown from spending cuts - demonstrate on 4 March!

Sustainability and Transformation plans - a repackaging of cuts

Worcestershire hospital deaths expose NHS crisis
---
Socialist Party comments and reviews

Football abuse scandal: Reclaim the game for justice and accountability

Book review: Spy drama gives insight into capitalist coup plot
---
What we think

Strikes show workers' power
---
Socialist Party news and analysis

'Cash for ash' scandal set to bring down Northern Ireland government

May slams 'economic inequalities' Tory policies created

Blair's multimillion plans to fight 'populism'

Bosses earn average salary in under three days

What we saw

Them & Us: £500k house party... 50p for rent
---
Labour Party

Haringey: pressure grows as Labour council cuts

Sick of sham consultations - give us a real fightback

Khan should attack bosses, not workers
---
Socialist Party workplace news

Tube strike solid in fight for jobs and safety

Support BA cabin crews' strike for fair pay

Sham Royal Mail pensions consultation - action needed

Unison legal battle looks into allegations 'Team Dave' broke rules during general secretary election

Workplace news in brief
---
Socialist Party reports and campaigns

Build the resistance against Trump

Socialist Party national women's meeting

2016: A record-breaking fighting fund year!

Closing of the children's centres could cost lives
---
International socialist news and analysis

Palestine/Israel: Everyday life under occupation
---
Home | The Socialist 11 January 2017 | Join the Socialist Party
Subscribe | Donate | Audio | PDF | ebook
---