Link to this page: https://www.socialistparty.org.uk/issue/936/24620
From The Socialist newspaper, 15 February 2017
The Socialist: 20 years old and more important than ever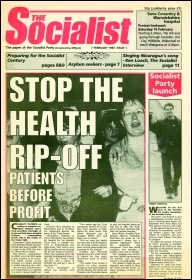 Plus ca change... Issue one of the Socialist campaigned against the privitisation of the NHS (Click to enlarge)
Ian Pattison, The Socialist campaign organiser
On the protests against Donald Trump, an unprecedented number of people formed a wall of resistance to his policies. In London mere days after his Muslim ban, what felt like a non-stop wave poured out of tube stations near the protest. The same was felt across the country.
What has struck many of us at these protests is the enthusiasm to topple the rotten capitalist system that Trump stands on, and the interest in socialism as an alternative.
On the 30 January protests alone, 700 people bought the latest edition of the Socialist. Socialist sellers brought people around us by chanting "Socialism not Trumpism" and "read articles by American socialists" to great delight.
We expect these sales to continue, particularly for young people, as we now call for walkouts on the day Trump visits Britain.
The Socialist has always fought against what Trump stands for: capitalism, racism and sexism.
This week is the Socialist paper's 20th birthday. In issue one we carried a feature article by Socialist Party general secretary Peter Taaffe outlining the role of a socialist paper.
In 1997 Peter wrote: "Many trade unionists in the USA are now starting to organise for a party of labour in the US because of growing disillusionment with [Bill] Clinton's move to embrace the Republican Party's ultra-right policies." The political situation in the US has been transformed but the need for a new party is even more acute.
We quoted one billionaire who was terrified that untrammelled capitalism would arouse greater and greater hostility from the working class. Inequality and poverty has only grown, exacerbated by a decade of economic crisis and austerity.
Every year world leaders meet, some predicting that these trends will lead to mass revolt against capitalism. They're right, it has and it will. But while the capitalist class defends the profit system, they are powerless to change the course of history.
Peter concluded with a stark warning: A working class socialist alternative is vital to cut across right-wing forces attempting to express anger against capitalism inequality, and benefit. Socialist ideas battle Trump in the USA, Le Pen in France, and their international acolytes.
That first article made an important appeal, which stands today: "If the Socialist is to reflect workers' lives you, the paper's readers and devoted sellers, need to make sure that there is a regular supply of reports, articles, comments, letters and interviews coming in."
Our paper is unique because working class people who read it also write its content and sell it on to people who want to find out more. Our paper gives 100% backing to every struggle of ordinary people to improve their lives, generally written by the people leading those fights.
Please help us continue to stand up and shout the socialist ideas needed to defeat Trumpism, austerity and capitalism.
Coming soon: Following on from The Rise of Militant, the next volume in the history of Militant and the Socialist Party - dealing with the period 1995-2007. By Peter Taaffe, general secretary of the Socialist Party. Enquiries/orders to 020 8988 8777
Donate to the Socialist Party
Coronavirus crisis - Finance appeal
The coronavirus crisis has laid bare the class character of society in numerous ways. It is making clear to many that it is the working class that keeps society running, not the CEOs of major corporations.
The results of austerity have been graphically demonstrated as public services strain to cope with the crisis.
The government has now ripped up its 'austerity' mantra and turned to policies that not long ago were denounced as socialist. But after the corona crisis, it will try to make the working class pay for it, by trying to claw back what has been given.
The Socialist Party's material is more vital than ever, so we can continue to report from workers who are fighting for better health and safety measures, against layoffs, for adequate staffing levels, etc.
Our 'fighting coronavirus workers' charter', outlines a programme to combat the virus and protect workers' living conditions.
When the health crisis subsides, we must be ready for the stormy events ahead and the need to arm workers' movements with a socialist programme - one which puts the health and needs of humanity before the profits of a few.
Inevitably, during the crisis we have not been able to sell the Socialist and raise funds in the ways we normally would.
We therefore urgently appeal to all our viewers to donate to our special coronavirus appeal.
---
In The Socialist 15 February 2017:
---
What we think

Council cuts can be fought - and they must be

Corbyn needs to stand up to Brexit rebels
---
Socialist Party news and analysis

March to save #OurNHS

Resist Trump and his rotten policies: why I'm walking out on 'Day X'

Socialist Students: growing, brimming with confidence

Thousands march to defend Glenfield heart centre

Save child refugees, fight the cuts

Prison deaths scandal

Super-rich subsidised
---
International socialist news and analysis

Spain: clear win for left at Podemos conference!

CWI and Izquierda Revolucionaria - towards unification

Izquierda Revolucionaria central committee meeting

French presidential election

France: police attack triggers protests

Yemen solidarity
---
Workplace news and analysis

United fightback needed as entire grade of rail worker is at stake

"Disgraceful" treatment of sacked EHRC workers

Vibrant Picturehouse pickets in continued living wage strike

Ultimatum as Deliveroo drivers down tools in Brighton

Solidarity with Tesco Ireland Valentine's Day strike

PCS union pledges to fight Jobcentre job losses

Workplace news in brief
---
Socialist Party reports and campaigns

Anti-trade union laws used against 'Trees Action' protesters

Support floods in for the Cardiff no-cuts three

The Socialist: 20 years old and more important than ever

Toxic fracking could start in England in 2017

May Day greetings in the Socialist

New Socialist Party press
---
Socialist readers' comments and reviews

No, Trumpism is nothing like Leninism

Foreign aid's not the problem - it's capitalist thieves

Vivid visual account of the Paris Commune

The Socialist inbox
---
Home | The Socialist 15 February 2017 | Join the Socialist Party
Subscribe | Donate | Audio | PDF | ebook
---